Fishing News
O'Brien Converts Third Place into $2K in Yamaha Power Pay
Posted 3/31/2020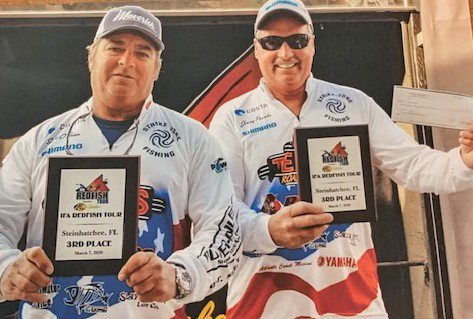 Kennesaw, Ga.
– March 31, 2020 - Jacksonville redfish tournament angler Scott O'Brien makes a living tearing down buildings and turning them into recycled concrete, but his passion for inshore saltwater angling recently converted a third-place finish in the IFA Redfish
®
Tour
®
event at Steinhatchee into $2,000 worth of Yamaha Power Pay bonus cash.
"I hate that a first-place finish keeps barely eluding me at Steinhatchee, but I love the fact you don't have to actually win your Yamaha Power Pay supported tournament to haul home a cash bonus," says O'Brien, who fished with Jimmy Pausche for the top finish.
The team caught most of their weight by strategically picking off redfish on a rising tide with spoons and Slayer soft plastic paddletails. They counted on O'Brien's new Yamaha F150 four-stroke outboard to make the 15-mile run safely back to weigh-in.
"I've used my Yamaha over the years to tow buddies running other brands of outboards back to weigh-in, but never once has my Yamaha failed me," says O'Brien, who believes he's purchased four Yamaha outboards since 1999.
Anglers registered in Yamaha's Power Pay program, like Scott O'Brien, get rewarded for their brand loyalty, and it's free to sign up for the program. Yamaha Power Pay is available to competitive anglers (not under a Yamaha supported contract) who own a new Yamaha outboard motor (original owner), 115-425 horsepower, purchased from an authorized Yamaha dealer within the past 60 months.
For more information, complete terms and conditions or to register for Power Pay, visit
yamahapowerpay.com
or call Chip at (918) 742-6424.
Yamaha Marine products are marketed throughout the United States and around the world. Yamaha Marine Engine Systems, based in Kennesaw, Ga., supports its 2,000 U.S. dealers and boat builders with marketing, training and parts for Yamaha's full line of products and strives to be the industry leader in reliability, technology and customer service. Yamaha Marine is the only outboard brand to have earned NMMA
®
's C.S.I. Customer Satisfaction Index award every year since its inception. Visit
www.yamahaoutboards.com.
This document contains many of Yamaha's valuable trademarks. It may also contain trademarks belonging to other companies. Any references to other companies or their products are for identification purposes only, and are not intended to be an endorsement.