Fishing News
Yamaha Pro Angler Bobby Lane is the 2022 REDCREST Champion
Posted 3/28/2022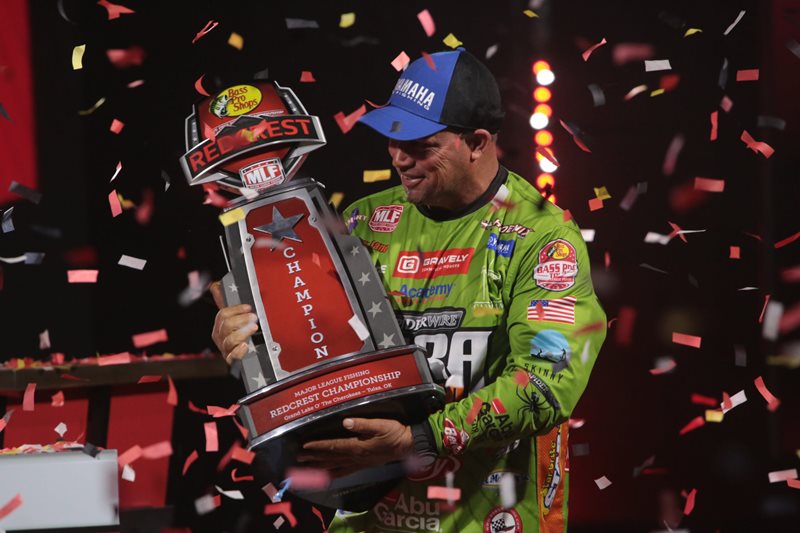 GROVE, Okla.
– March 28, 2022 – Yamaha Pro Team angler Bobby Lane made a third-period surge during the Championship Round of REDCREST 2022 Presented by Costa, bagging a 2-pounder at the last minute to take the lead and win the championship. His performance on Grand Lake O' the Cherokees on the final day also earned him the REDCREST trophy and $300,000 grand prize. His wife, four children and brother, Chris Lane, joined him in the on-stage celebration.
"Yamaha congratulates Bobby, long-time pro team member, on an exceptional tournament and a well-deserved win," said Roxanne Flores, Supervisor, Pro Staff and Dealer Training, Yamaha Marine Engine Systems. "The Yamaha team is having a terrific season and we look forward to watching the action during the next Major League Fishing tournament."
The suspense never waned throughout the Championship Round, with numerous lead changes and weights that remained close all day. Before Lane's triumph, a dizzying array of catches came across
SCORETRACKER®
late in the game with the lead held by four anglers during the third period. Lane came out on top as the 2022 REDCREST Champion after catching 10 bass for 29 pounds, 14 ounces.
Lane has an impressive track record with a Major League Fishing World Championship, MLF Cup titles, and a Bassmaster Elite Series win. He's also been very close to more wins, including some heartbreakers last year.
"It's a big monkey off of my back, and I've fought the battle for a long time to win a big one again," he said. "Those demons are behind me, and I'm finally standing here as the REDCREST Champion."
During the week, Lane quietly had success each day of fishing. He began the tournament with a sixth-place standing after catching eight bass for 26-12, then added four for 9-9 the next day. In his group's Knockout Round, he tallied 27-13 on nine fish to make it to Championship Sunday.
He focused on the last rock structure in the backs of pockets as bass moved their way towards spawning grounds. That's what got him to the final day, but pitching a jig is what won it for him. Lane caught two bass early on the crankbait and just after noon, he caught his first bass on a jig and went to work with it from there. Included in his catch was the Berkley Big Bass of the day, a 6-3 that he landed in dramatic fashion over and through several dock cables.
Lane's REDCREST winning bass was also his smallest of the day, a 2-0 that he weighed three times. Major League Fishing rules allow an angler two opportunities for a re-weigh, with the last chance being official. After two consecutive 1-15 readings, it registered at 2-0 and with minutes to spare, Lane took the lead for good.
"I'm not getting any younger, I promise," he said. "But, today I felt like a 10-year-old winging my bait around and to finally come through to win; it's just unbelievable. Everything went perfect today."
For complete details and updated tournament information on Major League Fishing and the Bass Pro Tour, visit
MajorLeagueFishing.com
.
Yamaha Marine products are marketed throughout the United States and around the world. Yamaha Marine Engine Systems, based in Kennesaw, Ga., supports its 2,000 U.S. dealers and boat builders with marketing, training and parts for Yamaha's full line of products and strives to be the industry leader in reliability, technology and customer service. Yamaha Marine is the only outboard brand to have earned NMMA
®
's C.S.I. Customer Satisfaction Index award every year since its inception. Visit
www.yamahaoutboards.com
.
REMEMBER to always observe all applicable boating laws. Never drink and drive. Dress properly with a USCG-approved personal floatation device and protective gear.
© 2022 Yamaha Motor Corporation, U.S.A. All rights reserved.
This document contains many of Yamaha's valuable trademarks. It may also contain trademarks belonging to other companies. Any references to other companies or their products are for identification purposes only and are not intended to be an endorsement.