Fishing News
Yamaha Pros Cliff Pace and Bobby Lane Take First, Second in 2019 Regular-Season Bass Pro Tour Finale
Posted 7/1/2019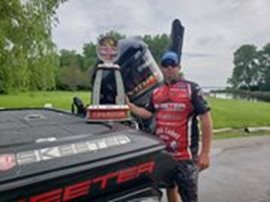 NEENAH, Wis.,
July 1, 2019 – Yamaha Pro Cliff Pace took home the eighth and final trophy of the regular-season Bass Pro Tour on Green Lake, Wis., June 30. Sunday's championship battle required more than 81 pounds to win, and Pace caught 47 bass for a total of 81 pounds, nine ounces to secure the title. Yamaha Pro Bobby Lane placed second, catching 43 bass for a total of 68 pounds, twelve ounces. For his win, Pace takes home $100,000 and the title of Stage Eight Champion.
The competitors experienced a midday weather delay due to a strong band of rain, thunder, and lightning that covered the entirety of the nearly 8,000-acre lake. The windy, cloudy conditions played a significant role in Pace's victory.
"After the delay, the wind was still blowing, and when we went back out, I caught one on the jerkbait on the first cast," Pace said. "I never put it down after that. It was all about the conditions. I was looking for areas with rock since there was so much sand everywhere. The main thing on natural lakes is to find where there is a mix of rock and sand.
"This was my sixteenth year on the tour and I've yet to have any mechanical issues with my Yamaha outboard. That says volumes about our product," said Pace.
Yamaha Marine is an official outboard sponsor of Major League Fishing (MLF), and 19 Yamaha professional anglers competed in the MLF Bass Pro Tour during the 2019 season.
Yamaha Marine products are marketed throughout the United States and around the world. Yamaha U.S. Marine Business Unit, based in Kennesaw, Ga., supports its 2,300 U.S. dealers and boat builders with marketing, training and parts for Yamaha's full line of products and strives to be the industry leader in reliability, technology and customer service. Visit
www.yamahaoutboards.com.
This document contains many of Yamaha's valuable trademarks. It may also contain trademarks belonging to other companies. Any references to other companies or their products are for identification purposes only, and are not intended to be an endorsement.
###