Fishing News
Yamaha/Skeeter Pro Scott Canterbury Claims 2019 Toyota® Bassmaster® Angler of the Year Title
Posted 10/2/2019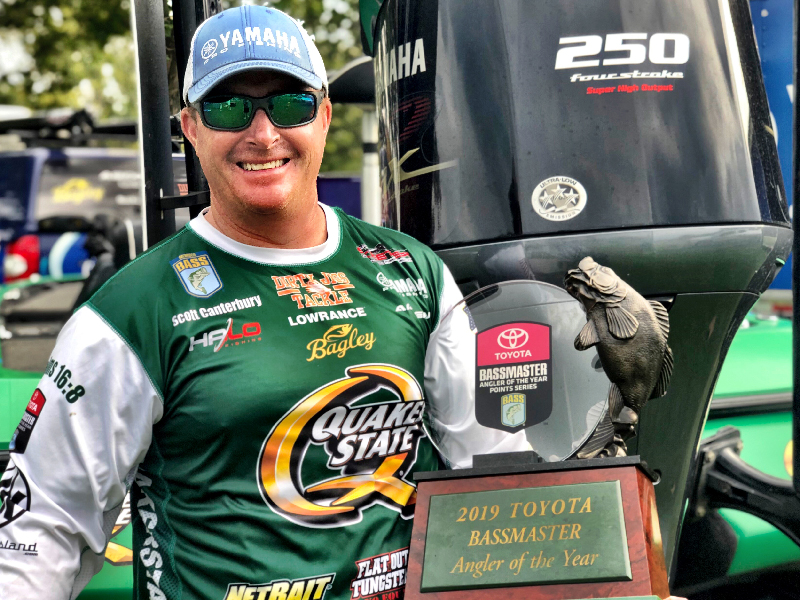 HARRISON TOWNSHIP, Mich.,
Oct. 2, 2019 - Yamaha/Skeeter Pro Scott Canterbury is the 2019 Toyota
®
Bassmaster
®
Angler of the Year. With five bass that weighed 19 pounds, 12 ounces during the final round on Tuesday, Oct. 1, Canterbury pushed his three-day total to 59 pounds four ounces, finishing in 14th place for the week at the Toyota
®
Bassmaster
®
Angler of the Year Championship on Lake St. Clair. More importantly, he finished at the top of the season points standings with 848 points, earning $100,000 and one of the most coveted titles in professional fishing.
"My first goal coming into the season was to qualify for the Bassmaster Classic
®
next year," Canterbury said. "Angler of the Year is always there on the radar. It's just way out there. You always set goals that you don't think you can reach — because if they're easy to reach, you didn't set them high enough."
The final tournament of the year became difficult for Canterbury on Sunday, as he was forced to fish the entire first round without the use of depthfinders on the front of his boat. Canterbury still caught almost 18 pounds and managed to hold off hard charges from Stetson Blaylock (840 points), Cory Johnston (840) and Yamaha Pro Chris Zaldain (838).
The Bassmaster
®
DICK's Sporting Goods
®
Rookie of the Year award went to Skeeter/Yamaha Pro Drew Cook, who finished with 798 ROY points despite finishing just 36th for the week. The tournament also decided the 42 Elite Series anglers who will fish the 2020 Bassmaster Classic
®
, scheduled for March 6-8 on Alabama's Lake Guntersville. Canterbury and Cook will be included in that field.
Yamaha Marine products are marketed throughout the United States and around the world. Yamaha Marine Engine Systems, based in Kennesaw, Ga., supports its 2,000 U.S. dealers and boat builders with marketing, training and parts for Yamaha's full line of products and strives to be the industry leader in reliability, technology and customer service. Yamaha Marine is the only outboard brand to have earned NMMA
®
's C.S.I. Customer Satisfaction Index award every year since its inception. Visit
www.yamahaoutboards.com.
REMEMBER to always observe all applicable boating laws. Never drink and drive. Dress properly with a USCG-approved personal floatation device and protective gear. © 2019 Yamaha Motor Corporation, U.S.A. All rights reserved.
This document contains many of Yamaha's valuable trademarks. It may also contain trademarks belonging to other companies. Any references to other companies or their products are for identification purposes only, and are not intended to be an endorsement.