Company News
Ben Speciale Inducted into National Marine Manufacturers Association's Hall of Fame
Posted 10/4/2023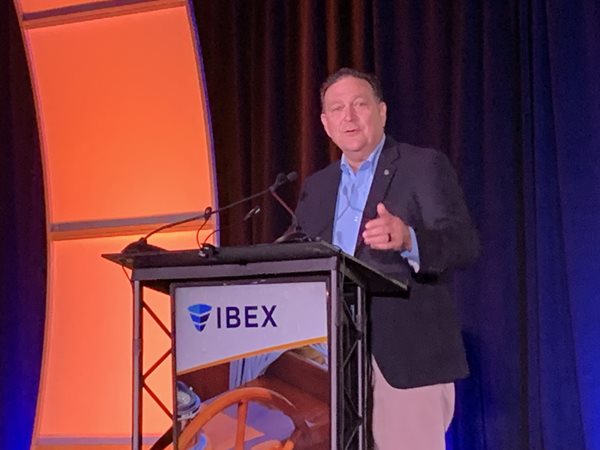 TAMPA, Fla.—
October 4, 2023 – The National Marine Manufacturers Association (NMMA®) inducted Ben Speciale, President, Yamaha U.S. Marine Business Unit, into the Hall of Fame on Tuesday, Oct. 3. Speciale joins industry leaders including Yamaha Past President Phil Dyskow, Regulator Marine President and Co-Founder Joan Maxwell, and Syntec Industries President Bill Watters in honorable induction.
NMMA recognized Speciale's career achievements and contributions to the recreational boating industry during the annual
International BoatBuilders' Exhibition & Conference (IBEX
®
)
at the show's annual industry breakfast morning at the JW Marriott® Tampa Water Street in Tampa, Fla.
"Ben is a true champion of marine industry growth and progress," said Bill Watters, President, Syntec Industries, who introduced Speciale during the ceremony. "He leads by example and his actions and vision demonstrate a commitment to innovation, sustainability and advocacy. His passion for the outdoors is contagious, continuing to inspire new ideas and collaboration. We applaud Ben's contributions and congratulate him on his Hall of Fame induction."
Established in 1988, the NMMA Hall of Fame recognizes individuals who have, or continue to generate, substantial and lasting contributions toward the advancement of the marine industry. It honors those whose names and deeds are synonymous with the pursuit of quality, innovation, and perfection within their respective spheres of expertise.
"I'm humbled by this honor and share it with my outstanding team members at Yamaha who work very hard to support our culture and the boating way of life. I'm also grateful to my parents for instilling in me a passion for boating at a young age and my colleagues and mentors, including Phil Dyskow, who continue to give me insight, guidance and advice," said Speciale in his acceptance remarks. "I'd like to express my appreciation for NMMA and acknowledge the important work the association does on behalf of all of us. It's our responsibility to protect and grow the marine industry for our customers. Very little gets accomplished by one person, and we all need to do our part to continue to support NMMA in their efforts to advocate for recreational boating and fishing."
"As a colleague of Ben Speciale for many years, I can say without doubt there is no one more deserving of this recognition," said Bill Boehman, Vice President, Yamaha U.S. Marine Business Unit. "I join my fellow Yamaha employees in offering congratulations to a leader who exemplifies integrity, promotes conservation, fights for our industry

and

gives us the opportunity to play a role in the evolution of boating."
From an early age, Speciale engaged in his family's marina and marine dealership, fostering his passion for boating and fishing as well as a respect for the resources that provide those opportunities. His early experiences shaped his career choice, interests and advocacy. He joined Yamaha Motor Corporation, U.S.A. in 1987, initially working with Yamaha Marine Parts and Accessories.
Over the years at Yamaha Marine, Speciale held positions in marketing and promotions. In 1992, he left Yamaha to serve as fishing production manager at Fenwick Fishing Tackle in Huntington Beach, Calif., only to return in 1996 to work within strategic planning and financial operations at Yamaha. Speciale was promoted to vice president, operations and planning in 2005. Five years later, he was named president of the Yamaha U.S. Marine Business Unit, which is part of Yamaha Motor Corporation, U.S.A.
In his capacity as president, Speciale is responsible for all U.S.-based marine activities and subsidiaries, while also serving as the chief sales and marketing officer of Marine Engines and Boat Power Systems (BPS). He provides guidance and leadership to Yamaha's boat companies and subsidiaries, including Skeeter® bass boats, G3® aluminum fishing boats, Yamaha Marine Precision Propellers, Bennett Marine, Kracor, and Siren Marine. Yamaha Marine has a network of approximately 2,300 dealers while also serving as an OEM outboard supplier to over 120 independent boat brands in the U.S.
During Speciale's tenure as vice president of Yamaha Marine, outboard products received many design and innovation awards from the marine industry and national media. Yamaha is also the only outboard motor company to receive awards in the NMMA Customer Satisfaction Index survey every year since its inception.
Speciale has also dedicated his time to various marine industry leadership roles over the years. He served as chairperson of the NMMA Board of Directors from 2018-2020 and currently serves on the NMMA Board as well as the chairperson of the NMMA's Engine Manufacturers Divisional Board.
Speciale received the Eddie Smith Manufacturer of the Year Award in 2020 for his outstanding contributions and commitment to recreational fishing and boating. This recognition, presented by the Center for Sport Fishing Policy® (CSP), acknowledged his efforts to enhance angler access and promote marine conservation. He also serves on the CSP Board of Directors.
The Theodore Roosevelt Conservation Partnership® presented him with the 2022 Conservation Achievement Award for his leadership in conservation and environmental stewardship. He is a member of TRCP's corporate council.
Speciale lives in Kennesaw, Ga. with his wife, Kim. They have two grown daughters. The family enjoys recreating on the Tennessee River near his childhood home.
Yamaha U.S. Marine Business Unit, based in Kennesaw, Ga., markets and sells marine outboard motors ranging in size from 2.5 to 450 horsepower. It also markets and sells fiberglass, jet-drive sport boats ranging from 19 to 27 feet, and personal watercraft. The unit includes manufacturing divisions of Yamaha Marine Systems Co., Inc., including Kracor of Milwaukee (rotational molding), Bennett Marine of Deerfield Beach, Fla. (trim tabs), and Yamaha Marine Precision Propellers of Indianapolis (stainless steel propellers). Yamaha Marine Group is a division of Yamaha Motor Corporation, U.S.A., based in Cypress, Calif.
###
This document contains many of Yamaha's valuable trademarks. It may also contain trademarks belonging to other companies. Any references to other companies or their products are for identification purposes only and are not intended to be an endorsement.
REMEMBER to always observe all applicable boating laws. Never drink and drive. Dress properly with a USCG-approved personal floatation device and protective gear. © 2023 Yamaha Motor Corporation, U.S.A. All rights reserved.