Company News
Yamaha Marine Awards Scholarship to High-Performing Manatee Technical College Students
Posted 11/2/2023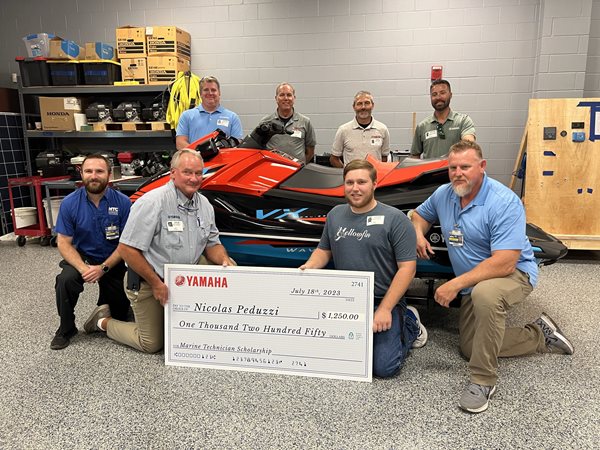 BRADENTON, Fla.
– November 2, 2023 -- Yamaha Marine recently awarded a $1,250 scholarship to Nicholas Peduzzi, a high-performing marine service technology student at Manatee Technical College (MTC).
The Yamaha Marine Scholarship at MTC provides an incentive for the next generation of Yamaha Marine technicians to attend MTC, become Yamaha certified and begin a career at a Yamaha Marine dealership.
"Manatee Technical College is proud to work with industry leaders such as Yamaha," said Doug Wagner, Director, Manatee Technical College. "With Yamaha's support, we have the ability to ensure our graduates are ready to meet the demands of the workforce when they complete our programs."
Yamaha Marine Scholarship applicants submitted information detailing why they chose a career path in the marine industry and why they desire the Yamaha scholarship. Applicants also listed their goals and aspirations in the marine industry. Scholarship funds can be used for tuition, tools and books.
MTC placed more than a dozen technicians with Yamaha Dealers in the last two years. In addition, more than a dozen MTC Marine Service Technology graduates accepted positions with Yamaha boat builder partners, including Jupiter® and Yellowfin®, within the last five years.
MTC classes include Yamaha Introduction to Outboard Systems (ITOS) and all four Maintenance Certification Program (MCP) modules. All four Yamaha MCP certifications qualify for Florida's Career and Professional Education (CAPE) funding. When MTC receives the CAPE funds from the Florida Department of Education (FDOE), the school paths the funds directly to the Marine Service Technology program for every Yamaha MCP certification earned by a student.
About Manatee Technical College
Manatee Technical College is accredited by the Council on Occupational Education. MTC has two campuses within the School District of Manatee County and offers close to 50 career preparation programs, continuing education, and adult general education. The mission of MTC is to produce highly skilled individuals and resourceful leaders through collaborative education to meet the ever-changing needs of our communities and the workforce.
Yamaha U.S. Marine Business Unit, based in Kennesaw, Ga., markets and sells marine outboard motors ranging in size from 2.5 to 450 horsepower. It also markets and sells fiberglass, jet-drive sport boats ranging from 19 to 27 feet, and personal watercraft. The U.S. Marine Business Unit includes manufacturing divisions of Yamaha Marine Systems Co., Inc., including Kracor of Milwaukee (rotational molding), Bennett Marine of Deerfield Beach, Fla. (trim tabs), and Yamaha Marine Precision Propellers of Indianapolis (stainless steel propellers). Yamaha Marine Group is a division of Yamaha Motor Corporation, U.S.A., based in Cypress, Calif.
###
This document contains many of Yamaha's valuable trademarks. It may also contain trademarks belonging to other companies. Any references to other companies or their products are for identification purposes only and are not intended to be an endorsement.
REMEMBER to always observe all applicable boating laws. Never drink and drive. Dress properly with a USCG-approved personal floatation device and protective gear.
© 2023 Yamaha Motor Corporation, U.S.A. All rights reserved.