Company News
Yamaha Receives Chattahoochee Riverkeeper River Guardian Award
Posted 9/26/2023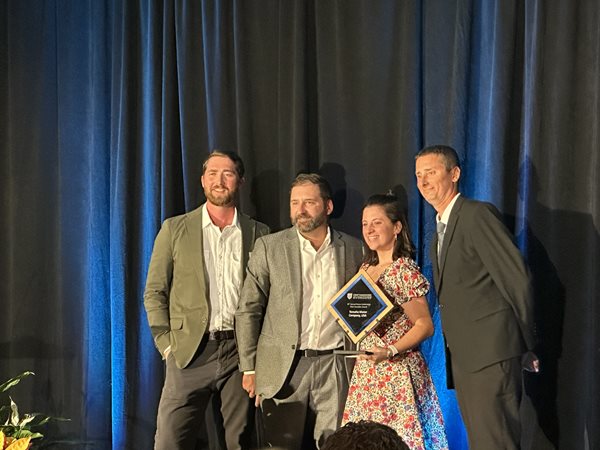 ATLANTA, Ga—
September 26, 2023 – Jason Broshear, Division Manager, Corporate Planning and Sustainability, Yamaha Motor Corporation, U.S.A., accepted the River Guardian Award for Yamaha's support of Chattahoochee Riverkeeper's education programs through the supply of outboard engines for their Floating Classrooms and scholarships for underserved youth. This partnership allows students to experience the natural environment, some for their first time out on the water.

Chattahoochee Riverkeeper (CRK) hosted its annual Patron Celebration on September 22 at The Stave Room in Atlanta in celebration of the people and communities who devoted their time and talents for the love of the Chattahoochee River - "The Heart of the Hooch." The evening included CRK's annual "State of the River" address. In admiration of the river's generous community, CRK also recognized three additional honorees who embody The Heart of the Hooch.
"Chattahoochee Riverkeeper is thrilled to present Yamaha Motor Corporation, U.S.A. with this year's River Guardian award," said Jason Ulseth, Riverkeeper and Executive Director for Chattahoochee Riverkeeper. "Yamaha's generous support ensures that our on-the-water education programs operate smoothly, and their involvement provides valuable opportunities for thousands of students and educators to learn about the source of their water supply firsthand. We are proud to recognize Yamaha's incredible impact."
The Floating Classrooms are on-the-water environmental education programs that teach science, ecology, history and math in accordance with STEM goals and state education performance standards.
CRK operates a Floating Classroom on Lake Lanier and on West Point Lake. In operation since 2000, nearly 100,000 students and teachers have experienced the program.
The 40-foot boats serve as floating laboratories to learn about the lakes and river system. While on board, students see firsthand their source of drinking water and develop an understanding of it by using scientific equipment to monitor water quality, view wildlife through binoculars, and learn watershed concepts. Takeaways include how to become responsible water stewards by protecting local streams and the watershed from pollution, as well as the importance of water conservation in a changing climate. With generous support from public and private donors, CRK offers a limited number of scholarships to students from Title I schools or programs serving students from economically disadvantaged communities.
About Chattahoochee Riverkeeper
Chattahoochee Riverkeeper
(CRK) is a nonprofit 501(c)(3), environmental advocacy organization with more than 10,000 members, and is the only group whose sole mission is to protect and restore the Chattahoochee River, its lakes and tributaries for the people, fish, and wildlife that depend on the river system.
Since 1994, CRK has leveraged water monitoring, education, research, advocacy, communication, collaboration, legal action, and more to make sure our water stays protected for all who depend on it.
Yamaha U.S. Marine Business Unit, based in Kennesaw, Ga., markets and sells marine outboard motors ranging in size from 2.5 to 450 horsepower. It also markets and sells fiberglass, jet-drive sport boats ranging from 19 to 27 feet, and personal watercraft. The unit includes manufacturing divisions of Yamaha Marine Systems Co., Inc., including Kracor of Milwaukee (rotational molding), Bennett Marine of Deerfield Beach, Fla. (trim tabs), and Yamaha Marine Precision Propellers of Indianapolis (stainless steel propellers). Yamaha Marine Group is a division of Yamaha Motor Corporation, U.S.A., based in Cypress, Calif.
###
This document contains many of Yamaha's valuable trademarks. It may also contain trademarks belonging to other companies. Any references to other companies or their products are for identification purposes only and are not intended to be an endorsement.
REMEMBER to always observe all applicable boating laws. Never drink and drive. Dress properly with a USCG-approved personal floatation device and protective gear. © 2023 Yamaha Motor Corporation, U.S.A. All rights reserved.