Company News
Yamaha Rightwaters™, Georgia Southern University Launch New Initiative to Analyze the Role of Restored Oyster Reefs for Carbon Sequestration
Posted 9/28/2023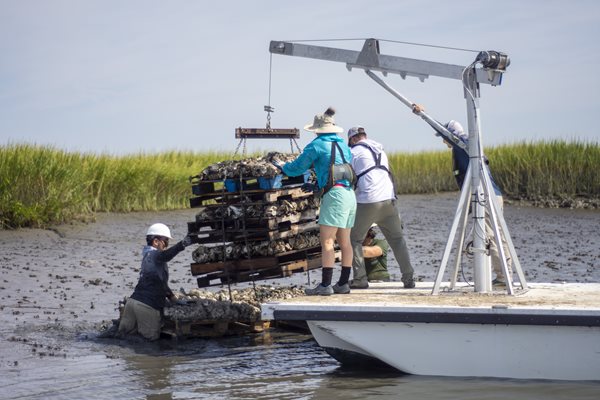 Kennesaw, GA
– Sept. 28, 2023 –
Yamaha Rightwaters
™
joined forces with Georgia Southern University's (GSU) College of Science and Mathematics and the Georgia Department of Natural Resources Coastal Resources Division to initiate a new conservation project designed to restore degraded oyster beds on the Georgia coast. The research gathered during the project will help determine the carbon burial potential of newly formed oyster reefs off the coast of Georgia.
Coastal ecosystems provide the highest economic value of all naturally occurring marine systems due to biogenic habitats that perform multiple functions. Eastern oysters, Crassostrea virginica, are a commercially important species that also play a critical role in habitat creation by forming large reef structures. Through the project, approximately six tons of bagged oyster shell stacked on pallets are placed at two locations on a northern bank of the North Newport River west of St. Catherines Island to encourage the growth of new, native Eastern oysters.

"In 2022, we teamed up with
Texas A&M University's Harte Research Institute and the Coastal Conservation Association to initiate a similar conservation project designed to evaluate the role of oyster reefs in capturing and storing carbon in St. Charles Bay in the Gulf of Mexico. This new project in coastal Georgia allows us to do the same thing in the Atlantic,"
said Martin Peters, director of External Affairs for Yamaha U.S. Marine Business Unit. "It's our hope that the
data collected through the two initiatives will give us more information about the carbon sequestration value of oyster reefs. The data will allow us to evaluate the possibility of increasing the scale of these programs to achieve a measurable result."
There is currently little research about the role oyster reefs play in carbon sequestration along the coastline. Because the Georgia coastline is unique with large tidal amplitude, high energetics and large riverine inputs, research from other locations does not easily translate to Georgia management plans. Georgia-specific data collected from newly established oyster reefs is necessary to fully evaluate carbon sequestration potential.
"Not only do established reefs provide important habitat for several kinds of sea life, they also reduce carbon dioxide and, in turn, reduce ocean acidification," said John Carroll, Associate Professor of Biology, Georgia Southern University. "The research from this Yamaha Rightwaters-supported project will provide us with Georgia-specific data that will ultimately help us determine the carbon burial potential of newly formed oyster reefs in Georgia."
"Oyster restoration is a critical component of protecting and restoring Georgia's coastal ecosystems," said Paul Medders, Habitat Enhancement and Restoration Unit lead for the Georgia Department of Natural Resources Coastal Resources Division. "This project will help to reestablish oyster reefs in the North Newport River, which will benefit both wildlife and people."
Yamaha Rightwaters is a national sustainability program that encompasses all of Yamaha Marine's conservation and water quality efforts. Program initiatives include habitat restoration, support for scientific research, mitigation of invasive species, the reduction of marine debris and environmental stewardship education. Yamaha Rightwaters reinforces Yamaha's long-standing history of natural resource conservation, support of sustainable recreational fishing and water resources and Angler Code of Ethics, which requires pro anglers to adhere to principles of stewardship for all marine resources.
Yamaha's U.S. Marine Business Unit, based in Kennesaw, Ga., is responsible for the sales, marketing, and distribution of Yamaha Marine products in the U.S. including Yamaha Outboards, Yamaha WaveRunners, Yamaha Boats, G3 Boats and Skeeter Boats. Supporting 2,400 dealers and boat builders nationwide, Yamaha is the industry leader in reliability, performance, technology and customer service.
Georgia Southern University, a public Carnegie Doctoral/R2 institution founded in 1906, offers approximately 138 different degree programs serving more than 25,500 students through 10 colleges on three campuses in Statesboro, Savannah, Hinesville and online instruction. A leader in higher education in southeast Georgia with expert faculty, the University is focused on public impact research and engaging learning opportunities through knowledge and know-how that prepare its students to take ownership of their lives, careers and communities. Visit
GeorgiaSouthern.edu
.
REMEMBER to always observe all applicable boating laws. Never drink and drive. Dress properly with a USCG-approved personal floatation device and protective gear.
© 2023 Yamaha Motor Corporation, U.S.A. All rights reserved.
This document contains many of Yamaha's valuable trademarks. It may also contain trademarks belonging to other companies. Any references to other companies or their products are for identification purposes only and are not intended to be an endorsement.