One is a seasoned bass tournament angler who has qualified for seven Bassmaster Classics
®
but had never before specifically targeted redfish as his quarry. The other is a licensed saltwater charter captain who never fishes for bass.
By successfully blending their different worlds, however, Yamaha Pros Chris Zaldain and Ryan Rickard won the Bassmaster Redfish Cup Championship presented by Skeeter with six big redfish weighing 43 pounds, 4 ounces.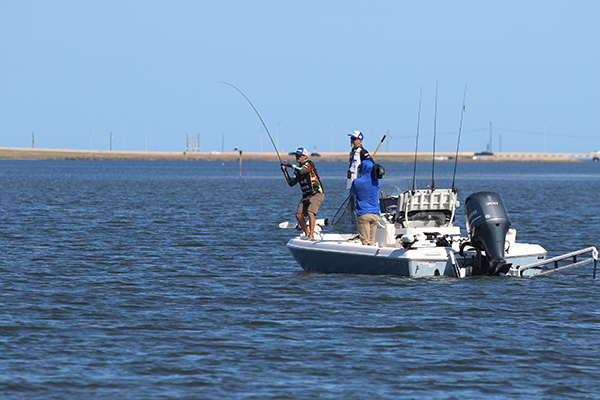 The two anglers, who had never met before this tournament, spent all three competition days fishing the same 800-yard long shallow flat about 19 miles south of Port Aransas, Texas, host city for the event. On Sunday, with weather and water conditions absolutely perfect, they caught and released more than 40 redfish, including about 10 in the seven-pound range. The two they did keep weighed 17-5, and jumped them from third into first.
Rickard, who has competed in professional redfish tournaments since 2008 but never before stepped into the winner's circle – he's been a runnerup more than a dozen times – described that day with Zaldain as "unlike anything I've ever experienced. I'd only seen the Texas Gulf Coast once before, and I located this flat on Google Maps
®
.
"We didn't even visit the area until the last practice day, but we caught our heaviest fish there, so that's why we kept going back each day."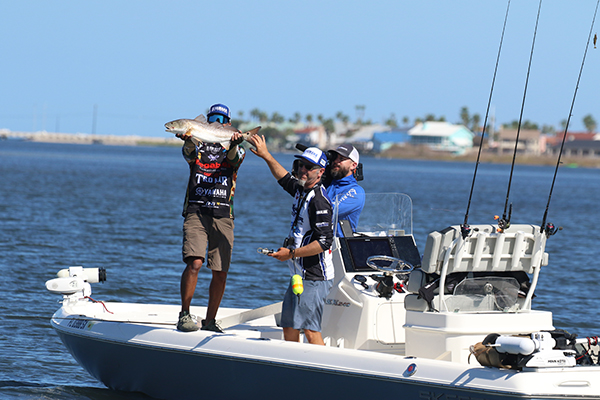 Zaldain , a California native who grew up fishing the Pacific coast between the Golden Gate Bridge and Santa Cruz, is far better known for his expertise in using plastic swimbaits for largemouths, and the paddletail baits turned out to be the winning redfish lures, as well. The two Yamaha Pros fished sizes ranging from four to seven inches, rigged with 1/8th and ¼-oz. jigheads in water less than three feet deep.
"I was called by Skeeter Boats to participate as one of the Bassmaster
®
pros," said Zaldain, "but I didn't have any real idea of what type of event this was going to be. My wife Trait and I just showed up, and overall, I think it turned out to be one of the neatest events I've ever been a part of.
"The major similarity between redfish and largemouth bass is that a fisherman can pattern redfish just like we always do for bass. The major differences are that the tide and the water color largely determine where the redfish will be or move to as conditions change. I let Ryan find the location, and then because we both enjoy fishing swimbaits, the rest was easy. It was almost magical to be able to combine our freshwater and saltwater experiences because our thought processes are so similar. He calls prime redfish water 'perfect green water,' while I call it 'reaction bait clarity' for largemouths, but either way, the redfish were there and feeding heavily on mullet.
"We changed to larger seven-inch swimbaits and caught our heaviest redfish, just like you hope to do in bass fishing."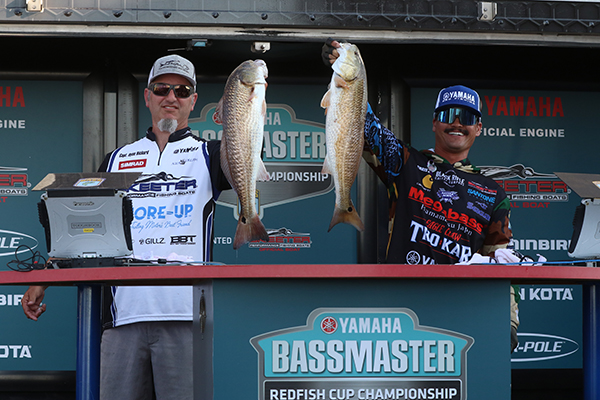 By tournament rules, only redfish measuring between 20 and 28 inches are legal, and only two fish per boat can be weighed in each tournament day. The two Yamaha Pros brought in two fish weighing 14-10 the first day, putting them in third place. They added only 11-5 the second day while fishing against a hard northeast wind; then finished with 17-5 to secure the win and the $50,000 first prize.
The heaviest one-day catch of the tournament, 18-lbs., 3-oz., came from the second-place finishers, IFA Redfish Tour pro Ron Hueston of Naples, Fla. and Yamaha Pro Derek Hudnall of Baton Rouge, La. They finished with 40-8.
The tournament field featured 10 two-person teams, comprised of four teams of professional redfish anglers with their regular tournament partners; along with six teams of redfish pros paired with Bassmaster tournament anglers. Zaldain's wife Trait, who competes in the Bassmaster Opens Series, joined Chris and Hudnall, along with fellow Yamaha Pros Matt Herren, Mark Menendez, and Patrick Walters as freshwater bass partners.
Needless to say, both Zaldain and Rickard are hoping the Bassmaster
®
Redfish Cup Championship will be held again next year and that they'll have the opportunity to defend their title.
Back to Blue Life