Company News
Inspired by Late Congressman Young, Yamaha Expands Technical Training in Alaska
Posted 8/18/2022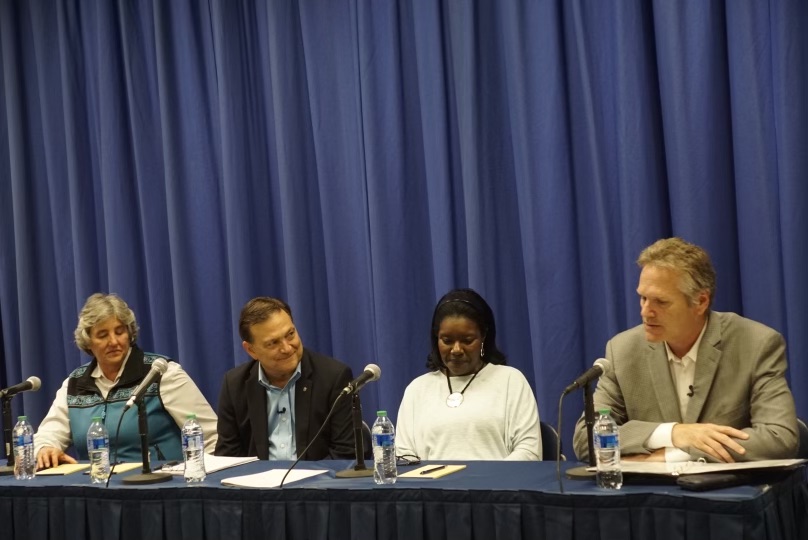 Soldotna, Alaska
– August 18, 2022 – Yamaha U.S. Marine Business Unit and the Alaska Maritime Education Consortium (AMEC) signed a Yamaha Marine Training Program Agreement under Yamaha's Technical School Partnership Program. This Agreement will establish a comprehensive Yamaha marine technical training program throughout the state, specifically in remote regions.
Governor Mike Dunleavy, Dr. Tamika L. Ledbetter, Commissioner, Alaska Department of Labor and Workforce Development, and University of Alaska President Pat Pitney signed the Training Program Agreement during the 2022 Kenai Classic, establishing an infrastructure for Yamaha Marine products training across the state.
Under the Agreement, Yamaha will provide training curricula and will train the trainers for the program. In addition, Yamaha will allow AMEC to acquire materials at or below cost, including outboard motors and tools. AMEC is a partnership between the University of Alaska and the Alaska Department of Labor and Workforce Development, Alaska Vocational Technical Center.
"This program is now a reality thanks to the efforts of the late Congressman Don Young, who originally brought the need for more technicians in remote areas to our attention," said Ben Speciale, President, Yamaha U.S. Marine Business Unit. "He inspired us to improve our level of service to customers in Alaska and encouraged us to redouble our efforts to train technicians."
The maritime business in Alaska includes 34,000 miles of coastline that produces more than 60 percent of the nation's seafood harvest and generates millions of dollars for the state's economy. Many Alaskan communities depend on a skilled workforce to service the boats and outboards that fuel a healthy, sustainable marine industry.
"Alaska has more coastline than all of other 49 states combined making the maritime sector one of the great growth industries in our state," said Governor Mike Dunleavy. "I look forward to Alaskans reaping the benefits of this unique partnership with Yamaha."
The agreement between Yamaha and AMEC also expands the Yamaha Tech School Partner (TSP) program. Developed in 2015, Yamaha's TSP program aims to develop a stronger marine technician workforce through a certified curriculum, Yamaha systems access and product donations used in the classroom for hands-on training. The AMEC network includes six training locations strategically positioned in coastal communities throughout Alaska and is committed to working with other educational institutions in Alaska to increase access to this and other training. There are currently more than 100 technical schools participating in the Yamaha TSP program including Prince William Sound College in Valdez, which is part of AMEC and serves as an example for the new program.
The facilitation and growth of Yamaha Marine's technical school relationships led to the development of Yamaha-sponsored curricula available to technical schools for use in the classroom. The first curriculum, titled "Introduction to Outboard Systems," (ITOS) includes textbook materials and hands-on learning experiences for students who wish to learn more about Yamaha outboard maintenance. ITOS will be the initial course offering through the new agreement in Alaska.
The Alaska Maritime Education Consortium (AMEC) is a partnership between The University of Alaska (UA) and the Alaska Vocational Technical Center (AVTEC). The mission of the AMEC is to "collaborate to prepare Alaskans for
afloat
and
ashore careers
that will support and strengthen the maritime workforce" by combining efforts to provide maritime training and education across the state. These careers align with the priority occupations in boat and ship building, vessel repair and maintenance, port maintenance, and vessel operations identified in the
2014 Alaska Maritime Workforce D
evelopment Plan
.
Yamaha U.S. Marine Business Unit, based in Kennesaw, Ga., markets and sells marine outboard motors ranging in size from 2.5 to 425 horsepower. It also markets and sells fiberglass, jet-drive sport boats ranging from 19 to 27 feet, and personal watercraft. The unit includes manufacturing divisions of Yamaha Marine Systems Co., Inc., including Kracor of Milwaukee (rotational molding), Bennett Marine of Deerfield Beach, Fla. (trim tabs), and Yamaha Marine Precision Propellers of Indianapolis (stainless steel propellers). Yamaha Marine Group is a division of Yamaha Motor Corporation, U.S.A., based in Cypress, Calif.
###
This document contains many of Yamaha's valuable trademarks. It may also contain trademarks belonging to other companies. Any references to other companies or their products are for identification purposes only and are not intended to be an endorsement.
REMEMBER to always observe all applicable boating laws. Never drink and drive. Dress properly with a USCG-approved personal floatation device and protective gear.
© 2022 Yamaha Motor Corporation, U.S.A. All rights reserved.