Company News
Siren Marine Introduces Siren Trident, Announces Pilot Agreement with Grady-White and Regulator
Posted 2/16/2023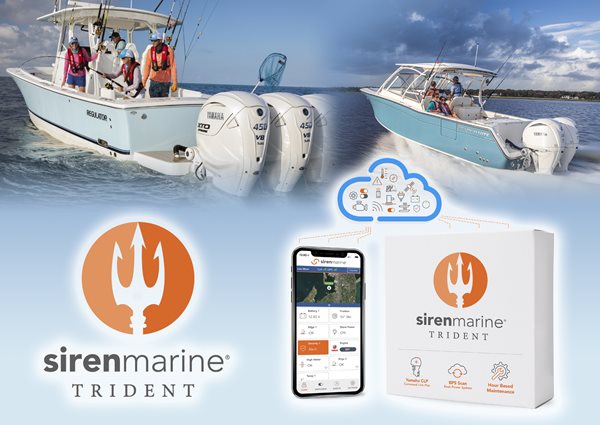 MIAMI, Fla.,
Feb. 16, 2023 — During the 2023 Miami International Boat Show
®
, Siren Marine introduced Siren Trident, an industry-first IoT software for marine engine maintenance and system compatibility that offers substantial benefits to Yamaha customers, dealers and boat builders. In addition, Grady-White and Regulator Marine will become the first two Siren Marine pilot boat builders, offering Trident as standard equipment on select 2024 model year boats.
"The data provided through Siren Trident enhances the overall boating experience and gives customers peace of mind that they can maintain their investment without having to remember maintenance intervals themselves. The teams at Grady-White
®
and Regulator
®
know this is what today's tech-savvy boaters demand," said Mark Tracy, Vice President, Yamaha U.S. Marine Business Unit. "Siren Trident represents the continuation of the Connected Boat
®
and advances IoT technology, and we look forward to working with the teams at Grady-White
®
and Regulator
®
to put this technology into the hands of more customers."
Siren Trident captures proprietary data on the Command Link Plus
®
(CLP) protocol used in most Yamaha digital electronic control (DEC)* outboards. Using that data, Siren Trident provides customers and dealers with:
Actual engine-hour run time and usage-based maintenance notifications with no required input from the user
Compatibility of DEC rigging system components and currently installed versions
Insights into real world boat use to support predictive and preventative maintenance
Operated via a smartphone and Siren Pro 3 system hardware, Siren Trident works specifically with Yamaha DEC outboards from 150 horsepower to 450 horsepower. The system accumulates engine run-time and, when maintenance intervals are reached, automatically sends notifications to the boater via push notification or email . Boaters can also elect to send those notifications directly to an authorized Yamaha Outboards dealer of the boater's choice to help with proactive scheduling of the service required.
Siren Trident also allows easy verification of compatibility between installed CLP rigging components following assembly, service or repower. This saves time and effort on both the production and service floors, helping ensure a trouble-free ownership experience to the consumer.
For more information, please visit
sirenmarine.com.
Yamaha U.S. Marine Business Unit, based in Kennesaw, Ga., markets and sells marine outboard motors ranging in size from 2.5 to 450 horsepower. It also markets and sells fiberglass, jet-drive sport boats ranging from 19 to 27 feet, and personal watercraft. The unit includes manufacturing divisions of Yamaha Marine Systems Co., Inc., including Kracor of Milwaukee (rotational molding), Bennett Marine of Deerfield Beach, Fla. (trim tabs), Siren Marine of Newport, RI (Connected Boat) and Yamaha Marine Precision Propellers of Indianapolis (stainless steel propellers). Yamaha Marine Group is a division of Yamaha Motor Corporation, U.S.A., based in Cypress, Calif.
Based in Newport, Rhode Island, Siren Marine is the industry leader in smart boat technology – allowing boaters to stay connected to their boats anywhere, anytime. The company's vision is to transform the modern boating experience and lead the way to a fully-connected marine industry through innovative IoT Connected Boat
®
technology.
*Siren Trident works with most Yamaha DEC outboards using Helm Master
®
EX controls and legacy Helm Master controls manufactured during or after 2017.
###
This document contains many of Yamaha's valuable trademarks. It may also contain trademarks belonging to other companies. Any references to other companies or their products are for identification purposes only and are not intended to be an endorsement. Siren Marine is a registered trademark of Siren Marine, LLC.
REMEMBER to always observe all applicable boating laws. Never drink and drive. Dress properly with a USCG-approved personal floatation device and protective gear.
© 2023 Yamaha Motor Corporation, U.S.A. All rights reserved.