Company News
Tennessee River Cleanup Efforts to Increase with Expansion of Nonprofit Fleet Thanks to Donations from TVA and Yamaha Rightwaters™
Posted 8/5/2022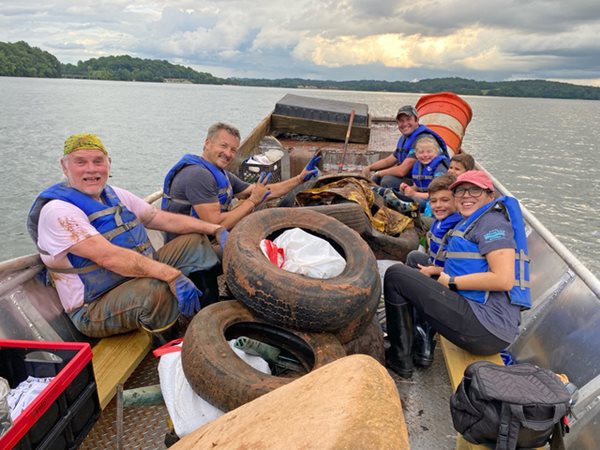 Keep the Tennessee River Beautiful (KTNRB) can now boast a fleet of two 26-foot river cleanup boats after celebrating the maiden voyage of the organization's second boat earlier this week with a cleanup held on Fort Loudoun Lake of the Tennessee River. The nonprofit's board members and their families participated in the cleanup, removing 1,453 lbs. of trash during the boat's first venture on the water.

The purchase of the custom aluminum john boat, named The Holston after one of the two rivers that converge to form the Tennessee River, was made possible largely through funding and donations from the Tennessee Valley Authority (TVA), Yamaha Rightwaters™, a Knoxville, Tenn.-based Home Depot (Schaad Road) store, and Premier Watersports of Knoxville.

"Having this second boat in our fleet is going to be a gamechanger that will allow us to arguably double our impact for the seven-state Tennessee River watershed," said Kathleen Gibi, KTNRB Executive Director.
"We're particularly proud that such a wide-ranging representation of sponsors who we see as champions for our waterways were willing to step up to help us acquire this boat, because it's going to take an effort from all levels of the community to protect our precious river system."

Having just one boat up until now, KTNRB hosts over 40 river cleanups a year throughout the seven-state Tennessee River watershed, with more than 700 volunteers helping them to remove over 152,000 lbs. of trash in 2021. Following the cleanup held this week, nearly 300 volunteers have helped to remove over 85,000 lbs. of trash in 2022 thus far.

TVA, who helped to start Keep the Tennessee River Beautiful in 2016, provided funding that primarily assisted with the purchase of the custom john boat and trailer. Though TVA is primarily known for supplying power to 153 individual local power companies, it also has a Natural Resources group that supports more than 40 river cleanup groups each year.

"Since TVA helped KTNRB acquire their first boat in 2019 and was a founding partner, it only made since that we help with the expansion of obtaining the second boat. Providing funding to organizations like KTNRB help TVA to meet is mission of service by providing natural resource stewardship and outdoor recreation opportunities on TVA's public lands and waters across the valley," according to Rebecca Hayden, Director, Natural Resources at TVA. "Their efforts help to provide a safe, natural environment not just for the public, but also for wildlife."

Yamaha Rightwaters™ generously donated the highly sought-after V MAX SHO® 90 outboard motor and tiller arm. The motor matches a replica donation Yamaha made in 2020 for KTNRB's first boat, The Tennessee. Since the first motor donation was made in 2020, KTNRB has been able to remove over 293,000 lbs. of trash from the Tennessee River watershed.

"Two Yamaha facilities call the Tennessee River home, so it only makes sense for Yamaha Rightwaters to work alongside of KTNRB to keep the Tennessee River's waterways clean," said John O'Keefe, Senior Specialist, Government Relations, Yamaha U.S. Marine Business Unit and KTNRB board member. "This is an organization that is really making a difference – it's that simple. We look forward to helping KTNRB accelerate its mission with a second cleanup boat."

Yamaha Rightwaters™ has also consistently sponsored KTNRB's annual Ripple Effect Awards, through which river champions are recognized for outstanding efforts to protect local waterways.

Preparing a boat to be river-worthy involves expenses beyond the boat, motor and trailer purchase, and KTNRB received help on this front, as well. A Knoxville-based Home Depot (Schaad Road) store donated approx. $2,500 in supplies. This included a truck bed tool box that was welded onto the boat to serve as a dry box, pressure-treated wood that was used to make volunteer benches spanning the 26-foot boat, and a variety of river cleanup tools and safety gear that help the boat to meet U.S. Coast Guard standards.

Premier Watersports of Knoxville saved KTNRB a large sum by donating the labor expenses of installing Yamaha's motor and tiller arm. They also donated a gas tank (filled with gas), and a boat battery with a water-proof case.

"For a nonprofit with a humble budget like ours is, these covered costs go a long way for us to be able to make an even greater impact on our waterways, and we're so very grateful to each of our sponsors for making this boat purchase possible," said Gibi.

Until now, Gibi said that KTNRB was in the position of each cleanup relying on their one boat being operational. As their first boat had been through several years of service and as the requests for river cleanups have increased, they realized that a backup boat was essential.

Soon, however, Gibi said that KTNRB staffing will add two positions that will serve as boat captains at cleanups, among other organizational responsibilities. Currently, Gibi is the only full-time staff member and sole boat driver for the nonprofit. She said they're working on securing funding for the new positions now and hope to begin hiring in 2023.

"The momentum we've had from the support of volunteers, partners and sponsors over the last few years has been inspiring and overwhelming," said Gibi. "It's our mission to inspire others to take action for this river, and that's what we're seeing more and more."

________________________________________

Keep the Tennessee River Beautiful is the 1st Keep America Beautiful affiliate in the nation to focus solely on a river. The 501c3 nonprofit aims to rally communities along the river and its tributaries to preserve, improve and protect the river for generations to come. Since forming in 2016, 2,700 volunteers have helped the organization to remove over 415,000 lbs. of trash along the 652-mile Tennessee River and its tributaries.


The Tennessee Valley Authority is a corporate agency of the United States that provides electricity for business customers and local power companies serving nearly 10 million people in parts of seven southeastern states. TVA receives no taxpayer funding, deriving virtually all of its revenues from sales of electricity. In addition to operating and investing its revenues in its electric system, TVA provides flood control, navigation and land management for the Tennessee River system, and assists local power companies and state and local governments with economic development and job creation.

Yamaha Rightwaters is a national sustainability program that encompasses all of Yamaha Marine's conservation and water quality efforts. Program initiatives include habitat restoration, support for scientific research, mitigation of invasive species, the reduction of marine debris and environmental stewardship education. Yamaha Rightwaters reinforces Yamaha's long-standing history of natural resource conservation, support of sustainable recreational fishing and water resources and Angler Code of Ethics, which requires pro anglers to adhere to principles of stewardship for all marine resources.