Company News
Yamaha Dealers Awarded Marine Service PRO Recognition
Posted 4/18/2023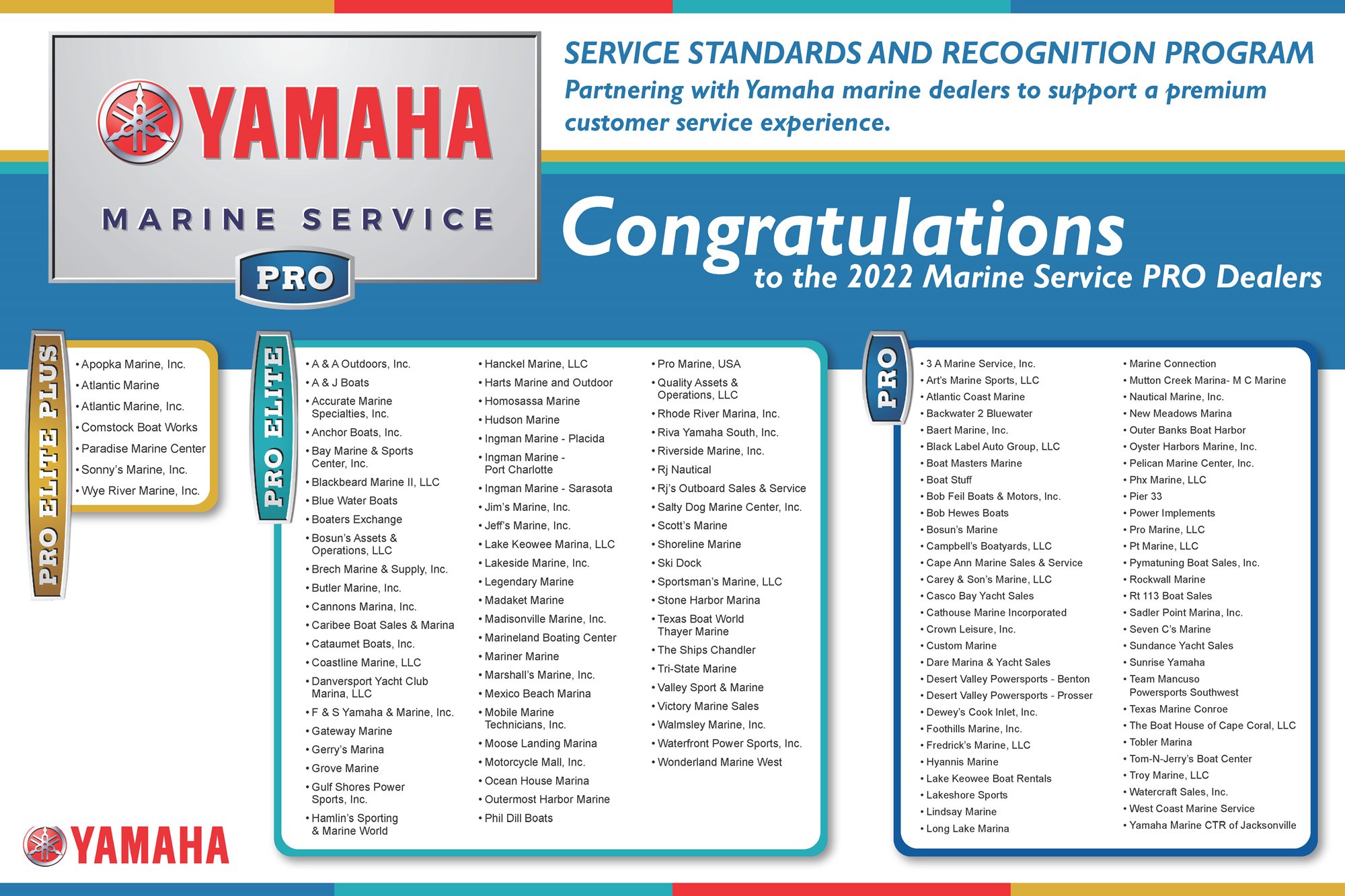 KENNESAW, Ga.
– April 18, 2023 – Yamaha U.S. Marine Business Unit recently recognized 135 Yamaha authorized marine dealers for reaching various Yamaha Marine Service PRO levels of achievement.
Established in 2022, the Yamaha Marine Service PRO program consists of three designated tiers indicating the level of training achieved by dealer technicians: Pro, Pro Elite and Pro Elite Plus. Starting January 1, 2023, dealers who qualified for the program during 2022 received a tier placement within the program and marketing materials to promote their status as a Yamaha Marine Service PRO business. Seven Yamaha marine dealers reached Pro Elite Plus status, while 71 achieved Pro Elite status and 57 secured Pro status.
"Yamaha designed the Marine Service PRO standards and recognition program to reward dealers for exceptional customer service experiences," said Jeremy Waki, Marine Service Operations Division Manager. "Through Yamaha Marine Service PRO, dealers have the opportunity to grow and develop marine technicians, increase staff professionalism, enhance service department efficiencies and improve profitability in the service department."
Dealers must meet 11 requirements to achieve Yamaha Marine Service PRO status. Those requirements include completing of all Service Manager and Service Advisor training modules and having at least one Practiced Technician (completed the four introduction Yamaha Training modules) on staff. Once a dealership achieves the requirements to become a Yamaha Marine Service PRO business, it can accomplish additional milestones to advance in the program and become a Yamaha Marine Service PRO Elite business. From there, dealers can elevate work toward achieving Yamaha Marine Service PRO Elite Plus status.
Dealers who qualify for Yamaha Marine Service PRO must also actively participate in Yamaha's Maintenance Tracking program. Yamaha Marine Service PRO integrates with the Maintenance Tracking Feature on MyYamahaOutboards app and web portal to help users find dealerships participating in the program. In addition, Yamaha measures Customer Satisfaction Index (CSI) scores and Yamaha Marine University™ (YMU) business training module completion to award Marine Service Pro status to dealers.
For more information on specific qualification requirements for each Yamaha Marine Service PRO tier, please contact the Marine Service PRO team:
marine_service_pro@yamaha-motor.com
or (770) 420-5873.
Yamaha U.S. Marine Business Unit, based in Kennesaw, Ga., markets and sells marine outboard motors ranging in size from 2.5 to 450 horsepower. It also markets and sells fiberglass, jet-drive sport boats ranging from 19 to 27 feet, and personal watercraft. The unit includes manufacturing divisions of Yamaha Marine Systems Co., Inc., including Kracor of Milwaukee (rotational molding), Bennett Marine of Deerfield Beach, Fla. (trim tabs), and Yamaha Marine Precision Propellers of Indianapolis (stainless steel propellers). Yamaha Marine Group is a division of Yamaha Motor Corporation, U.S.A., based in Cypress, Calif.
###
This document contains many of Yamaha's valuable trademarks. It may also contain trademarks belonging to other companies. Any references to other companies or their products are for identification purposes only and are not intended to be an endorsement.
REMEMBER to always observe all applicable boating laws. Never drink and drive. Dress properly with a USCG-approved personal floatation device and protective gear.
© 2023 Yamaha Motor Corporation, U.S.A. All rights reserved.