Company News
Yamaha Highlights Training, Career Development During 2023 International Marine Technician Week
Posted 4/26/2023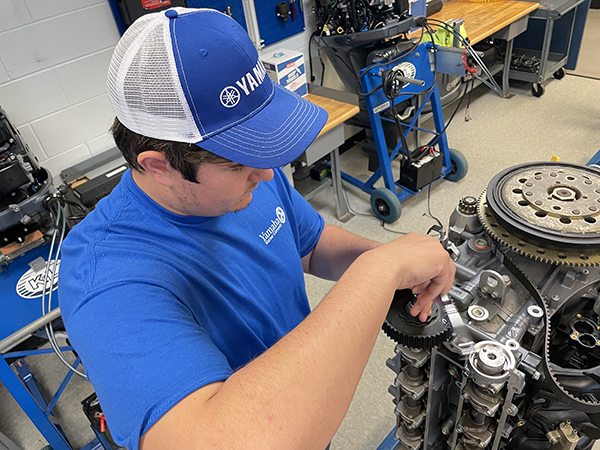 KENNESAW, Ga. – April 26, 2023 – Yamaha Marine celebrates 2023 International Marine Technician week by highlighting a host of career development training opportunities available for current and aspiring marine technicians.

"Yamaha reinforces the company's commitment to building a solid marine technician workforce through Yamaha Marine University™ training and dealer recognition initiatives. We understand that exceptional service leads to unforgettable experiences on the water for our customers," said Joe Maniscalco, General Manager, Service, Yamaha U.S. Marine Business Unit. "We're grateful for the dedicated Yamaha marine technicians who consistently deliver top quality customer service, and we will continue to build our offerings to ensure our dealer network has access to thoroughly trained Yamaha marine technicians."

Yamaha Marine University™, established in 2006, encompasses all dealer and technician education under one training umbrella. The goal of YMU is to provide Yamaha dealers with the best training curriculum in the industry, in order to increase customer satisfaction and efficiency. Over the years, YMU grew to include classroom training, online modules, in-dealership training, sales training, service management training, regional seminars, trade school partnerships, regular publications and communication portals. All YMU programs focus on the program's motto, "Education. Empowerment. Collaboration," which underscores the purpose of YMU.

Yamaha Marine Technical School Partnership Program
The Yamaha Marine Technical School Partnership program (TSP), developed in 2015, now has 120 participants nationwide. Yamaha's TSP program aims to develop a stronger marine technician workforce through a certified curriculum, Yamaha systems access and product donations used in the classroom for hands-on training.

The facilitation and growth of Yamaha Marine's technical school relationships led to the development of Yamaha-sponsored curricula available to technical schools for use in the classroom. The first curriculum, titled "Introduction to Outboard Systems," (ITOS) provides foundational outboard knowledge and a Yamaha certification for students who wish to start a career as a marine industry technician. ITOS is a pre-requisite for Yamaha's new Maintenance Certification Program (MCP), which is based on the 20, 100, 300, 500 and 1,000 maintenance procedures for Yamaha Outboards. MCP students leave the Yamaha Technical School Partner with certified maintenance competencies that prepare them to be immediately successful in Yamaha dealership service departments. Yamaha dealerships can take them on as apprentices or full-time technicians to help them continue to develop their skills.

SkillsUSA®
Yamaha is actively involved with SkillsUSA, a national nonprofit partnership of education and industry founded in 1965 to strengthen the skilled workforce in the marketplace. In 2022, Yamaha supported the National SkillsUSA Competition in Atlanta, Ga., June 20-24, through the organization and facilitation of the Marine Service Technology competition segment. The event is one of the most important in the country encouraging high school and continuing education students to strive for excellence in trade skills such as technical expertise. SkillsUSA events provide great opportunities for recruiting while allowing Yamaha and Yamaha dealers to build a deeper connection with the future technicians and facilitate their career paths.

In 2018, 2019 and 2022, five of the six overall winners were affiliated with Yamaha Technical School Partners.

Yamaha Dealership Recognition Programs
Yamaha currently offers dealership recognition programs that allow qualified Yamaha marine dealers to promote service expertise to their customers. These programs include Service PRO, Factory Trained, Master Technician and Yamalube® Exclusive Service Center. Working with their service teams to achieve these designations, Yamaha dealers have the opportunity to grow and develop marine technicians, increase staff professionalism, enhance service department efficiencies and improve success in the service department.

For more information on specific Yamaha Marine University initiatives or to register for training programs, please contact email: dealertraining@yamaha-motor.com or call 1-800-854-4876, option 3.

Yamaha U.S. Marine Business Unit, based in Kennesaw, Ga., markets and sells marine outboard motors ranging in size from 2.5 to 450 horsepower. It also markets and sells fiberglass, jet-drive sport boats ranging from 19 to 27 feet, and personal watercraft. The unit includes manufacturing divisions of Yamaha Marine Systems Co., Inc., including Kracor of Milwaukee (rotational molding), Bennett Marine of Deerfield Beach, Fla. (trim tabs), and Yamaha Marine Precision Propellers of Indianapolis (stainless steel propellers). Yamaha Marine Group is a division of Yamaha Motor Corporation, U.S.A., based in Cypress, Calif.
###

This document contains many of Yamaha's valuable trademarks. It may also contain trademarks belonging to other companies. Any references to other companies or their products are for identification purposes only and are not intended to be an endorsement.

REMEMBER to always observe all applicable boating laws. Never drink and drive. Dress properly with a USCG-approved personal floatation device and protective gear.

© 2023 Yamaha Motor Corporation, U.S.A. All rights reserved.