Company News
Yamaha is First Marine Outboard Manufacturer to Place Maintenance Certifications on Florida's CAPE Funding List
Posted 9/22/2021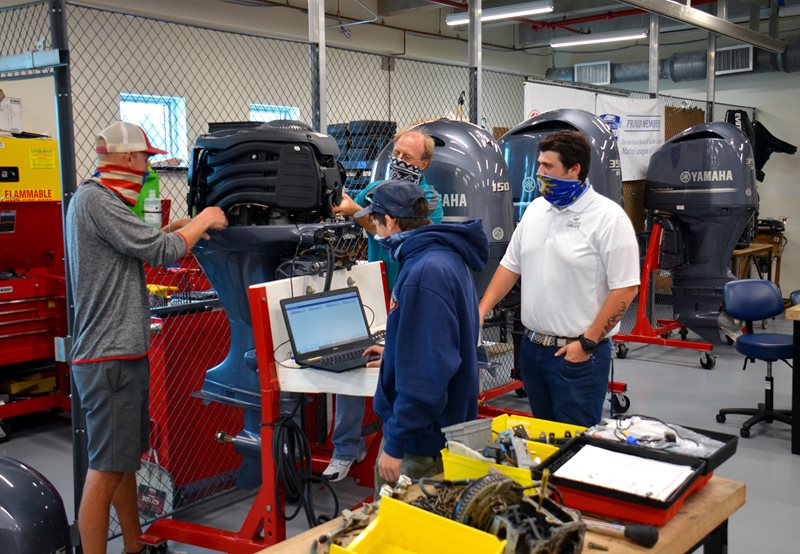 KENNESAW, Ga.
– Sept. 22, 2021 - The Florida Board of Education announced the post-secondary school Career and Professional Education (CAPE) funding list for the 2021/2022 academic year this August. That list now includes Yamaha Marine University's Maintenance Certifications, a first among marine outboard manufacturers and a strong incentive for technical schools to offer Yamaha outboard training courses to students.
"Yamaha remains focused on developing qualified, workforce-ready marine technicians to help dealerships build profitable, efficient service departments. A key component of this effort is training and education," said Gregg Snyder, Marine Training Department Manager, Yamaha U.S. Marine Business Unit. "The inclusion of Yamaha Maintenance Certifications on the CAPE funding list further encourages post-secondary schools in the state of Florida to incorporate marine technician education into their curriculum. Aspiring technicians who complete and pass exams to earn four separate Yamaha Marine Maintenance Certifications will enter the marine industry workforce with the skills and confidence they need to build successful careers. Making this list is a win for students, Yamaha Technical School Partners and Yamaha dealers."
Florida's CAPE program fosters a statewide planning partnership between business and education communities to attract, expand and retain targeted, high-value industry for the state. The post-secondary education funding incentivizes schools to offer curriculum that can result in industry-recognized certifications students can earn to secure high-wage, high-demand careers. Once registered students earn a recognized certification, the school receives a performance award from the state to put toward the further development of workforce-ready courses.
The recognition of Yamaha Maintenance Certifications on the CAPE funding list is particularly beneficial for Yamaha Technical School Partners (TSPs) in Florida. Current and aspiring marine technicians can earn four distinct Yamaha Maintenance Certifications: Portable, Midrange, Inline (4 cylinder) and V-engine. TSPs can choose which modules to offer based on the needs of the market in their area. Many Yamaha Technical School Partners use the Maintenance Certification Program in their curriculum to build student proficiency in conducting 20-, 100-, 300-, 500- and 1,000-hour service procedures. Yamaha recommends technicians complete Introduction to Outboard Systems (ITOS) before they complete Yamaha Marine Maintenance Certification exams. Yamaha TSPs throughout Florida currently offer the ITOS curriculum.
"Yamaha continues to implement in-demand, career-enhancing certifications and curriculum for the marine industry to help aspiring technicians prepare for and realize success," said Jack Seubert, Dean of Marine Science and Technology, The College of the Florida Keys (CFK). "Savvy dealers are more likely to actively recruit marine technicians with recognized certifications, such as the four Yamaha Maintenance Certifications that CFK currently offers.
"In an indirect way, the inclusion of Yamaha certifications on the CAPE list is also a great way for our institution to recruit," he continued. "When prospective students see we offer the marine courses that include training to prepare students to earn these certifications, and that the technicians who earn them are in high demand for top-paying jobs, they are more likely to enroll. Couple that with the state funding the school can earn from each recorded certification and you've got a win-win situation."
The Yamaha service and government relations teams worked together in the effort to gain CAPE funding list placement. To meet the Florida Board of Education qualifications, Yamaha worked with TSPs in Florida to recognize Marine Engine Repair as a formal state occupation.
"The path to CAPE funding presented an excellent learning experience for Yamaha," said Martin Peters, Division Manager, Government Relations, Yamaha U.S. Marine Business Unit. "The approval of Yamaha Maintenance Certification on this list represents the hard work of two departments working toward the same goal of increasing qualified technicians in the workforce. It's an achievement we hope to duplicate with similar programs in other states."
For more information about Yamaha Maintenance Certifications or to locate exam locations and times, please visit ymucertifications.com. To learn more about Technical School Partnerships or training programs offered through Yamaha Marine University, please call (800)-854-4876 opt. 3 or email
dealertraining@yamaha-motor.com
.
The 2021/2022 Florida CAPE funding list is available here:
https://www.fldoe.org/academics/career-adult-edu/cape-postsecondary/cape-post-industry-cert-funding-list-current.stml
Yamaha Marine products are marketed throughout the United States and around the world. Yamaha Marine U.S. Business Unit, based in Kennesaw, Ga., supports its 2,400 U.S. dealers and boat builders with marketing, training and parts for Yamaha's full line of products and strives to be the industry leader in reliability, technology and customer service. Yamaha Marine is the only outboard brand to have earned NMMA
®
's C.S.I. Customer Satisfaction Index award every year since its inception.
###
REMEMBER to always observe all applicable boating laws. Never drink and drive. Dress properly with a USCG-approved personal floatation device and protective gear. Messaging and data rates may apply.
® 2021 Yamaha Motor Corporation, U.S.A. All rights reserved.
This document contains many of Yamaha's valuable trademarks. It may also contain trademarks belonging to other companies. Any references to other companies or their products are for identification purposes only and are not intended to be an endorsement.