Company News
Yamaha Marine's New "Repower with Reliability" Promotion Offers Customers Zero Down, Zero Payments and Zero Interest for 180 Days*
Posted 5/15/2020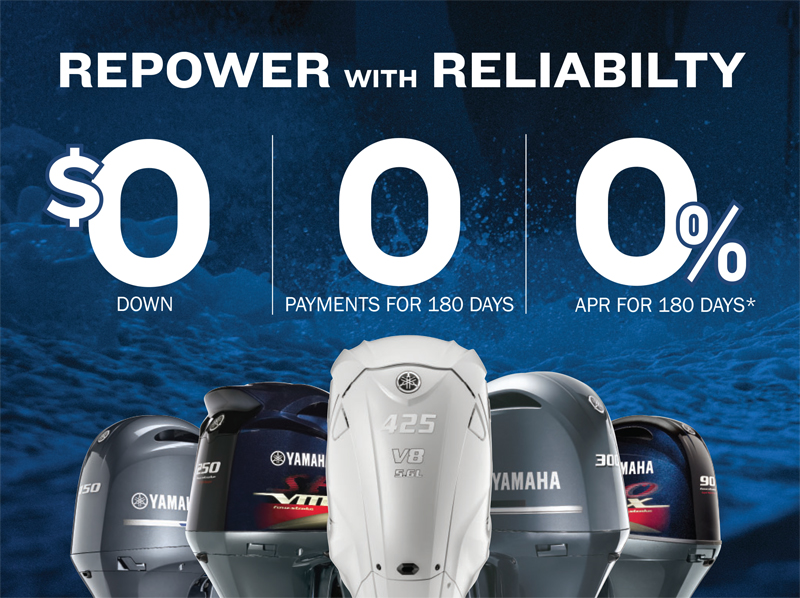 Kennesaw, Ga.
– May 15, 2020 – Yamaha Marine's new "Repower with Reliability" promotion gives consumers more great reasons to choose Yamaha four-stroke outboards this season.
"Yamaha is kicking off the season by offering customers incentives to buy now and delay payments and interest for 180 days," said Dale Barnes, Division Manager, Marketing, Yamaha Marine Engine Systems. "For customers who choose to finance outboard purchases, the 'Repower with Reliability' promotion offers substantial saving opportunities for Yamaha's most popular outboards and rigging accessories."
"Repower with Reliability" applies to eligible, new Yamaha four-stroke outboards** and gives customers the option to put zero down, make zero payments and pay zero interest for 180 days when they purchase from authorized, participating Yamaha Outboard Full Line (repower) dealers. The promotion is effective for eligible four-stroke outboards purchased and warranty registered between May 15, 2020, and June 30, 2020.
Additional terms, conditions and procedures apply. Consumers should see authorized participating Yamaha Full Line (repower) dealers for complete details.
Yamaha Marine products are marketed throughout the United States and around the world. Yamaha Marine Engine Systems, based in Kennesaw, Ga., supports its 2,400 U.S. dealers and boat builders with marketing, training and parts for Yamaha's full line of products and strives to be the industry leader in reliability, technology and customer service. Yamaha Marine is the only outboard brand to have earned NMMA®'s C.S.I. Customer Satisfaction Index award every year since its inception. Visit
www.yamahaoutboards.com
.
PROGRAM TERMS AND CONDITIONS:
*180-day payment & interest deferral available to qualified buyers through authorized participating Yamaha Full Line Outboard (Repower) Dealers (found at https://yamahaout- boards.com/en-us/find-a-dealer) financing purchase of eligible new Yamaha four-stroke outboard motors** through Yamaha Financial Services (YFS). APR to increase after 180 days; rate based on creditworthiness. Qualified buyers who defer first payment to 180 days after signing do not incur finance charges during the deferral period; finance charges begin to accrue at the applicable APR at the end of the 180-day period. No down payment and no trade-in required. Eligible outboard models must be sold, delivered, PDI (Pre-Delivery Inspection) completed, and warranty registered on Yamaha Marine Business System (YMBS) by an authorized participating Yamaha Full Line Outboard (Repower) Dealer between 5/15/20 through 6/30/20. $10,000 minimum finance amount. Subject to YFS approval; not all buyers will qualify. Yamaha reserves the right to change or cancel this promotion at any time. Offer void where restricted or otherwise prohibited by law. This promotion can be used in conjunction with the Yamaha 2020 "Spring Savings" sales event promotion. Other terms and conditions apply. See your authorized participating Yamaha Full Line Dealer for complete program details and for eligibility with other Yamaha promotions.
**Promotion eligible for consumer financing of new, not previously warranty registered Yamaha four-stroke outboard motors manufactured since January 2013 and related Yamaha brand propeller and rigging equipment purchased through authorized participating Yamaha Full Line (Repower) Outboard Dealers located within the United States. Outboard motors sold as part of a new boat/motor package, sold or provided for commercial, camp, resort, rental, promotional/demo, government agency, competition, tournament or sponsorship use, and/or which are sold, registered or housed outside of the United States are NOT eligible. Any other items including, but not limited to, boats and trailers, CANNOT be included in this promotion.
REMEMBER to always observe all applicable boating laws. Never drink and drive. Dress properly with a USCG-approved personal floatation device and protective gear.
® 2020 Yamaha Motor Corporation, U.S.A. All rights reserved.
This document contains many of Yamaha's valuable trademarks. It may also contain trademarks belonging to other companies. Any references to other companies or their products are for identification purposes only, and are not intended to be an endorsement.
###