Company News
Yamaha Marine Names Duane Kuck 2020 Marine Industry Champion
Posted 2/14/2020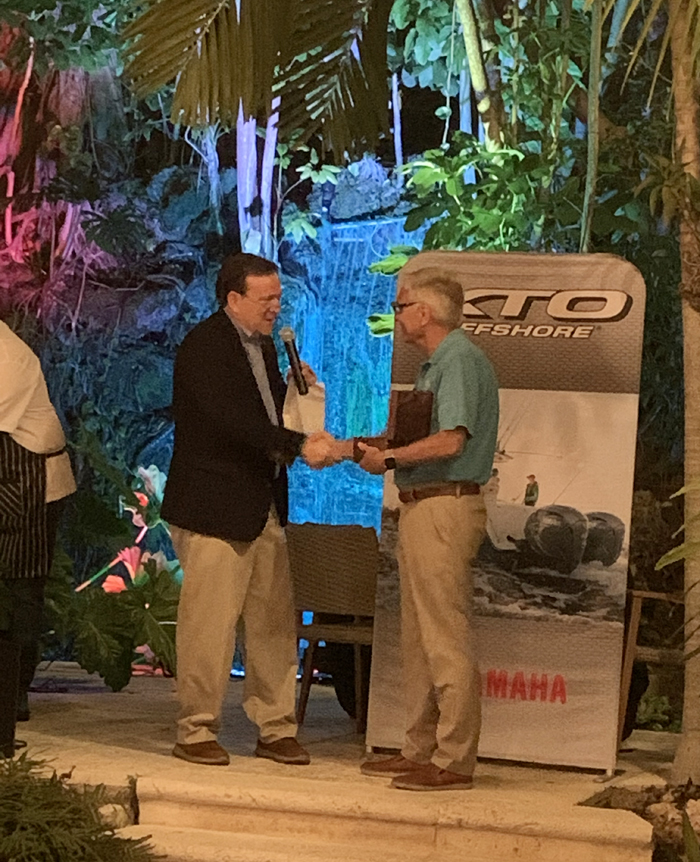 Miami, Fla.
– Feb. 14, 2020 – Duane Kuck, CEO, Regal Boats, became the first annual recipient of the Yamaha Marine Industry Champion award on Thurs., Feb. 13, during the 2020 Miami International Boat Show
®
. The award recognizes individuals who work tirelessly to protect, encourage and grow the marine industry. Kuck's immediate and unwavering support of the relief efforts in the Bahamas after Hurricane Dorian and his advocacy efforts highlight his commitment to boating, fishing and communities that foster life on the water.
"After Hurricane Dorian made landfall in the Bahamas, Duane and his wife Cindy took immediate action to help, privately funding three helicopter search and rescue missions to help evacuate the people who were stranded in the areas most affected by the storm," said Ben Speciale, President, Yamaha Marine U.S. Business Unit. "His involvement with Boat PAC helps us raise a stronger voice in D.C. about the issues affecting our industry. True stewards of his family's legacy in the marine industry, Duane and Cindy's actions and involvement are fueled by integrity, loyalty and a drive to do the right thing. Duane was a natural choice for Yamaha's first annual Industry Champion award."
The Kuck family has been active in the marine industry for almost 50 years. Paul and Carol Kuck, Duane's parents, started Regal Boats in 1969, quickly setting the standard for world-class boating luxury and state-of-the-art craftsmanship. Hard work, determination, outstanding customer service and consistent stewardship allowed the Kucks to successfully persevere through many marine industry peaks and valleys. Duane, Cindy, Duane's brother Tim, and a third generation today uphold the high standards of service set by their parents. Family-run, Regal Boats continues to make its mark as a premier boat brand as well as a marine industry champion.
Yamaha Marine products are marketed throughout the United States and around the world. Yamaha Marine Engine Systems, based in Kennesaw, Ga., supports its 2,000 U.S. dealers and boat builders with marketing, training and parts for Yamaha's full line of products and strives to be the industry leader in reliability, technology and customer service. Yamaha Marine is the only outboard brand to have earned NMMA
®
's C.S.I. Customer Satisfaction Index award every year since its inception. Visit
www.yamahaoutboards.com
.
###
This document contains many of Yamaha's valuable trademarks. It may also contain trademarks belonging to other companies. Any references to other companies or their products are for identification purposes only, and are not intended to be an endorsement.