Company News
Yamaha Marine U.S. Business Unit Opens New Marine Innovation Center in Kennesaw, Deepens Commitment to Developing Georgia Workforce
Posted 4/13/2023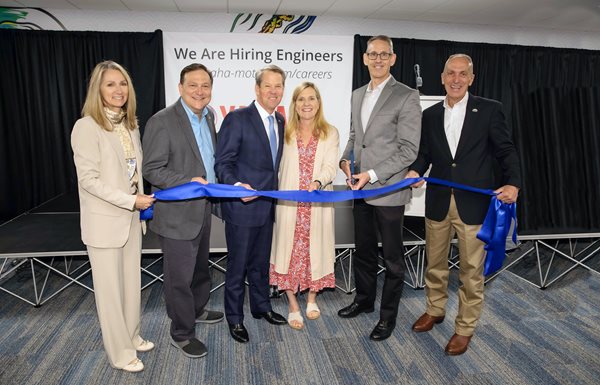 KENNESAW, Ga.,
April 13, 2023 - Yamaha U.S. Marine Business Unit formally announced the grand opening of a new Marine Innovation Center in Kennesaw on April 12, which will provide new job opportunities as well as broaden Yamaha's presence in the State of Georgia. Governor Brian Kemp, First Lady Marty Kemp and Mayor Derek Easterling of Kennesaw attended the ribbon cutting ceremony for the new 75,280 square foot facility which now houses the Yamaha Marine Connected Division as well as Yamaha U.S. Marine Development, Yamaha Marine Product Management and Yamaha Marine Technical Marketing.
"We believe Georgia is an exceptional location for business growth and development. The Marine Innovation Center represents the fourth major Yamaha facility in the state, joining Yamaha's Marine headquarters in Kennesaw, the Yamaha Motorsports and Intelligent Machinery Group headquarters in Marietta, and the Yamaha Motor Corporation manufacturing facility in Newnan," said Ben Speciale, President, Yamaha U.S. Marine Business Unit. "Yamaha employs approximately 2,300 team members in Georgia. We plan to add more as we partner with local education institutions to hire engineers for our new facility in Kennesaw, where we're developing exciting, innovative products that will deliver more exceptional experiences for Yamaha customers across the globe."
Products currently under development within the Yamaha Marine Innovation Center include DockPoint
™
, the newest feature of Helm Master® EX Full Maneuverability, which automatically docks a properly equipped boat at the touch of a finger, in addition to Siren Marine® products, which allow customers to monitor and control the functionality of their boats from mobile devices, as well as new Yamaha WaterCraft vehicles and accessories.
Yamaha career opportunities within Marine Connected Division include business planning, user experience, IoT/Cloud Infrastructure, product planning, data analysis, sales and marketing positions. Positions within the Yamaha U.S. Marine Development, Product Management and Marine Technical Marketing Division include control engineers, perception engineers, product development engineers, project managers, hydrodynamics engineers and various software engineers.
"I know this [Yamaha] Marine Innovation Center is another great win for our state, and this is an example of why I believe we continue to remain the number one state in the country for business, which we've done for nine years in a row now," said Governor Kemp. "According to the Outdoor Industry Association, recreational businesses bring over $27 billion to Georgia's economy every year and employ around 238,000 people, which is a lot. Certainly, Yamaha is a big part of that industry and we're just so thankful that Yamaha continues to choose to build and grow as they've done over the past several decades."
The Yamaha Marine Innovation Center is currently accepting applications. For more information or to apply please contact
yamaha-motor.com/careers
. For a soundbite from Ben Speciale, Yamaha U.S. Marine Business Unit President, click
here
. For a soundbite from Governor Kemp, click
here
.
Yamaha U.S. Marine Business Unit, based in Kennesaw, Ga., markets and sells marine outboard motors ranging in size from 2.5 to 450 horsepower. It also markets and sells fiberglass, jet-drive sport boats ranging from 19 to 27 feet, and personal watercraft. The unit includes manufacturing subsidiaries and divisions of Yamaha Marine Systems Co., Inc., including Kracor of Milwaukee (rotational molding), Bennett Marine of Deerfield Beach, Fla. (trim tabs), Siren Marine, Inc. of Newport, RI (Connected Boat) and Yamaha Marine Precision Propellers of Indianapolis (stainless steel propellers). Yamaha Marine Group is a division of Yamaha Motor Corporation, U.S.A., based in Cypress, Calif.
###
This document contains many of Yamaha's valuable trademarks. It may also contain trademarks belonging to other companies. Any references to other companies or their products are for identification purposes only and are not intended to be an endorsement. Siren Marine is a registered trademark of Siren Marine, LLC.
REMEMBER to always observe all applicable boating laws. Never drink and drive. Dress properly with a USCG-approved personal floatation device and protective gear.
© 2023 Yamaha Motor Corporation, U.S.A. All rights reserved.