Company News
Yamaha Pro Anglers Lend Perspective to Aquatic Invasive Species Discussion During Blue Ribbon Commission Session at ICAST 2022
Posted 7/26/2022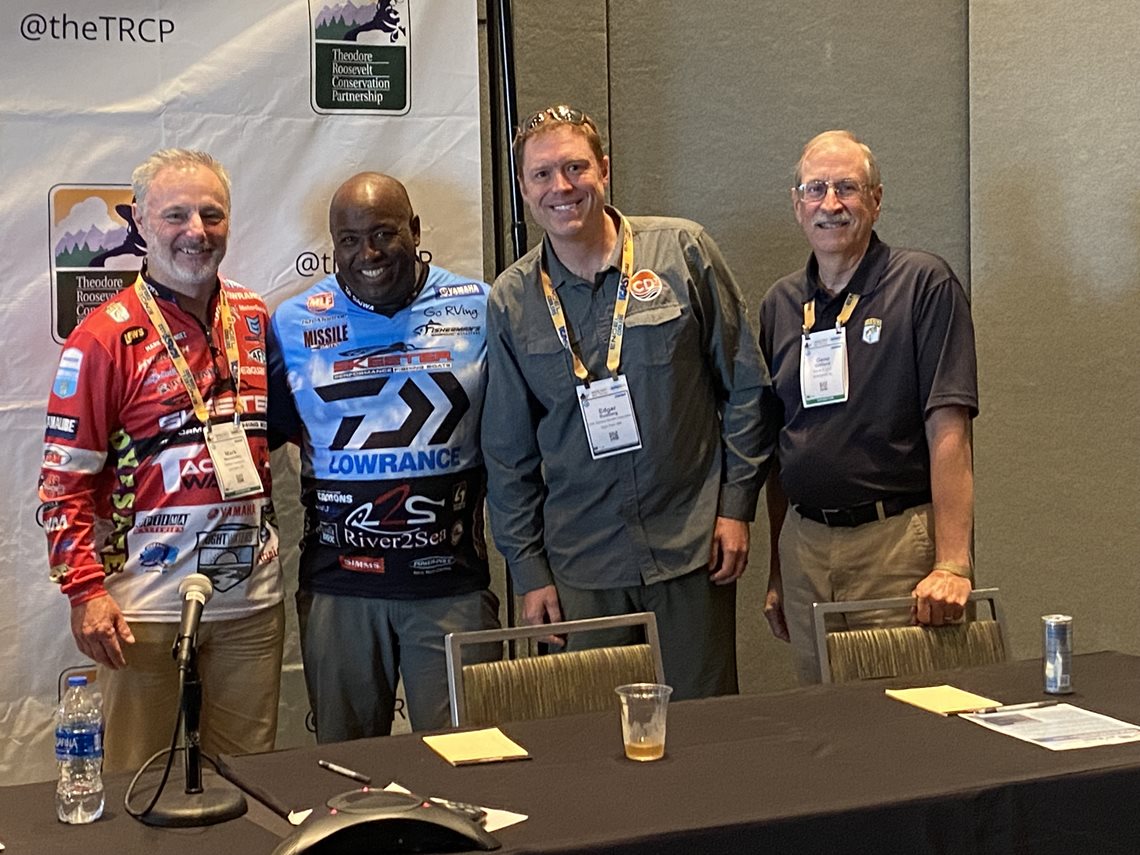 Orlando, Fla.
– July 26, 2022 – The Aquatic Invasive Species (AIS) Blue Ribbon Commission held its first listening session on Thursday, July 21. Yamaha Pro Anglers and Commissioners Mark Menendez and Ish Monroe discussed the negative effects of aquatic invasive species on state fisheries management, boating and fishing access and revealed the complexities of the invasive species issue.
"The bass and crappie fishing in Kentucky is starting to recover as the Asian carp population levels out, thanks to harvesting efforts and a push to limit the spread," said Menendez. "However, gamefish stocks are still not back to the levels we experienced before Asian Carp inundated the lakes about 20 years ago."
The Aquatic Invasive Commission, supported by Yamaha Rightwaters™, the Theodore Roosevelt Conservation Partnership (TRCP
®
) and members of the $689 billion recreational industry, convenes leading biologists, environmentalists, policy makers and resource managers to assess existing mitigation efforts and identify more effective eradication solutions. The Commission plans to present findings to Congress and the administration in 2023 with the goal of passing comprehensive legislation to better manage aquatic invasive species.
"ICAST
®
provided the perfect opportunity to introduce the recreational fishing industry to the work of the Aquatic Invasive Commission because the fishing tackle industry is going to play an essential role in encouraging anglers to help control and manage aquatic invasive fish and plants," said TRCP
®
Marine Fisheries Director Chris Macaluso. "Recreational anglers and the fishing industry understand that eradication of invasive fish, plants and animals isn't possible. However, there are some proactive steps anglers and the industry can take to limit the spread and keep populations in check. These meetings at ICAST
®
helped identify some tangible and achievable goals to aim for in containing and controlling the spread of aquatic invasives."
Twenty representatives of the boating and fishing industry attended the Boating and Fishing Working Group of the Aquatic Invasive Commission including representatives from Yamaha Rightwaters, BoatUS
®
, NMMA
®
, ASA, B.A.S.S.
®
and other conservation organizations. Menendez and Monroe discussed the negative effects of invasive carp in Kentucky and Barkley Lakes and how they can cause economic hardships for the local communities that depend on recreational boating and fishing.
"In California, the state agency struggles with the management of invasive zebra mussels and water hyacinth," said Monroe. "We could greatly benefit from sharing of best management practices from states in the South and Midwest that have made a greater effort to try to contain these plants and invasive species."
The working group agreed on four main points to present to the AIS Commission as recommendations for how the boating and fishing community and marine industry can improve control and containment of aquatic invasives:
Immediately engage Congress and federal agencies regarding funding from the Infrastructure Investment and Jobs Act about improving and expanding facilities for boat cleaning, especially at boat ramps on federal lands and managed by the U.S. Army Corps of Engineers®.
Work with marketing directors from the fishing tackle and boating manufacturing industries to help market the catching and consumption of aquatic invasive fish like blue catfish, Oscars, snakeheads and others.
Work with state and federal agencies to identify a list of "best practices" in managing aquatic invasive plants, mussels and fish that can be shared with state agencies that are struggling with management as aquatic invasives spread into new regions.
Identify successful programs that incentivize anglers and commercial harvesters to catch aquatic invasive fish and animals and ensure there is consistent funding and opportunities to expand those programs in other parts of the country and for other invasive fish and animals.
In addition to Menendez and Monroe, Commission members include: John Arway, Retired State Director (PA); Elizabeth Brown, NAISMA; Sloane Brown, Yeti; Jason Christie, Yamaha Pro Angler; Jake Dree, Yeti
®
; Marc Gaden, Great Lakes Fishery Commission; Gene Gilliland, B.A.S.S.
®
; Alanna Keating, BoatUS
®
; Monica McGarrity, Texas Parks and Wildlife Department; Ben Mohr, former director Kenai River Sportfishing Association; Steve Moyer, Trout Unlimited™; Stephen Phillips, Pacific States Marine Fisheries Comm'n; Mathew Van Daele, Sun'aq Tribe of Kodiak; Nick Wiley, Ducks Unlimited®; Drue Winters, American Fisheries Society; Dennis Zabaglo, Tahoe Regional Planning.
"Invasive marine species like lionfish and carp edge out native species and wreak havoc on a range of marine ecosystems, from coral reefs to the Great Lakes," said Martin Peters, Division Manager, External Affairs, Yamaha U.S. Marine Business Unit. "Yamaha Rightwaters supports efforts to mitigate the damage from invasive species, improving the health and longevity of native marine life."
Upcoming meetings of the Aquatic Invasive Commission include a scientific listening session on July 25, a state/regional/tribal listening session on August 17 during the 2022 Kenai Classic Roundtable discussion in Alaska. The Commission plans to complete the white paper and recommendations by the end of 2022 and present the findings to Congress in 2023.
Yamaha Rightwaters is a national sustainability program that encompasses all of Yamaha Marine's conservation and water quality efforts. Program initiatives include habitat restoration, support for scientific research, mitigation of invasive species, the reduction of marine debris and environmental stewardship education. Yamaha Rightwaters reinforces Yamaha's long-standing history of natural resource conservation, support of sustainable recreational fishing and water resources and Angler Code of Ethics, which requires pro anglers to adhere to principles of stewardship for all marine resources.
Yamaha U.S. Marine Business Unit, based in Kennesaw, Ga., markets and sells marine outboard motors ranging in size from 2.5 to 425 horsepower. It also markets and sells fiberglass, jet-drive sport boats ranging from 19 to 27 feet, and personal watercraft. The unit includes manufacturing divisions of Yamaha Marine Systems Co., Inc., including Kracor of Milwaukee (rotational molding), Bennett Marine of Deerfield Beach, Fla. (trim tabs), and Yamaha Marine Precision Propellers of Indianapolis (stainless steel propellers). Yamaha Marine Group is a division of Yamaha Motor Corporation, U.S.A., based in Cypress, Calif.
###
This document contains many of Yamaha's valuable trademarks. It may also contain trademarks belonging to other companies. Any references to other companies or their products are for identification purposes only and are not intended to be an endorsement.
REMEMBER to always observe all applicable boating laws. Never drink and drive. Dress properly with a USCG-approved personal floatation device and protective gear.
© 2022 Yamaha Motor Corporation, U.S.A. All rights reserved.