Company News
Yamaha Rightwaters™ Supports Conch Republic Marine Army
Posted 7/17/2020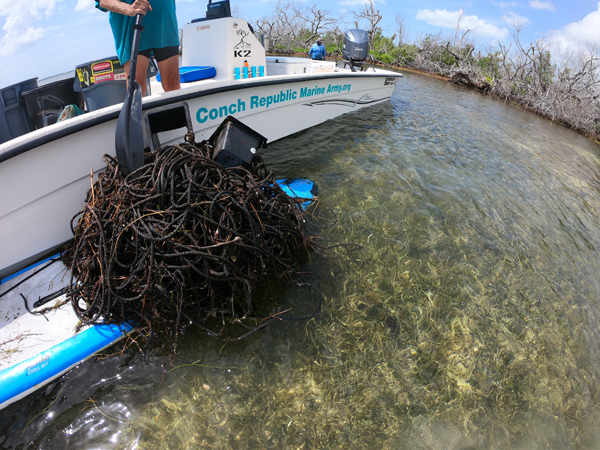 Kennesaw, Ga.
– July 17, 2020 – Yamaha Rightwaters™ helped the Conch Republic Marine Army secure a new Yamaha 225 four-stroke outboard to power a vessel the organization is currently using for cleanup missions in the Florida Keys.
"We knew we needed more horsepower for a larger boat and reached out to Yamaha first since we've been running them for years. If we get another boat as we grow, we'll do it exactly the same again," said Brian Vest, President and Founder, Conch Republic Marine Army. "Support from Yamaha Rightwaters gives our organization more momentum to move forward with our mission clean up our waters and restore marine habitats. There's still much work to be done. We're proud to use the motor to make a difference in the Keys."
Vest initially formed the Conch Republic Marine Army as a volunteer organization dedicated to removing marine debris caused by Hurricane Irma, which struck the Keys on Sept. 10, 2017. The massive storm devastated the land, as well as the ocean and bay. Much of what was once on solid ground was thrown into the mangroves, waters, and back country, where it continues to wreak incredible havoc on the environment and ecosystem. Using kayaks, canoes, and manual labor, the Conch Republic Marine Army removed 306,760 documented pounds of debris, including 722,010 feet of trap line removed from the mangroves and 82 refrigerators. The organization estimates roughly two million pounds of debris remain for removal.
"The Conch Republic Marine Army is willing to do whatever it takes to remove debris from the Keys," said John O'Keefe, Senior Specialist, Government Relations, Yamaha Marine. "Brian Vest and his volunteers are committed to preserving these waters for future generations, a cause that is central to the mission of Yamaha Rightwaters. We're pleased to have the opportunity to make this happen for the Conch Republic Marine Army and we applaud their efforts."
To learn more about the Conch Republic Marine Army or to volunteer, please visit
conchrepublicmarinearmy.org
.
Yamaha Rightwaters™ is a national sustainability program that encompasses all of Yamaha Marine's conservation and water quality efforts. Program initiatives include habitat restoration, support for scientific research, mitigation of invasive species, the reduction of marine debris and environmental stewardship education. Yamaha Rightwaters reinforces Yamaha's long-standing history of natural resource conservation, support of sustainable recreational fishing and water resources and Angler Code of Ethics, which requires pro anglers to adhere to principles of stewardship for all marine resources.
Yamaha Marine products are marketed throughout the United States and around the world. Yamaha Marine U.S. Business Unit, based in Kennesaw, Ga., supports its 2,400 U.S. dealers and boat builders with marketing, training and parts for Yamaha's full line of products and strives to be the industry leader in reliability, technology and customer service. Yamaha Marine is the only outboard brand to have earned NMMA
®
's C.S.I. Customer Satisfaction Index award every year since its inception.
###
REMEMBER to always observe all applicable boating laws. Never drink and drive. Dress properly with a USCG-approved personal floatation device and protective gear.
© 2020 Yamaha Motor Corporation, U.S.A. All rights reserved.