Company News
Yamaha Rightwaters™ Supports NOAA Channel Islands National Marine Sanctuary
Posted 7/22/2019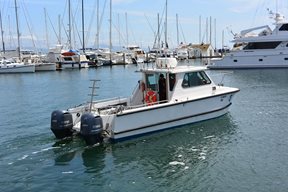 KENNESAW, Ga.,
July 22, 2019 – Yamaha Marine recently donated two F300 outboards to Channel Islands National Marine Sanctuary, which will power the group's research vessel
Shark Cat
during expeditions in the 2019 season. Support for the national marine sanctuary is an activity of Yamaha Rightwaters™, a sustainability program that encompasses all of Yamaha Marine's conservation and water quality efforts.
"The national marine sanctuary is a special place for species close to extinction, sensitive habitats, shipwrecks and maritime heritage artifacts," said Martin Peters, Division Manager, Government Relations, Yamaha Marine U.S. Business Unit. "Yamaha Rightwaters serves to improve habitats, manage invasive species, support scientific research and improve water quality."
Located off the coast of Santa Barbara and Ventura counties in Calif., Channel Islands National Marine Sanctuary is one of 14 federally designated marine protected areas administered by the National Oceanic and Atmospheric Administration (NOAA) within the Department of Commerce. The national marine sanctuary encompasses 1,110 square nautical miles (1,470 square miles) of water from mean high tide (MHW) to six nautical miles offshore of Santa Barbara, Anacapa, Santa Cruz, Santa Rosa and San Miguel islands.
Channel Islands National Marine Sanctuary operates the Research Vessel
Shark Cat
, a 28-foot twin-hull power cruiser, principally for single-day research, with some additional vessel operations to support education as well as management and enforcement of sanctuary rules. The vessel can carry up to three divers, with two tanks each, and is outfitted with a dive ladder, oxygen, AED and backboard. With a continuous cruising speed of 25 knots, the
Shark Cat
is also an important asset for emergency response within the national marine sanctuary.
Ongoing
Shark Cat
missions/activities include:
Quick mobilization for research on basking sharks and time-sensitive whale disentanglement mission support
Oil spill response support
Hydrophone mooring deployment to monitor ocean noise
NOAA science dive operations (e.g. eelgrass monitoring)
"We are extremely grateful for Yamaha's support and assistance through the donation of these outboards," said John Armor, director of NOAA's Office of National Marine Sanctuaries. "The engines will enhance the mission of Channel Islands National Marine Sanctuary and increase our ability to conduct important research, monitoring, and response activities."
Yamaha Marine products are marketed throughout the United States and around the world. Yamaha Marine U.S. Business Unit, based in Kennesaw, Ga., supports its 2,400 U.S. dealers and boat builders with marketing, training and parts for Yamaha's full line of products and strives to be the industry leader in reliability, technology and customer service. Yamaha Marine is the only outboard brand to have earned NMMA
®
's C.S.I. Customer Satisfaction Index award every year since its inception.
###