Company News
Yamaha U.S. Marine Business Unit Announces 2021/2022 Certified Master Technicians
Posted 5/26/2022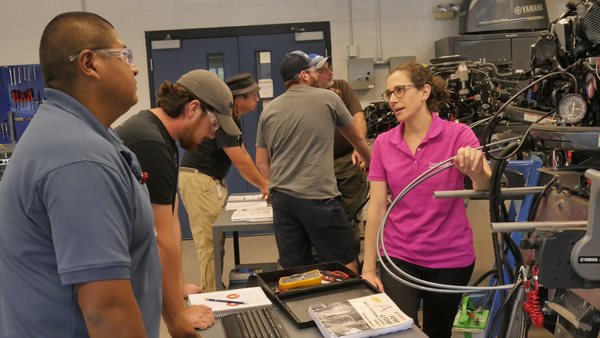 KENNESAW, Ga. – May 26, 2022 – Yamaha U.S. Marine Business Unit announced today the marine technicians who successfully earned Yamaha Master Technician Certification during late 2021 and early 2022. In order to earn the certification, experienced marine technicians must complete six week-long courses covering outboard engine operating systems, proper installation, service and maintenance procedures, and troubleshooting skills. Out of hundreds of applicants, approximately 30 technicians pass Yamaha's certification exam on an annual basis.
The newly-certified Yamaha Master Technicians include:
Matt Heiken, Dewey's Cook Inlet, Inc.

Jeffery Nicholes, Texas Marine® Conroe

Shaun Raynor, Saltwater Marine, Inc.

Kevin Hacke, Lake County Watersports

Michael Behm, Adventure Marine

Caleb Shanholtzer, 66 Marine North

Will Binford, Legendary Assets
& Operations, LLC

Geremy Cree, Ingman Marine

Michael Malone, Sailfish Marina

Kurt Bailey, Buzz's Marine Supply

Daniel Dunn, Norfolk Marine Co.

Seth Morson, Sport Center

John Suttle, Pro Marine, USA

Tom Littich, York Road Marine

Joshua Murray, Nauset Marine, Inc.

Meghin Montesa, Bosun's Assets &
Operations, LLC

Garrett Stone, Monahan's Marine, Inc.

Chase Turner, Adventure Marine

Chance Kellogg, Key Marine

William McDaniel, Bulloch Marine, Inc.

John Riddle, City Marine, Inc.

Keith Vannote, Garden State
Yacht Sales, LLC

Gregory Varvouris, Harbor View Marine

Robert Hamm, F & S Yamaha & Marine, Inc.

Dean Rutkunas, Twin Hull Boats, LLC

Michael Clark, Paradise Marine Center

Derick Dodson, Buck's Island Marina

Jacob Gailey, Falmouth Pier 37, Inc.

Scott Helwig, F & S Yamaha & Marine, Inc

Drew Burgess, Boating Atlanta

Owen Eastwood, Tuckerton Marine

Nathaniel Matthews, Muddy Bay Marine, LLC

Kyle Kolles, Foster Brothers Marine, Corp.

Walter Melvin, Tim's Ford
Powersports II, LLC

"Those who obtain Yamaha Master Technician certification are among an elite group of highly-skilled marine technicians who achieve the highest levels of expertise within Yamaha's core technical competencies," said Gregg Snyder, Manager, Marine Training Department, Yamaha U.S. Marine Business Unit. "Yamaha congratulates the latest class of Master Technicians. Their skills will make them invaluable assets to their dealerships and provide Yamaha customers with the highest level of technical service."
For additional details about Yamaha's dealer training schedule, contact
dealertraining@yamaha-motor.com
or 1-800-854-4876, Option 3.
Yamaha U.S. Marine Business Unit, based in Kennesaw, Ga., markets and sells marine outboard motors ranging in size from 2.5 to 425 horsepower. It also markets and sells fiberglass, jet-drive sport boats ranging from 19 to 27 feet, and personal watercraft. The unit includes manufacturing divisions of Yamaha Marine Systems Co., Inc., including Kracor of Milwaukee (rotational molding), Bennett Marine of Deerfield Beach, Fla. (trim tabs), and Yamaha Marine Precision Propellers of Indianapolis (stainless steel propellers). Yamaha Marine Group is a division of Yamaha Motor Corporation, U.S.A., based in Cypress, Calif.
###
This document contains many of Yamaha's valuable trademarks. It may also contain trademarks belonging to other companies. Any references to other companies or their products are for identification purposes only and are not intended to be an endorsement.
REMEMBER to always observe all applicable boating laws. Never drink and drive. Dress properly with a USCG-approved personal floatation device and protective gear.
© 2022 Yamaha Motor Corporation, U.S.A. All rights reserved.