Versatile Pontoon's Popularity Remains Strong
For well over a decade, pontoons have been a leading segment in the recreational boating market, behind only personal watercraft.
The reason for the pontoon's explosive growth? Versatility. Manufacturers have redefined the pontoon, adding innovative features, increasing performance and luxury, and in the process have built a category of boats that do many things very well.
For generations of boaters, pontoons were basic craft, not much more than a rectangular platform attached to a couple steel or aluminum tubes and powered by small two-stroke outboard up to maybe, 90 horsepower.
On the smaller natural lakes in states like Minnesota, Wisconsin and Michigan, it was common to find up to three boats docked in front of many seasonal cabins: aluminum fishing boat, runabout ("speedboat" to many) and a pontoon. Each was used for specific tasks; in the case of pontoons, they were favorites for sunset cruises, family fishing and platforms for swimming.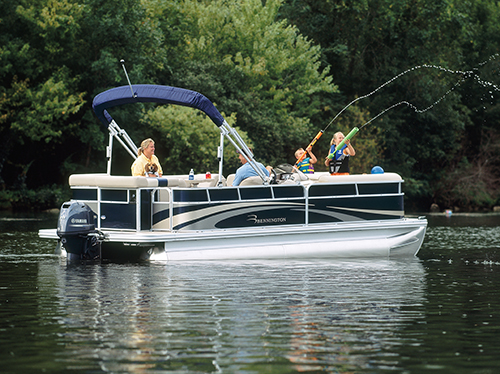 Today, when you boat past those same docks you typically find a single boat moored and in many cases it's a pontoon. Data from Statistical Surveys, Inc., (SSI) supports this. In 2021, pontoon registrations nationwide were some of the highest ever, including an impressive 16% jump from 2019 to 2021.
What's more, the pontoon's popularity is growing nationwide, with sales increasing in states like Texas, North Carolina and Florida challenging sales numbers in traditional upper Midwest pontoon markets, per SSI data.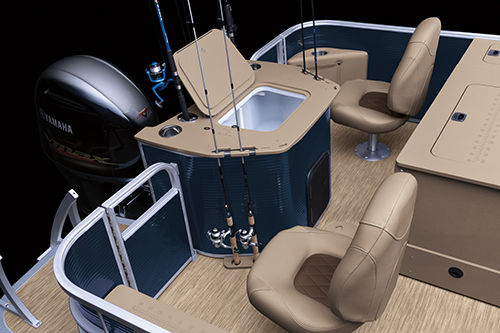 New Boaters Select a Pontoon
When professional educators Jennifer and Randy Smasal began their search for their first boat two years ago, they quickly discovered how well a pontoon would fit their needs.
"The more we looked at available options," said Randy, asst. superintendent for a school district in the Twin Cities area, "the more we realized our first boat was going to be a pontoon."
The Smasals ended up purchasing a 22-foot Avalon® powered by a F115 Yamaha. Two years later, they are still thrilled with their purchase.
"It offers a great blend of power and room, which is important for our large family," said Randy. "We use it a lot for sunset cruises, fishing and we often eat dinner on the water."
"We have busy jobs with a lot of stress," said Jennifer, an asst. principal at a metro-area high school. "Watching the sun set over the water allows us to reset after a
tough day and get ready for the next day's challenges."
"I learned to drive the boat myself and that's empowering…I even took my whole admin staff out for a cruise last summer," said Jennifer. "I was scared as heck at first, but I did it!"
Innovation Growing Market Share
Industry leaders like Bennington® offer a case study in innovation and offering products that consumers demand. Features like high end audio, comfortable seating and cockpit, optional washdown systems, improved storage and wireless charging stations are just a few of the things that keep customers happy.
One of the most popular features offered by Bennington® is "Swingback" floor plans with seating that allows users to "face forward or back depending on the position of the furniture back." With Swingback seating, boaters have the option of bench seating or a place to lay down when sunning or cruising.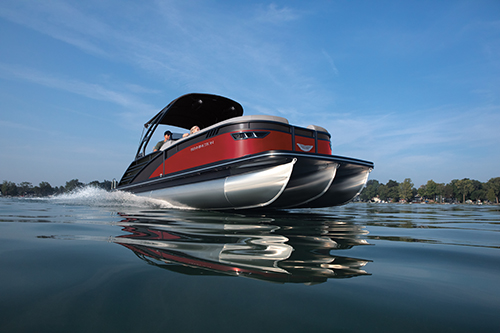 This year, Bennington® offers four different series with models running from 16 to 32 feet, and beams of 8, 8.6 or 10 feet. The company offers affordable base units with two pontoons and single outboard (starting MSRPs $22,250) or high-performance tri-toons with single or double outboards that run $300,000 or more when fully rigged.
For dealers like Miller Marine in St. Cloud, Minnesota, which sells hundreds of pontoons annually, this breadth of available offerings is important. Their best selling models are typically 22 feet with a F115 Yamaha outboard, but larger units with horsepower to 300 or more are also very popular.
"These units have plenty of power to pull tubers and offer a ton of room," said General Manager Luke Gorecki, "They are also easy to run, making them popular for all family members."
For consumers deciding whether to go with a more traditional pontoon or one of the high-performance tri-toon models, Gorecki recommends looking at two things: average number of passengers and if you are looking to "putz (cruise) or for performance".
Tri-toon models are becoming increasingly popular with boaters, particularly on larger waters and those who enjoy water sports like skiing and tubing with larger groups of family and friends.
Gorecki said pontoon manufacturers like Bennington are now designing their higher-end models to look and feel more like wake boats, with clean lines and sport arches.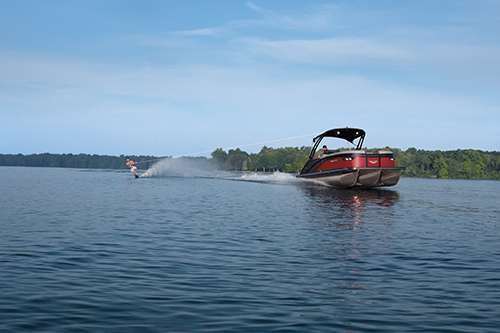 Powering the Fun
Clean-burning, reliable, quiet-running four-stroke engines have played a big role in the growing popularity of pontoons. Performance is outstanding in both single and double engine configurations.
Per a recent Yamaha Performance Bulletin (February 2023), a 32-foot Bennington® 30QX delivered a top speed of 63.1 MPH with twin Yamaha F450 outboards, while an August 2020 performance test for a Bennington® 198 SL (19' 10") with a Yamaha F115 delivered 35.2 MPH at top end; MPG at cruising speeds (3500 RPM) was a superb 4.79.
Yamaha's high-performance SHO® models are very popular with pontoon owners. The 250 SHO is the best-selling outboard for larger tri-toons sold at Miller Marine according to Gorecki, and the 115, 150 and 200 SHOs are popular as well.
"Customers like the aggressive look and performance of the SHOs," said Gorecki.
Versatility Unleashed
It's not surprising that boaters began to see pontoons for what they are …versatile craft that can be configured, equipped and powered to meet multiple needs, including serious fishing.
Serious angler Steve Pennaz, host of Lake Commandos® on Outdoor Channel®, owns a pontoon that he keeps moored in front of his lakeside home.
"We selected a base model 20-footer
powered by a Yamaha F50," said Steve.
"The 'toon has enough room to comfortably
seat up to eight and is incredibly economical
to run. The F50 trolls down to the speeds we need to catch fish, something not possible with higher horsepower engines."
"If our kids weren't grown and water sports were still important, we would have gone to a larger pontoon and higher horsepower, but at this life stage our pontoon has served us very well over the past three boating seasons."
Current Pontoon Market
Higher interest rates in 2023 and other market conditions are affecting new boat sales, including the sale of pontoons, but versatile pontoons are well positioned for the 100 million American boaters, and that will continue to drive sales going forward.
Back to Blue Life