For something different this year, try holding your Thanksgiving feast aboard your boat to create new memories afloat.
Sometimes it's easy to fall into a rut during the holidays. For many, Thanksgiving means having the same food in the same place every single year. This time around, get creative and hold a feast on the water. One thing's for certain, you can be sure no one will forget it.
Simplicity is the key. Forget the fancy silverware and fine china, this is a meal crying out for sturdy paper plates or recyclable plastic plates and utensils. Crystal wine glasses are cool for toasts but elegant, reusable plastic goblets are preferable on a boat. But be sure to have a designated skipper who can join the toast with a soft drink instead.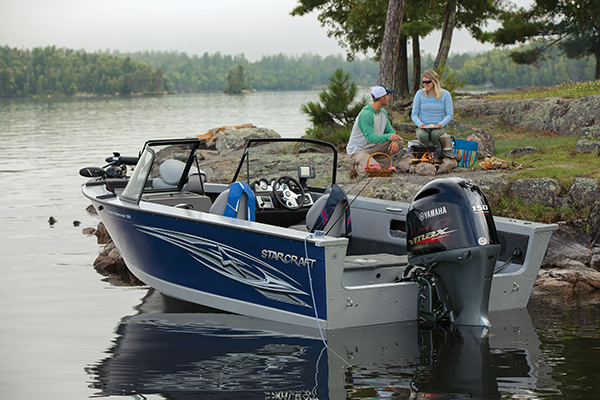 What's Your Plan B?
Being on a boat means the event is at the mercy of the weather so it's good to have a Plan B if the elements don't cooperate. But even inclement weather can be managed with some planning. During this time of year, many have put their boats into storage so a covered boat slip might be available at your local marina that's usually occupied. Pontoon boats can also be equipped with camper enclosures, which also adds at least a month to each end of a boating season up north. If it's cool, guests should dress in layers and wear fabrics that are good at trapping heat like polyester and wool. Avoid poor-insulating fabrics like cotton, including denim jeans, which may be a surprise to many.
Where on the Waterway?
It wouldn't be much fun if the boat is rocking excessively when trying to cook, mingle or eat, so check the weather to see if there's wind and what direction it is coming from to help decide where to headquarter the festivities. Usually, there's a lee shore or protected cove that will make everyone more comfortable. Another option is to beach your boat on a sandy shoreline. Not only does it make the boat more stable but it also gives guests a place to stretch their legs or visit a bush if the need arises. If you've brought your well-trained four-legged best friend along, they will be glad for the potty possibilities and exercise room.
The Best Boat
For large gatherings, pontoons are the ideal boats with ample seating and room to walk about. Grills and food prep and display tables can be mounted onto the perimeter rails to save interior space. Most have removable cockpit tables that mount to the deck or are side-mounted into seat bases for dining. An ottoman can also be added that can double as a coffee table. Surprisingly, many fishing boats like center consoles and dual-console models offer lots of room that can be used for dining.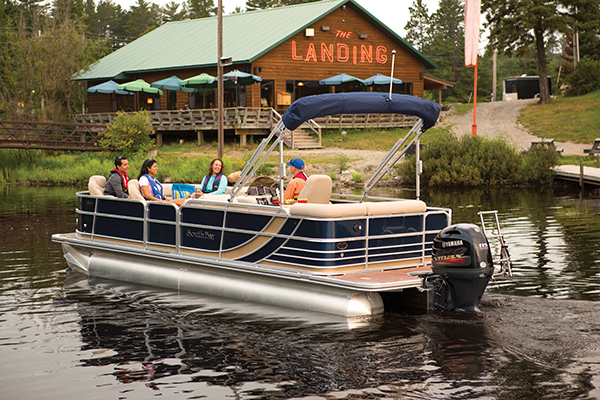 What's on the Menu?
Probably the easiest way to enjoy a Thanksgiving feast onboard a boat is to cook everything on land, pack it in Tupperware and stack hot items into one cooler and cold items in another. But another approach would be to cook items like casseroles and pies in an oven on land and then cook appetizers and vegetables hot and fresh on an onboard gas grill. Ambitious chefs can even try to cook the turkey on the boat and there are a few tricks for pulling this off. Make sure to mount the grill toward the stern if your boat is at anchor so it will be downwind of the occupants. If your boat is beached, mount the grill on the downwind side.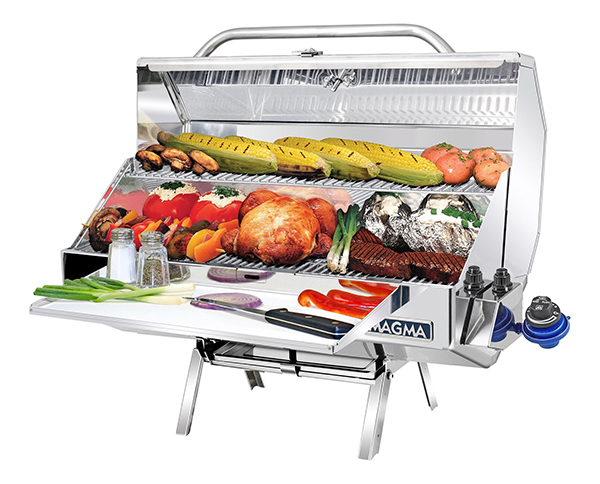 Cook a Turkey on a Boat?
Large marine grills like a gas-powered Magma Catalina, which can be mounted on a rail or in a rod holder, can hold a surprisingly large about of food — even a turkey with room left over for other items. Depending on the size of the grill and its design, a turkey might require removing a second-level rack if it has one.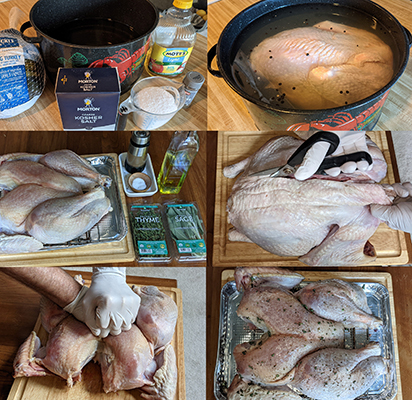 The turkey should be a small bird that's no more than 12 pounds and the first step in prep should be to brine it for at least eight hours using a cup of Kosher salt for every gallon of water, apple juice or vegetable broth. Add herbs like sage and thyme along with peppercorns for extra flavor. Soaking a turkey in the brine helps a turkey maintain its moisture even when cooked at higher temperatures and can help thaw one that is frozen. Don't brine a turkey like a Butterball which has been injected with salt water to achieve the same purpose as brining. After the brine is complete, give the turkey a quick rinse in water and pat the bird dry and allow it to dry further in the refrigerator for a few hours.
Then, to reduce its height and allow it to cook faster and more evenly, chefs should spatchcock it. This is a technique that involves cutting the backbone out with poultry shears. Simply place the bird on a cutting board, breast-side down, and then starting on one side of the backbone, cut it from cavity-to-cavity on one side then do the same on the other side, reserving the backbone to make gravy. Then, flip it over so the breast side is up and press down with your palms on top with some force until you hear a cracking sound, which is the breastbone breaking. This will reduce the turkey's height even more to help it fit in the grill.
Rub the turkey with olive oil or canola oil and season both sides with pepper, chopped sage and thyme and place the bird, breast-side up, on a flat wire rack inside of a shallow foil roasting pan. Start with the grill at 425 (buy a grill-safe thermometer) and cook the turkey with the lid closed for 30 minutes before dropping the temperature to 350 degrees, cook for about another hour before checking the bird's temperature using an instant-read thermometer. When the breast temperature is 150 degrees or the thigh registers 165 degrees, the turkey is fully cooked. The turkey shown in these photos took an hour-and-a-half to cook. Give it at least 15 minutes to rest, then carve and serve.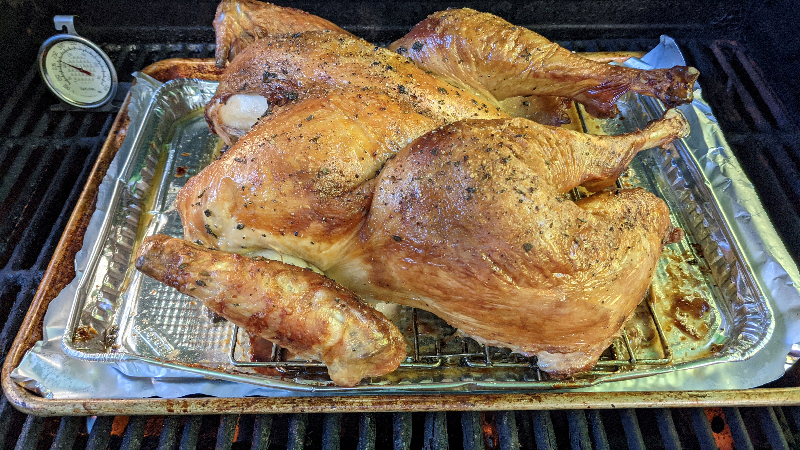 A Thanksgiving feast on the water might require a few extra steps and more planning but the reward is a culinary adventure everyone will remember forever. And spending the day on your boat with those you care about is always a good thing.
Back to Blue Life