On January 14th, 2017, I launched to fish a college bass fishing tournament on Lake Seminole in Bainbridge, Georgia. As we idled by the takeoff dock, we had our life jackets on, fully fastened, navigational lights in and on, and my engine cut-off device attached and in proper working order. Roughly two miles down the Flint River, my hydraulic steering came completely apart, ejecting my partner and me from the boat at roughly 50 – 55 miles per hour. Nearby competitors called the tournament officials who safely took us to shore. Thankfully, we walked away with only a few scratches and bruises.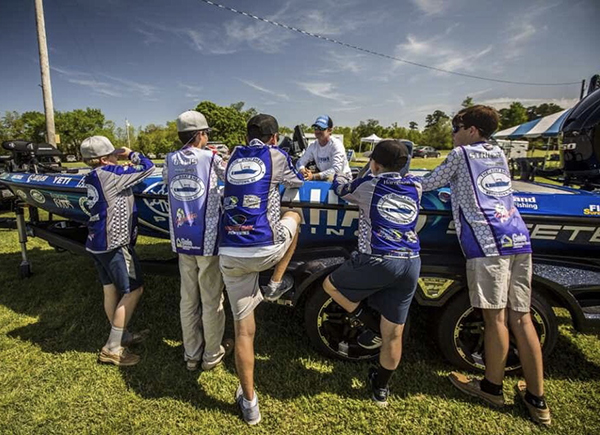 When we arrived back to the dock, we immediately began calling family and friends to let them know that we were okay. I realized at that time the GoPro
®
on my boat may have captured the entire moment. I grabbed my computer and immediately plugged the SD card in to review the GoPro footage. We captured the entire boating accident on
video
.
After the accident, when the realization of its seriousness set in, I had this incredible urge to help, but how? I began thinking, "If I can save one life, then it's all worth it." We decided to post the video on YouTube
®
to showcase how quickly things can happen on the water. The purpose was to illustrate the importance of following all boating safety guidelines to ensure a chance of survival during extreme situations like mine. At the time, I was finishing my degree at the University of Florida
®
. The following morning on my way to class, I noticed the video had nearly 100,000 views, and my phone was ringing off the hook with calls from reporters. At that point, I knew I had the opportunity to help someone, and that the video made an impact.
Shortly after the accident, The National Safe Boating Council (NSBC) reached out to me and invited me to attend the International Boating and Water Safety Summit
®
(IBWSS) in St. Pete, Florida. This conference brings together water and boating safety professionals from all over the world. The plan for the week included networking with the water safety community at the conference and filming a National PSA of my story.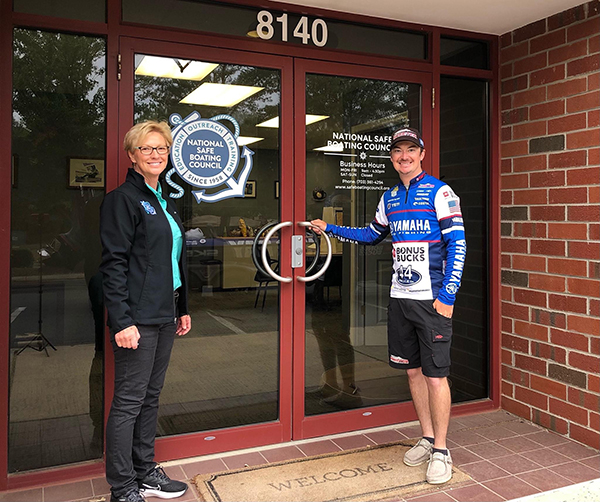 The NSBC asked me to attend a meeting at the conference with a group of families. Nobody told me much about the meeting, but they wanted me to participate and share my story. As I observed the room, I couldn't help but notice families of all ages represented. As they shared their stories of water related tragedies with the group,
I heard:
"My son passed away while..."
"My husband and I were ejected from the boat, and our fishing guide wasn't wearing an engine cut-off device..."
"I was hit by an intoxicated boater."
"My husband and son drowned on the same day."
With tears in my eyes, I immediately knew I needed to help. I was heartbroken to hear about families losing loved ones while enjoying time on the water. It hurt. I often reflect on my accident and wonder "how did I survive that"? After visiting with those families, I knew my calling in life was water safety. I never wanted another person to experience the loss of a loved one because something happened on the water that could have been prevented. I felt that I was part of the solution in the effort to make the waterways safer. The group Waves of Hope grew out of this initial meeting. They are forever-changed families working to prevent boating and open water tragedies. I am a now member of Waves of Hope.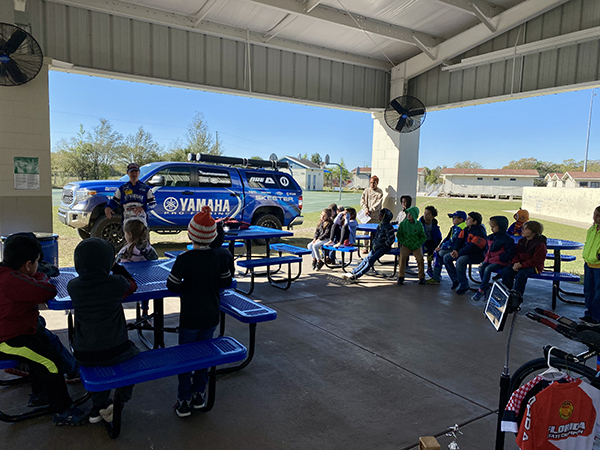 My first International Boating and Water Safety Summit ended by filming a National PSA of my story with the National Safe Boating Council. I focused on the importance of wearing a life jacket and always hooking up your engine cut-off device. This PSA got the attention of a gentleman by the name of David Ittner, the tournaments and sponsorships manager of Yamaha Outboards. After several months of planning, Yamaha Outboards and Skeeter
®
Boats asked me to travel around the country and share my story, highlighting the importance of safe boating practices. On January 1st, 2018, I became the first-ever Yamaha Marine Safety Ambassador.
During the last five years, I traveled the country speaking about boating safety and fishing the Bassmaster
®
Opens. My goal from the beginning was to "make boating safety cool". I wanted to lead by example and set the standard for how boaters of all ages should recreate safely on the water. I also spent time during the last two years helping draft the life jacket portion of the first ever United States National Water Safety Action Plan.
In 2019, I had the honor to receive "Best Marine Marketing and Outreach" with Yamaha Outboards for our boating safety outreach across the country. It's never been about the awards or recognition, but this was validation that we truly are saving lives.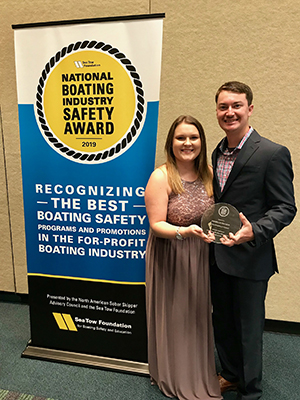 Reflecting on the last 5 years, I am extremely thankful for my boating accident. It taught me how quickly things can happen, and it uncovered my true passion in life – boating and water safety, which stems from my thankfulness for life. When you have a near death experience, it changes your perspective quickly, and you truly understand how precious life really is. My goal now is to make sure people continue to enjoy recreating on the water, but also return safely to the dock to share those memories built together. After hearing several stories from the Waves of Hope families, I knew that I was put on this earth to make a difference. I know I survived my accident for a reason, and that reason is to help make the waterways safer and to continue this journey until there are ZERO water related tragedies across the world.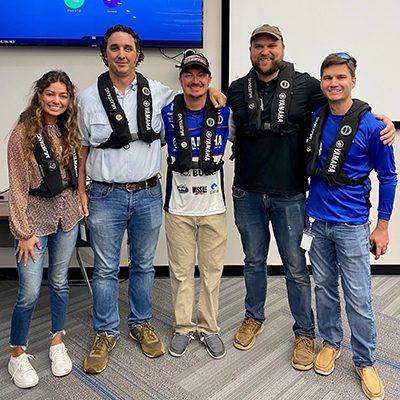 Recently, my wife (Mariah) and I announced that we are expecting our first child. We are beyond excited to welcome a little one into the world in January of 2023. As I wrote this article, I couldn't help but reflect on how everything comes full circle. The current due date for our child is January 8th. That's exactly six days before the six-year anniversary of my accident. Boating safety is not only my career, but it's my life-long passion. Without safe boating I wouldn't be here today, and my family wouldn't be the same.
Please wear your life jacket, hook up your engine cut-off device and never take a day for granted. Life is a gift, so live it up –
safely
!
Back to Blue Life