If you ask Brandon Palaniuk to name the highlight of his 2022 Bassmaster
®
Elite season, it won't be the fact he won his second Angler of the Year award, but rather, the birth of his daughter Kora on June 6, the day after he finished 7th at Pickwick Lake. The fact she arrived a week later than expected allowed the Yamaha Pro to fish the full event, so in her own way she contributed to her father's success before he even met her.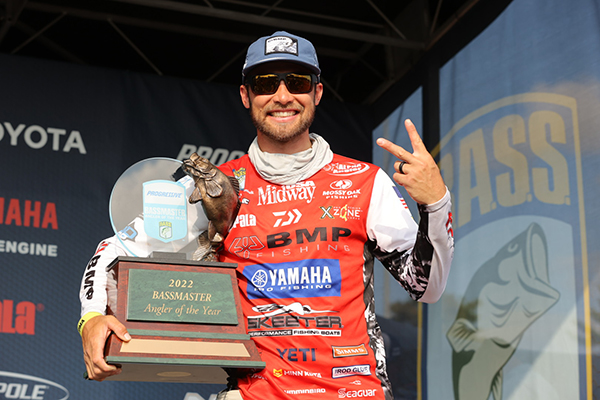 "I didn't make it home in time to be at the hospital when she was born," says Palaniuk, "but the midwife in the room filmed it so I watched everything live via FaceTime
®
on my cell phone while I parked along the edge of Interstate 90 in Montana. I was still seven hours from the hospital, but I went straight there, bass boat and all.
"The Pickwick event was definitely a turning point in the season. I wanted to be with my wife Tiffanie at the hospital, but she insisted I keep fishing. If she had not been as strong a person as she is, I would not have been able to focus at all on fishing that week."
In retrospect, notes the Yamaha Pro, each tournament during the entire nine-event season required him to sharpen his focus and concentration to a higher level because he had uncharacteristically poor practices in nearly all of them. In his words, he calls them "40th to 60th place" finishes.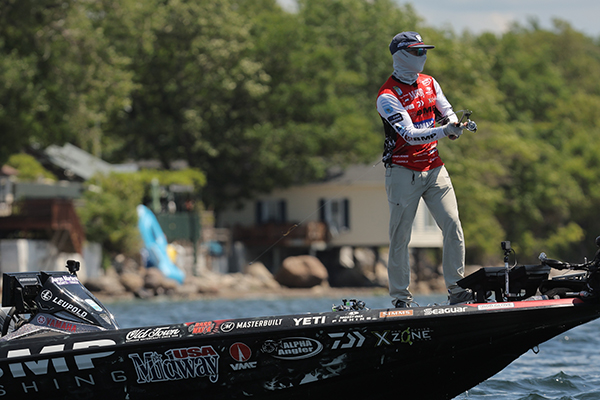 "In eight tournaments I was able to take just one small clue I'd learned in practice and turn it into a good finish," he explains. "I've experienced that before, but this season I seemed to recognize them easier. It has a lot to do with following your instincts better, and that only comes with time on the water."
Palaniuk's AOY title, which included a $100,000 prize as well as a $15,000 Power Pay bonus from Yamaha, hinged not only on following the subtle clues he recognized while practicing, but also on a number of key fish he caught throughout the year. "I only won by 16 points, so every fish I caught all season was critical," he believes, "but some were probably more critical than others. At Santee Cooper in March, I was struggling on the second day and then with about 30 minutes left to fish, I caught a really big bass that pushed me up in the standings. During the next tournament at Chickamauga, I caught a 7-pounder late on the second day that was probably worth all 16 of those AOY points.
"On the second day of the final tournament at La Crosse, I absolutely had to catch my fifth bass to have enough weight that would allow me to fish on the third day. I was throwing a popping frog and getting a lot of bites. There were fish all around me but I couldn't hook them. I may have lost as many as 15 bass before I finally did get that fifth one in the boat."
He had to finish 38th or higher at La Crosse to win the title, and that bass did qualify him to continue fishing the third day. That day he caught more than 13 pounds the first hour and finished 25th with a three-day total of 39-11. He thus became one of only 12 fishermen to have won two or more Bassmaster
®
Angler of the Year titles. Palaniuk is obviously happy to have his family traveling with him again. Kora was just three weeks old when he and Tiffanie drove with her from Idaho to New York for the July tournament on the St. Lawrence River. She went to the next tournament at Lake Oahe in South Dakota, and of course, she was on stage when her dad hoisted the AOY trophy at La Crosse.
"The biggest adjustment we've had to make as new parents is that we can't drive as long each day as we've been accustomed to doing," laughs the Yamaha Pro. "Tiffanie and I were real road warriors, easily driving a full 16 or more hours a day, but now with Kora we're down to 8 or 10 hours, but I don't think that's a problem at all."
Back to Blue Life