The recent 2022 Bassmaster Classic
®
on South Carolina's Lake Hartwell may be remembered as much for what winner Jason Christie did not do as it will be for what the Yamaha Pro did do, and it started on his first practice day. "My very first impression when getting on the lake was that the water was not nearly as dirty and off-colored as I expected it to be," Christie explains. "It was much clearer than I thought it would be.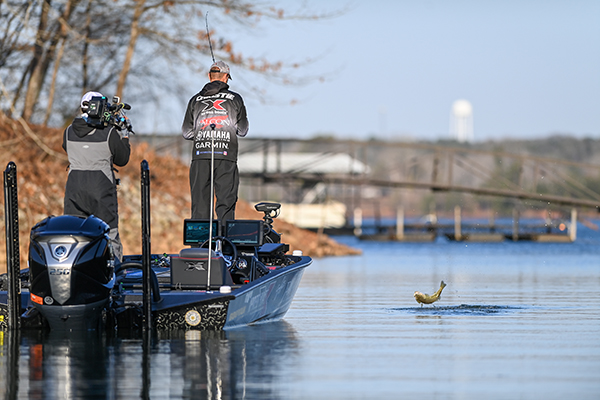 "That told me there was not going to be enough off-colored water to go around for all the contestants to fish, and what little there was would get worked hard and would not produce enough bass to win. My favorite way to fish is throwing a spinnerbait into dirty water, but I knew immediately I had to figure out a way to catch bass in the clear water."
That led him to Hartwell's boat docks where he spent the three hard tournament days skipping a 5/8-oz. jig into the clear, shallow water underneath and behind the structures, where he was also contending with support beams, cables, and brush. The fishing wasn't fast and furious, either; on Sunday Christie estimates he fished as many as 150 different docks to catch just eight bass.
The five he kept that day weighed 17-9, pushing his three-day total weight to an even 54 pounds and providing a winning margin of just five ounces.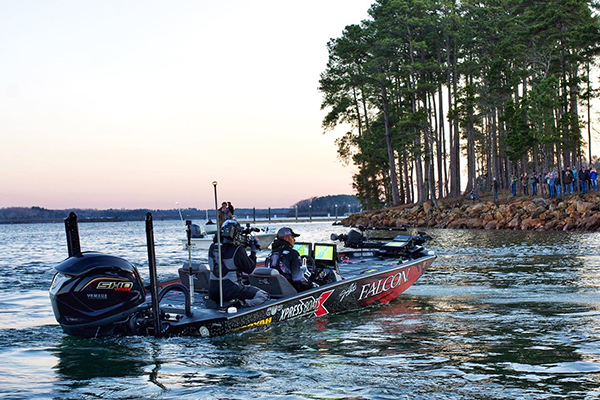 "Once I saw the overall water conditions, I never seriously considered staying in the dirty water," says the Yamaha Pro, "even though it's what most of us look for. I even caught a six-pounder in the off-colored water before I left it for good, but it was not a hard decision to make.
"The boat docks I fished were slightly different, too. I concentrated on the shallowest docks I could find, thinking and hoping they might be overlooked by the other anglers. Some docks even looked like they were sitting on land in the back, but this time of year in early spring that's often where the bass are. Even though they haven't started making their spawning nests, they're in the warmest water they can find.
"The toughest decision I had to make all week was to keep fishing the docks and remember that as the afternoon wore on, the better the fishing usually became. With the heavy jig, I was just getting reaction strikes because I was moving it fast and covering a lot of water. If I had used a lighter jig, I would not have been able to fish nearly as many places."
Christie knew it might be an hour or longer between bites, and normally, he only caught one or sometimes two bass on the same dock. All he could do was hope another fisherman hadn't already fished that dock.
On Sunday afternoon as he waited backstage to weigh in his catch, the Oklahoma veteran says that initially he didn't feel nervous because he did not think he was going to win. The weights had been extremely close all week, and Christie and fellow competitor Kyle Welcher were actually tied for the lead after the second day. Another angler, Stetson Blaylock, sat in third within easy striking distance, and Christie watched him weigh in Sunday's heaviest catch, 20 pounds, 9 ounces, to take over the lead.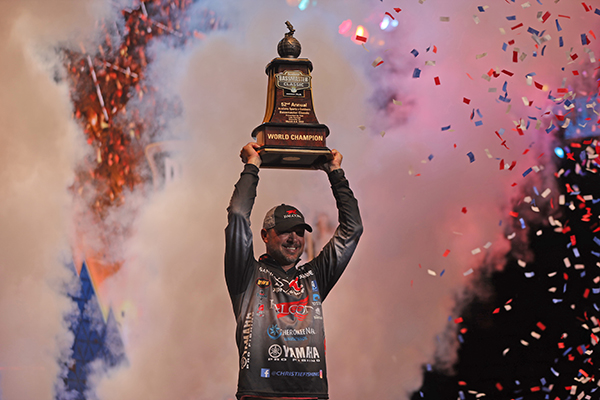 Thus, the Yamaha Pro had pretty much resigned himself to still another near miss in bass fishing's most famous and prestigious event. His knees didn't buckle when his winning weight was announced and he easily hoisted the beautiful golden championship trophy in front of the cheering crowd, but he does admit he never saw all the confetti flying through the air around him on the stage.
Christie, who was competing in his eighth Classic, earned $300,000 for his victory, as well as an additional $20,000 as a member of the Yamaha Power Pay program. Because he fishes out of a Yamaha Xpress
®
Boat, he also became the first angler to win the Bassmaster Classic
®
while fishing in an aluminum boat.
Y
Back to Blue Life