It's summer, the time of year when Keith Combs narrows his lure selection, no matter where he's fishing. The Yamaha Pro enjoys topwater fishing for both largemouth and smallmouth, so the rods on his boat deck this month will always include two rigged with surface baits.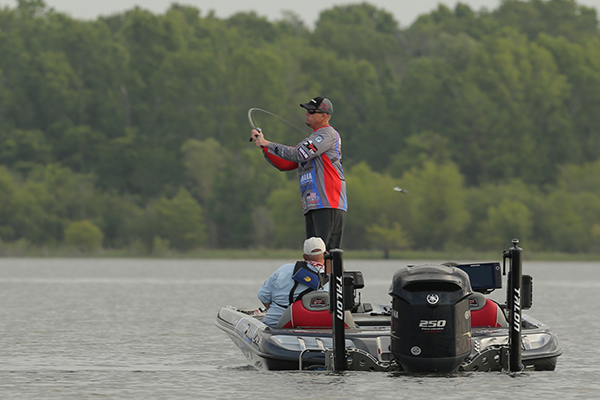 "Bass fishermen everywhere love to see bass hit topwater lures because the strikes are usually sudden and explosive," says Combs, "but more importantly, summer topwater fishing is easy. It's in shallow water, and it's available on lakes and ponds everywhere.
"If you want to get a youngster hooked on bass fishing for life, just take him topwater fishing during the summer. I have guided clients for topwater fishing during the heat of July and August and they're usually surprised and amazed at how good it can be."
Combs lives near Sam Rayburn Reservoir in Texas, a lake with good summer topwater action, but as a long-time professional tournament angler he regularly competes on lakes throughout the nation, and his box of topwater lures always goes with him. He finished second in the 2021 Bassmaster Elite tournament on New York's Lake Champlain, bringing 77 pounds, 13 ounces of topwater bass to the scales and losing by just 13 ounces.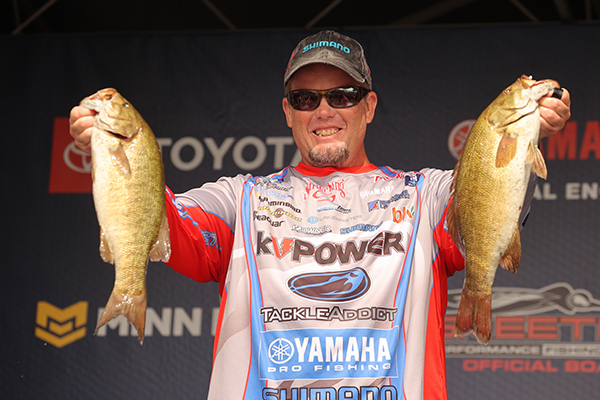 "My favorite two topwater lures are a hollow-body frog and a 'walking' bait I can sashay and pop side-to-side across the surface," continues the Yamaha Pro. "I alternate them, depending on the type of water I'm fishing, because they have such different actions. The walking bait performs better in open water, while the frog is normally more effective around cover since it's basically weedless.
"The primary conditions I look for, however, are not cover but rather, clear water less than five feet deep, and the presence of baitfish. The forage is what brings bass shallow and keeps them there, and it can range from small shad to crayfish to bluegills. When bluegills are bedding, as they are during the summer, bass will hold around those beds for days.
Combs usually start fishing in the lower part of the lake because the water there tends to be clearer, and he looks for flats, shallow coves, and even in the backs of tributary creeks. He has found summer baitfish activity in each of these places, and when he does, it means bass will also be present.
Locating those bass means making long casts throughout the area and covering a lot of water, then using medium to fast retrieves that create a lot of commotion.
Bass are attracted by this surface disturbance – known as "calling" -- and Combs frequently sees fish coming to investigate before they actually strike. Sometimes bass will actually strike several times in rapid succession before finally engulfing the lure.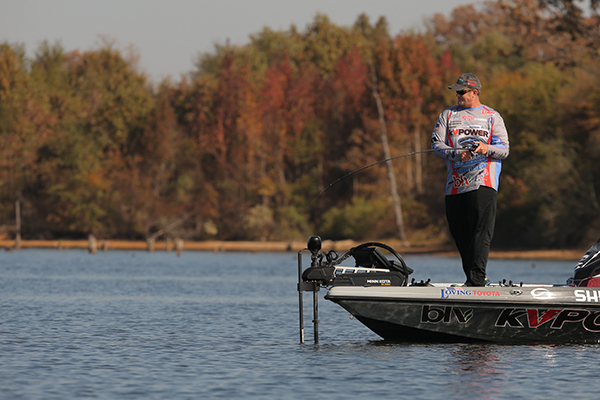 "That's when your heart starts beating a little faster," he laughs, "especially if it's a big bass. When I do see a bass following my lure, or if my lure is around some type of cover where I think a bass might be, I'll stop my retrieve and just shake my rod tip with a slack line. This keeps the bait from moving out of the strike zone but still allows it to splash and wobble where it is"
Topwater fishing like this can continue throughout the day, notes Combs, and may even be better during the mid-day hours. During the final round of last July's Lake Champlain tournament he caught bass steadily with the walking lure under bright skies, bringing in just under 20 pounds.
"Line-wise, I fish both lures with 40 and 50-pound braided line because braid has no stretch and it provides better hook-setting on a long cast," the Yamaha Pro continues.
"I prefer to fish without a fluorocarbon leader, but when it seems as if the bass are seeing the line and not striking, I will add a leader because fluorocarbon is basically invisible underwater.
"Most of the time, however, the bass just slam the lure whether they see the line or not, and that's why it's such an exciting way to fish."
Back to Blue Life