Of all the places in the United States that you can only reach by boat, Everglades National Park's Wilderness Waterway stands unique. Within the park's 1.5 million acres lies the third-largest mangrove swamp in the world and the largest in the Western Hemisphere. For boaters and anglers who camp here, the best part is the solitude; often, you can go many hours or even days without seeing anyone else. Cell phone coverage? Forget it. Most of the time here, your cell phone will only be used as a camera or a GPS, which makes it a great place to unplug. Because of this, prudent skippers should bring a personal locator beacon (PLB) or EPIRB to signal the outside world via satellite should an emergency occur. Filing a detailed float plan with the park service or close friends is also a good ide
a.
What Kind of Boat is Best?
Although the National Park Service recommends using boats 18 feet long that draw less than 2 feet of water, larger vessels can be used, but operators must exercise caution in shallower sections. Practice your backing skills because you'll likely go down a creek too narrow for passage or turning around. Knowing the tides is critical because you don't want your boat stranded on a mudflat at low tide for the night. Jungle-like creeks like The Nightmare should only be attempted at high tide and with a paddle-powered boat. Specially designated areas around Hell's Bay are only open to boats with 5 horsepower or less or no engines at all.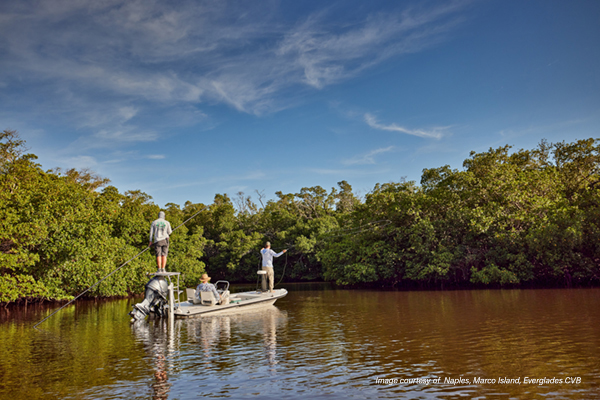 How to Navigate
The Wilderness Waterway is a 99-mile-long, well-marked route that stretches from Everglades City to Flamingo and is a perfect way for first-time Everglades boaters to help them explore the park's vastness. Because of the maze of creeks, mangrove islands, rivers, and open expanses of water, it's easy to get lost when exploring, so having a GPS is mandatory, and it's a good idea to bring a backup handheld GPS just in case. But it's also beneficial to get paper charts, which help give a better overall view of your location and are fun to look at in the tent at night to plan the following day's route and scout potential fishing hotspots. Fuel is available in Flamingo and Everglades City, but the park service's Visitor Center at the latter is closed due to recent damage from Hurricane Ian.
Fishing in the Everglades
The fishing can be spectacular here, and achieving an inshore slam consisting of a snook, tarpon and redfish is a real possibility. The biggest problem is that there are so many fishy-looking spots it's hard to know where to start. The key is to find bait, which can be done by observing diving birds or looking for telltale disturbances on the water's surface. In deeper spots, use the fishfinder to locate schools of baitfish. Bring a cast net to catch live bait. Generally speaking, fish like snook will be more concentrated near river outlets to the Gulf of Mexico in warmer weather. As it gets colder, they move farther inshore.
Expert anglers will want to cast lures or live bait under mangrove branches, while inexperienced anglers should use natural
bait under a popping cork. Trolling a diving
lure with an attractive wiggle can be deadly, allowing anglers to cover more area. A half shrimp on a jig will catch just about anything here. Don't neglect large expanses of shallow water with sandy potholes surrounded by grass, which are fish ambush zones. Remember that the areas toward the north, nearer the sawgrass, are freshwater, and fishing there requires a special license. If you are not sure, give the water a quick taste. Snook,
tarpon and redfish are diadromous, which means they are found in either saltwater
or freshwater, but if you catch a largemouth bass or bream, you are in freshwater.


While most fish must be left in whole condition and no more than 10 of any one species is permitted to be kept (except invasive species), it's permissible to possess four fillets per person for immediate use. And there is nothing that beats a meal of freshly caught fish. Click here for a list of all the park's fishing regulations.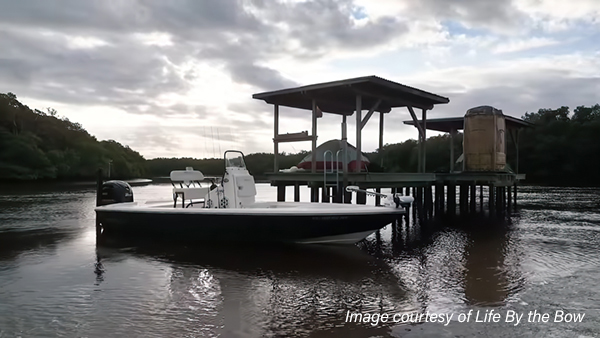 Where to Camp
Although there are 15 beach campsites in the Everglades, most are incompatible with powerboats since the approaches can be shallow, and low tide can leave them high and dry. There are also 13 ground sites, but like the beaches, these tend to be buggier. By far, the best campsites for power boaters are chickees, which are dock-like platforms surrounded by water that allow freestanding tents to be tied down to the decking. Chickees have roofs and Porta-Potti facilities that are generally well-maintained, and most are surrounded by relatively deep water and can often feature good fishing right outside your tent.
The Bugs
There's a reason there's no fee for camping here from May to November: the mosquitos and no-see-ums can be brutal here during the warm, wet season. While the bugs let up from December to April, bringing along at least two Thermacell® devices that slowly cook a blue wafer of non-toxic bug repellent with a small butane flame is imperative and is highly effective for campsite-sized areas. Also, spray tents and clothing on your lawn before the trip with a permethrin-based product (never spray it on a person). The 15 beach and 13 ground campsites are generally buggier than chickees.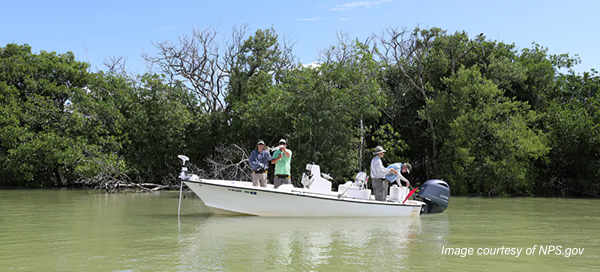 How to Reserve a Spot
As of January 2, 2023, the procedure for reserving campsites has changed. Previously, no reservations could be made. It was first-come, first-serve no earlier than the day before at the Visitor Centers in Everglades City or Flamingo. Now, reservations can be made up to 90 days in advance at Recreation.gov, and you don't have to check in physically. This website also has helpful features like a Wilderness Trip Planner that answers many questions.
The fees are very reasonable: To enter the park costs $30 per vehicle or vessel, and to make a camping reservation, there's a $21 administration fee plus a $2 per person per night fee. Some campsites have a maximum stay of up to 7 days, but each of the 17 chickees is restricted to one night, so multi-day trips will involve daily setups at different locations, forcing campers to see more of the park.
When staging a trip, it's a good idea to stay in Everglades City or nearby Chokoloskee the night before so you can get an early start. And rather than going 50 miles into the interior for the first night, stay closer to civilization in case you forget something important like sunscreen. And don't forget to leave no trace of your visit behind.
Back to Blue Life