Trade in your traditional concrete parking lot tailgate celebration for one on the water.
For many football fans, tailgating is one of the best parts of a gameday experience. For fierce rivalry games, hanging out and breaking bread with "the enemy" before a game is a great way to get the competitive juices flowing. And if it's done on the water, the camaraderie of being a boater tends to keep the banter friendlier. Please make no mistake: pulling off a successful on-water tailgate pre-game party is a competition all of its own. Whoever has the best setup, food, and drinks is the winner long before the whistle blows.
The Venue
Some boat-friendly football stadiums make tailgating easy by having dockage within walking distance. Check out the Blue Life story about the Top Five Football Stadiums to Visit By Boat to learn more. In other places, a nearby marina will suffice. But if you know a group of boaters, the nearest body of water provides all you need for a raft-up tailgating party. Even if you aren't attending the game in person, a pre-game gathering with fellow boaters makes the event a special occasion. The added variable for those participating in a raft-up is finding transportation to the stadium, and it might make sense for everyone to chip in to rent a bus to use as a shuttle. If you leave the boats in the water, have a non-football boating friend (there's always one in the group) stay behind to keep watch while enjoying the day afloat.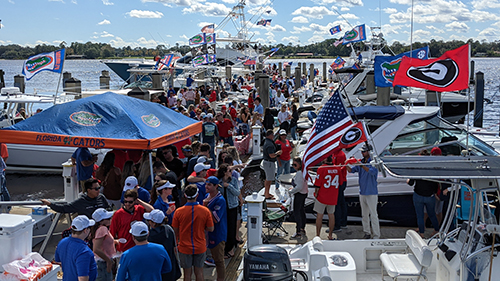 Get There Early
The whole idea of a dock party on the water is to relax, so get to your spot early, set up and enjoy a leisurely pre-game get-together. Rushing to get your boat, gear, food and people together is a guaranteed mood-killer. At specific venues, you can spend the night aboard, and this adds another layer of fun since the tailgating begins as soon as the dock lines are set.
The Setup
If you are at a marina, use adjacent dock space to set up a folding table to hold the snacking spread. But go the extra mile to class it up with a color-appropriate tablecloth, cut flowers in school colors and a football-themed centerpiece. For boats afloat, use cockpit tables and supplement them with aftermarket fish cleaning tables that mount to rod holders or rails, which also have handy tool and knife holders. Lay down a silicone mat to keep platters of food from sliding around. Invest in inexpensive but elegant serving platters and sturdy, eco-friendly palm-leaf disposable plates. If you use plastic forks and spoons, take them home and wash them for the next game.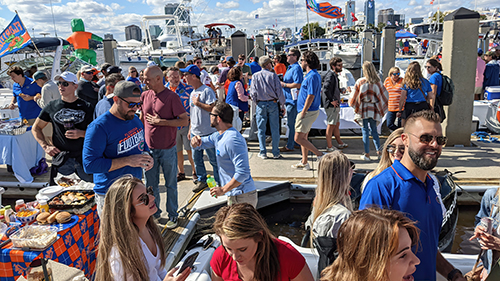 Most marinas don't allow open flames, but will likely have shore power, which will enable you to use an electric grill either on board or on the dock. And a power supply means you can have a fan if it's one of those blazing early-season games. For those at floating raft-ups, gas grills can be used, but make sure to locate them at the stern of the boat to minimize fumes, but be considerate of other boaters if things get too smoky.
The Food
The food is the star of any tailgating experience, but dining on a boat requires a few considerations. Avoid messy foods like hard-shell tacos, fried chicken, large sandwiches like foot-long subs, and messy snacks, which aren't upholstery friendly. Avoid brightly colored drinks for kids like bright-red punch.
Make sandwiches small and manageable using Hawaiian rolls, mini-croissants or tortilla wraps. Instead of the usual cold cuts and cheese, elevate your sandwich game with fresh seafood like shrimp salad or lobster rolls. Think sliders, not Texas-sized burgers. One-meatball mini-hoagies minimize the chance of an accident.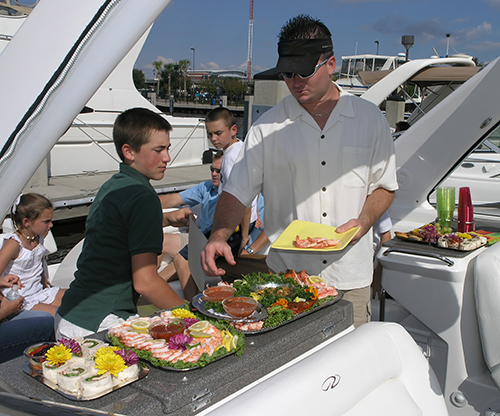 To avoid cooking food on the boat, precook items and quickly store them in a cooler to keep them hot. For things like brats or sausages, grill them at home to get a good char, then rest them in a piping hot beer and onion broth. To transport them, pour the liquid into a sealable container, add the sausages, and place them in a cooler. Consider chili or a hearty French beef stew served in insulated paper coffee mugs if it's a chilly day.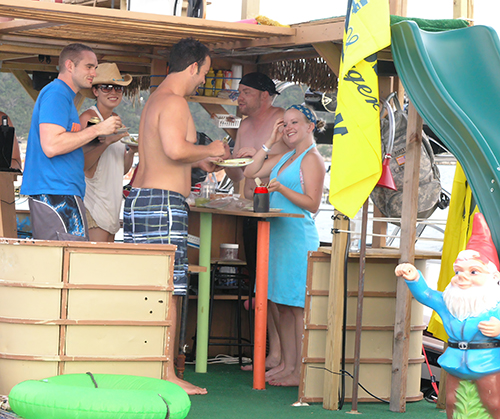 The Drinks
Ask guests to bring an insulated Tervis® or Yeti® tumbler with a lid to minimize the chance of spills and reduce the amount of ice needed. A 12-volt blender allows the bartender to whip up creative drinks and smoothies. In colder weather, cocoa or spiced cider served piping hot from a thermos is delighted. Anyone driving the boat should abstain from alcohol as even a small amount can impair judgment. If you have a larger vessel, consider hiring a captain for the day.
Organizing and pulling off a floating tailgate get-together takes a little extra planning and work, but combining boating with your favorite spectator sport is well worth the trouble.
Back to Blue Life