Captain Nick Stanczyk likes to catch, clean, cook and eat grouper
For some, fishing is either a job or a hobby, but for Captain Nick Stanczyk it's much more. Growing up in Islamorada Florida in the Keys at the legendary Bud N' Mary's Sportfishing Marina, which his dad, Richard bought in 1978, fishing was in his blood from a young age. "I grew up on the docks watching the boats come in and I knew one day I would be a charter captain," said Capt. Stanczyk. "I got my captain's license when I was 18 and started chartering part-time while I went to college. My dad, my Uncle Scott and my brother Rick are all guides. Ever since I can remember, fishing was life."
When he is not running charters for

Stanz Fishing

aboard his 42-foot Freeman®, powered by quad Yamaha F300s, he's out fishing with family and friends on his days off. He loves eating fresh seafood and often he'll catch a fish and have it on his boat's grill in minutes. He has more than 400 videos on his

StanzFam

YouTube channel, which includes cameo appearances by his wife Sara and two girls Sadie and Claire, that have garnered millions of views among his 211,000 followers. The most popular are his Catch/Clean/Cook videos.
Some of his favorite fish to eat are yellowedge grouper and snowy grouper, which are typically found in water that's between 400-800 feet deep. "I think it must be the cold water or the fish's diet that makes them taste so good," said Stanczyk. "For shallow-water grouper, I prefer black grouper over reds and for almost all my fish, I prefer simple recipes that allow the taste of the fish to shine through.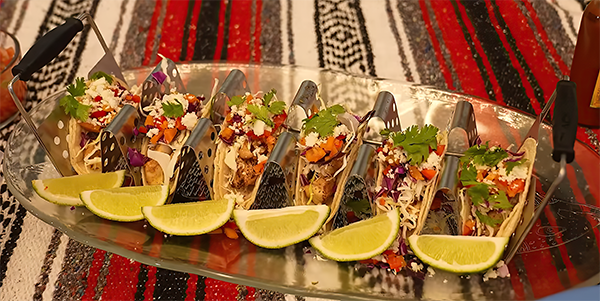 Snowy Grouper Tacos
"A snowy grouper looks a lot like a Warsaw grouper," said Stanczyk, "and the best way to tell them apart is the snowy has 11 dorsal spines instead of 10 on the Warsaw. For some reason, I like to eat deepwater grouper, like the snowy, a day or so after they've been in the refrigerator, which helps firm up the texture and makes them perfect for our tacos on Tuesday ritual."
Cut the fish filet into fingers

Lightly coat them with extra virgin olive oil, salt, pepper, and Key West Citrus Blend spice or taco mix

Sauté in a pan (preferably cast iron) until just cooked through.

Squirt fresh lime juice into the pan when the fish is cooked

Lay the fish in a soft flour tortilla that's been warmed on a griddle and add:

Thinly sliced purple cabbage for color and texture

Diced red peppers

Avocado

Mexican Cotija cheese

Garnish with chopped cilantro

Hot sauce or salsa (optional)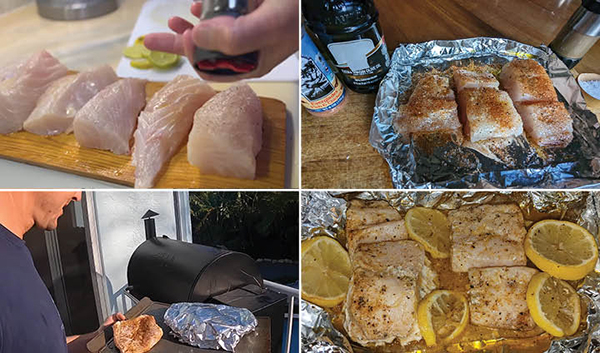 Black Grouper en Papillote
Although classic French cooking uses parchment paper, fashioned into a bag for en papillote, that doesn't work very well on a Traeger® smoker grill, which Stanczyk uses often, so he uses tin foil pouches instead. This recipe is perfect for thick cuts of black grouper because the steam inside the enclosed tin foil pouch envelopes the filets and cooks them evenly and keeps the fish moist.
Coat the fish with herb-infused extra virgin olive oil

Sprinkle with salt and pepper

Lightly dust the filet with

Traeger's® Fin & Feather Rub

Place lemon slices on top of fish

Put the fish in a heavy-duty aluminum foil pouch — making sure it's completely sealed — and place in a 400-degree grill or oven and cook for approximately 20 minutes for filets greater than an inch thick. Thinner pieces should be cooked for less time. If using an instant-read thermometer, the center of the fish should read about 130 degrees.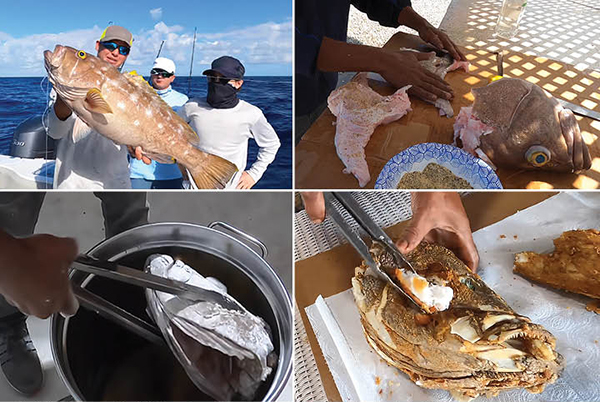 Deep Fried Yellowedge Grouper Throat and Head
"A Jamaican friend of mine shared this recipe with me and I love it," said Stanczyk. "Most Americans don't eat anything except the filets and they are missing out on some great
meat in the head and on the throat/collar.
I love the islanders' don't-waste-anything philosophy, which honors the catch. For
this recipe, the key is the prep before the actual cooking."
After fileting the fish, cut off the spine and save it to make fish broth.

Cut out the gills from the head, being careful not to cut yourself on the sharp edges.

Rinse and clean the inside of the head and throat by dipping it in a bucket of seawater, not tap water. Use a wire brush to remove scales and loose bits.

Add a few ounces of vinegar and the juice of a lime to the bucket of water and rinse the head and collar to get it squeaky clean and to neutralize any gamey tastes then rinse again in
plain seawater.

Dry the fish thoroughly then season inside and out with a mix of salt, pepper, garlic powder, and a citrus-based spice blend.

Lightly dust with flour.

Gently lower the head into the deep fryer, which contains peanut oil or vegetable oil heated to 350-375 degrees (keep a fire extinguisher handy in case of accidents).

Add the collars a few minutes later to allow the head to get crispier and cook everything until golden brown.
"The real key to cooking any seafood is to avoid overcooking it," said Stanczyk. "I like to experiment and try new spices to mix things up. Another important factor is to bleed and get your fish on ice as soon as possible. I add a little seawater to the ice to create a brine that keeps fish cold and fresh."
Back to Blue Life