Michael Iaconelli has won a Bassmaster Classic
®
, an Angler of the Year title, and too many other bass fishing events at every level of the sport to list, but the Yamaha Pro recently added still another title that really has him excited. After three years of trying, he won his first professional kayak bass tournament, and he did it in pure Iaconelli style, catching the winning fish in the final minute of competition.
"This has been on my bucket list a long time," he exclaimed. "I've had to work hard, I've had to learn a lot, and I've failed miserably in some of the events I've fished, so to finally win one at this level really means a lot to me. I am thrilled beyond words."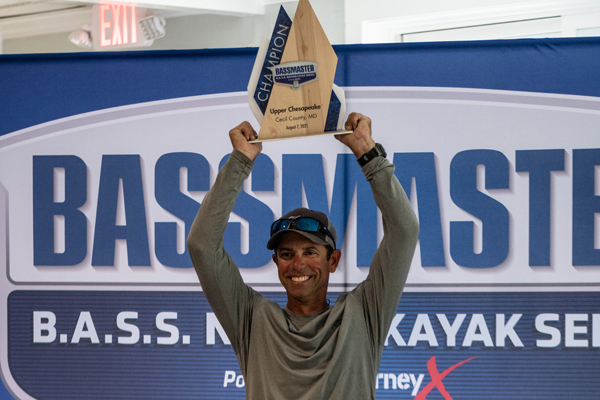 Pro kayak tournaments do not count the weight of a bass, but rather the length of the fish in inches. The angler who catches the five longest bass wins. Iaconelli caught his fifth bass, an 18.50-inch long largemouth, with only a minute remaining in the Bassmaster
®
B.A.S.S.
®
Nation Kayak Series tournament on the Upper Chesapeake Bay in early August to win with a total of 88.25 inches in the one-day event.
There are three professional kayak fishing circuits that visit waterways throughout the United States and which may attract as many as 150 anglers per event. Rules for each group are similar in that there are no limits to the amount of tackle an angler can use and launching is permitted at any public ramp within the designated fishing boundaries. Anglers photograph their catches to show length and images are submitted by special cell phone apps that record time and location. Then the bass are released.
"It's a different type of fishing but the competition is as serious as anything I've ever faced in Bassmaster events," noted the Yamaha Pro. "I would guess there are now between 40 and 50 fulltime professional kayak pros who fish all three circuits, but the sport is growing and attracting a lot of interest because it's so accessible.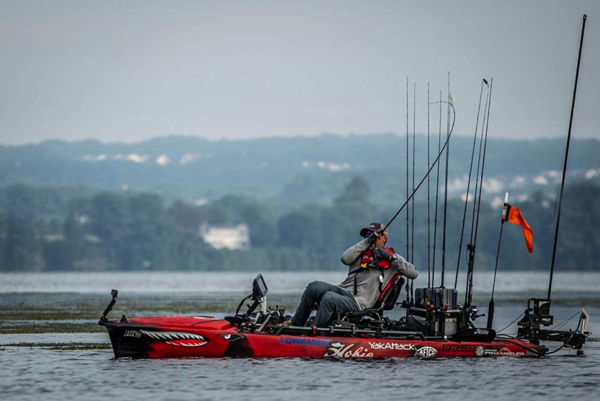 "I began my bass fishing in small boats and I know that experience has helped me adjust to kayak tournaments. I entered my first kayak event three years ago, but it still took me about a year to really feel comfortable. It was not just about buying a kayak and jumping in.
"Your visual perspective is different, even though you can stand up when the water is calm. I use longer rods that provide better leverage and hook-setting, and I also use braided line to control bass easier. I fish out of both 12 and 14-foot Hobie
®
kayaks that have a depthfinder and even a trolling motor, but I only take about 10 rods in the kayak and not nearly as much tackle."
Because the phone apps show the fisherman's exact location, competitors are allowed to leave the water and re-launch at a different ramp if they so choose, but, as Iaconelli points out, when you're traveling, you're not fishing.
"Strategy and decision-making about how and where to fish is extremely important in kayak fishing," he continues, "because you really are limited to the amount of water you're able to cover. Even with a trolling motor, I'm still limited to a five or six mile area, whereas in
a big boat we can travel a hundred miles to a fishing spot.
"I prepare and make a game plan for a kayak tournament just like I would for a regular bass tournament."
Iaconelli bought his first basic kayak about 15 years ago but when Hobie
®
, one of several well-known American kayak manufacturers, introduced him to a foot-controlled kayak designed specifically for fishing, he became serious about the sport. With a kayak like that, he could eliminate paddles.
"Not only are you eye-level with the fish, you can get a kayak into places you'll never take a big boat, and that really excites me," he laughed. "When Hobie
®
invited me to attend one of their bass fishing championship events and I was able to talk to the anglers and watch them fish, I knew this was something I wanted to try." Y
Back to Blue Life