It's not surprising most holiday boat parades are held in warm weather states since most boats are hibernating during that time of year in the frosty north. But sometimes, living in balmy climates makes it hard to get into the holiday mood. Joining a parade might just be the thing for jump-starting your season.
While being part of a holiday parade is fun, participants like Marie King think the planning phase is the most rewarding part and helps her to get into the Christmas spirit. According to the promoter of Tampa's Holiday Lighted Boat Parade, MaryBeth Williams, "King is always the first one to sign up for the parade every year. I don't know anyone more enthusiastic about our event."
Over the years, King has learned a few things that will help other boaters join in the fun and she demonstrates you don't have to have a yacht to make a splash. Her parade "float" is a Scout® 215 XSF powered by a Yamaha F150.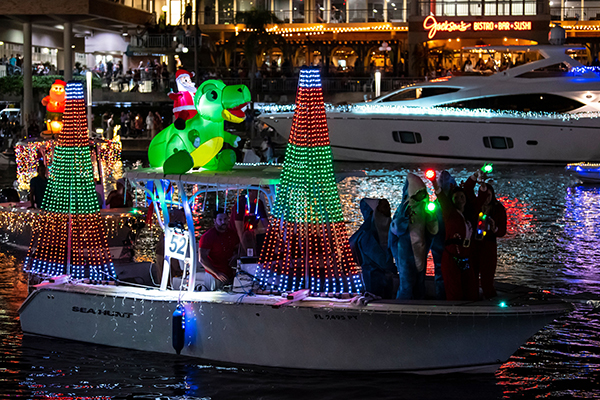 "It's a great boat for decorating thanks to the T-top, which allows me to get some height, and its robust two-battery system helps keep things lit," King said. King uses a 400-Watt
inverter
plugged into the boat's 12-volt cigarette lighter outlet to convert the DC power to AC so she can plug in many of the boat's LED lights, which draw very little current.
"I don't take any chances and only use lights plugged into the inverter while my Yamaha is running," King said. "The rest of the lights and my inflatables are powered by a
camping battery
instead of a generator, which many other boats use. It's also a great item to have during power outages at home."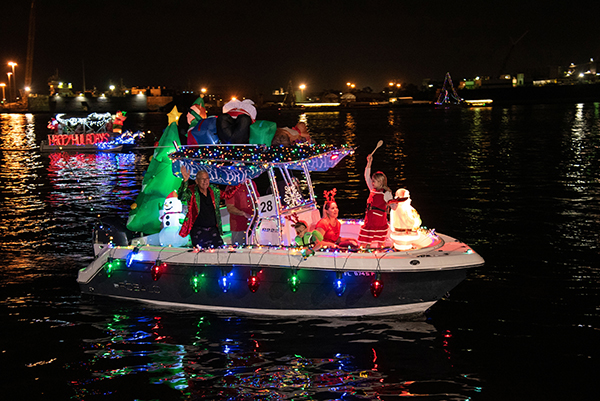 Marie King's other tips for parading success:
Make sure the captain can see after the decorations are in place.
Bring extra lights, fuses, scissors, and zip ties.
Have a designated person watching the higher-up items at the bridges.
Spend a few more dollars on better, brighter lights.
Be ready for any kind of weather.
Figure out the bathroom situation before leaving the dock
Have all 20 versions of Mariah Carey's All I Want for Christmas on your playlist.
Tampa's largest boat parade is always scheduled on the Saturday before Christmas and takes place on the Hillsborough River in downtown Tampa, adjacent to the Riverwalk. It benefits Big Brothers Big Sisters® and also helps Feeding Tampa Bay by hosting a
virtual food drive
. To join the parade, go to the online registration
site.
On the west coast of the U.S. in California is the world's oldest holiday boat parade, which started 114 years ago when in 1907 John Scarpa took a group of visitors around Newport Harbor in his gondola, lit by Japanese lanterns. The following year, Scarpa's gondola was followed by eight lighted canoes, and the Tournament of Lights, as it was known then, began to grow into a spectacle the New York Times® has called, "One of the top 10 holiday happenings in the nation."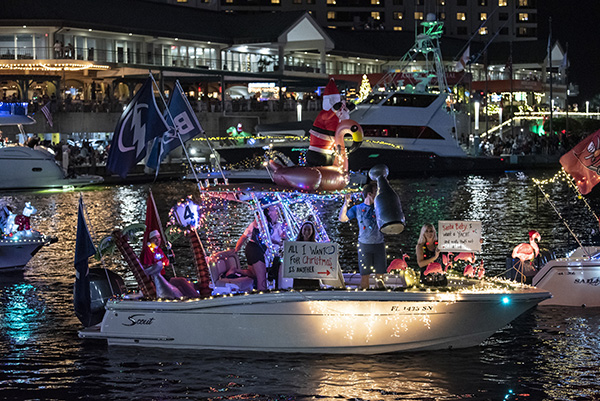 Held over five nights in mid-December, this holiday extravaganza, now called the Newport Beach Christmas Boat Parade, has up to 100 boats per night snaking through the harbor that's viewed by more than 2 million people annually. To join, go to the parade's registration page.
More tips to make cruising in a boat parade more fun and safer
Decorating a boat and entering into a parade takes planning and requires an emphasis on safety since it happens on the water at night.
Have a checklist, and like Santa's list, check it twice to make sure everything on the boat is operational, the batteries are fully charged and the gas tank is full.
Study the parade route and do a dry run before the event.
Attend the captain's meeting to make sure you understand the proper parade protocol.
Have everyone on board wear life jackets.
Wait until the parade is over and you're back at the dock to have your holiday toast.
Appoint at least one other to help keep watch for hazards to navigation and other boat traffic.
Make sure everyone is dressed properly before leaving the dock and prepare for inclement weather.
Have a makeshift potty for emergencies if your boat doesn't have a head compartment.
After decorating the boat, take a cruise with everything lit to make sure everything is functioning and you have an adequate power supply.
Be creative and be aware of any themes the parade promoters are employing.
Music with an appropriate selection of tunes is always a great addition.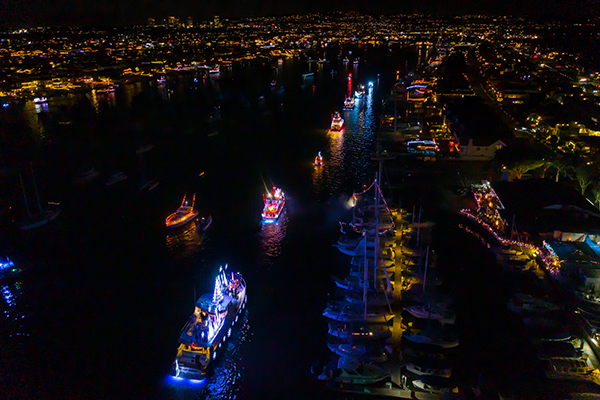 Other great parades around the country
In California:
The
San Diego Bay Parade of Lights
is another venerable boat parade that's been going on for 52 years. Up to 100,000 spectators watch up to 80 boats participate in two parades a week apart in mid-December.
The
L.A. Harbor Holiday Afloat Parade
in early December ranks as one of the
biggest in the country with several hundred boats participating in the one-and-a-half-hour parade event that has been held for 50 years in the Los Angeles Shipping Channel.
In Florida:
The Jacksonville Light Boat Parade has been running through downtown Jax for 30 years and is followed by a spectacular synchronized dual fireworks display following the parade.
For 36 years, the
Holiday on the Harbor
Boat Parade has been held in Destin in Florida's Panhandle. It features live entertainment along the route with a fireworks display at the end of the parade.
For more than a half-century, boats in the
Fort Lauderdale Winterfest Boat Parade
have been winding their way along a 12 mile route through what has been dubbed the Best Show on H2O. This year, up to a million spectators are expected to watch.
In South Carolina:
The
Charleston Holiday Parade of Boats
cruises through Charleston Harbor and finishes in the historic part of town on the Ashley River.
In Texas:
In early December, the City of Corpus Christi, Texas is home to two holiday boat parades. The
Illuminated Boat Parade
is celebrated first, and about a week later is the
La Posada Lighted Boat Parade
.
Back to Blue Life