With more than 54,000 surface acres and 1,150 miles of shoreline, this serpentine body of water was at the time the largest manmade lake in the United States and one of the largest reservoirs world-wide. Lake of the Ozarks still ranks as one of the country's larger manmade lakes; it's also one of the most beautiful…especially in fall.
Beginning in early October, the area's millions of hickories, maples, oaks and ashes light up in brilliant reds and oranges and yellows so stunning that boaters often stop to just enjoy the view.
It's not surprising that Lake of the Ozarks is commonly mentioned by the national press as one of the best areas to view fall colors, and that more and more boaters flock here each fall because the views are even better from the water.
If you're looking for an amazing fall boating or fishing adventure, look no further than Lake of the Ozarks, especially if you live within a day's drive to south-central Missouri.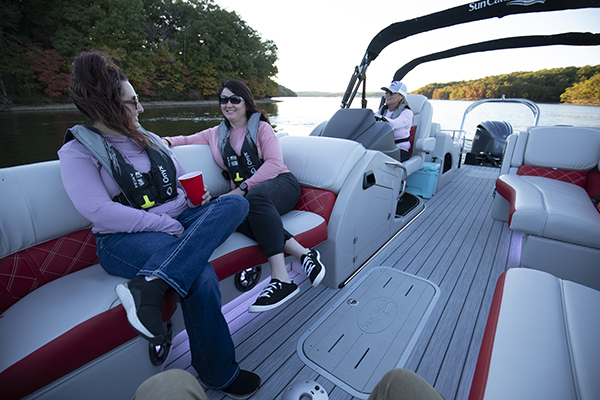 Quietly Beautiful Fall Boating
Lake of the Ozarks has long been one of the most popular lakes in the central U.S. for boating and angling. The lake annually draws more than 5.4 million visitors, all supported by thousands of businesses in towns like Camdenton, Lake Ozark, Osage Beach and others nestled in the densely forested hollers so common in the Ozarks. During the peak of summer, when the average high temperature in the area tops out at a very hot, muggy 89 degrees, many find relief from summer's heat by boating and swimming. And yes, the lake gets incredibly crowded in July and August with boats of all types.
Party Cove near Osage Beach is famed for the massive boat flotillas that form there each summer. Boat wakes are as common as tree leaves during the peak boating season, but that all changes each fall when visitor numbers drop as cooler temps and responsibilities like school or work take over for many. For the lucky few, Lake of the Ozarks is pleasantly uncrowded in the fall, making boating incredibly fun. The views during the peak leaf season are spectacular, with soaring hillsides and rock bluffs competing for attention. Finding a quiet cove to enjoy a beverage and snacks is easy. If you prefer natural shorelines over development (and who doesn't), the arm east of Party Cove near Osage Beach is virtually untouched and gorgeous.
The October average high temperature on Lake of the Ozarks is a pleasant 69 degrees, with lows typically around a comfortable 57 degrees. A light coat is usually all that's needed for a day on the water. Rain? Odds are better than two out of three that you'll enjoy clear skies here in October. Timing peak fall colors is easy. Traditionally, you can count on the week of October 24-31 to be peak. Missouri offers regular updates on this website: Peak Fall Colors-Missouri.
The open views available are spectacular.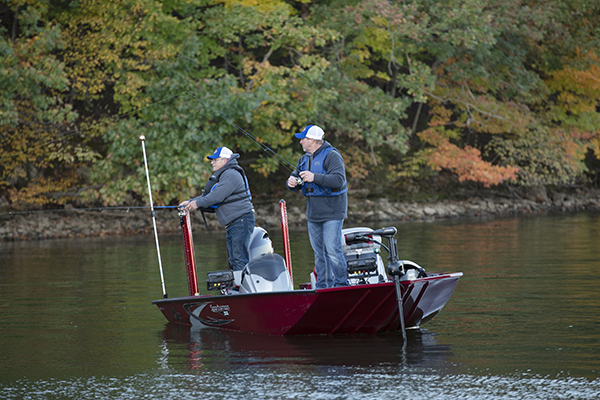 Great Bass, Catfish and Crappie Fishing
Lake of the Ozarks has long been known as a great fishing hole, especially for bass (largemouth, smallmouth and spotted), catfish (blue, channel and flathead), and crappie, drawing anglers from across the country each year. And fall fishing on Lake of Ozarks can be some of the best of the year.
The bass fishing is so good at Lake of the Ozarks that in 2020 Bassmaster® magazine named it "Best Bass Lake of the Decade—Central Region" ahead of other famed fisheries in the area including Bull Shoals and Table Rock.
A recent drive through the Pa He Tsi Boat Ramp in the Lake of The Ozarks State Park near Osage Beach, found it lined with bass boat trailers from several states including Illinois, Iowa, Texas, Minnesota, Oklahoma, Arkansas, Missouri and Wisconsin.
There are several guides available on Lake of the Ozarks if you prefer to fish with a local expert. Most can be found online. To purchase your Missouri fishing license online, go here: Missouri Department of Conservation.
The daily limit for black bass is 12, with no more than six largemouth bass and smallmouth bass (must be 15 inches or longer, while spotted bass 12 inches and longer inches are legal). Daily limit for crappie is 15 ( 9-inch minimum). The daily limit for catfish is 10 (see regulations for more information on protected slots, length limits, etc.).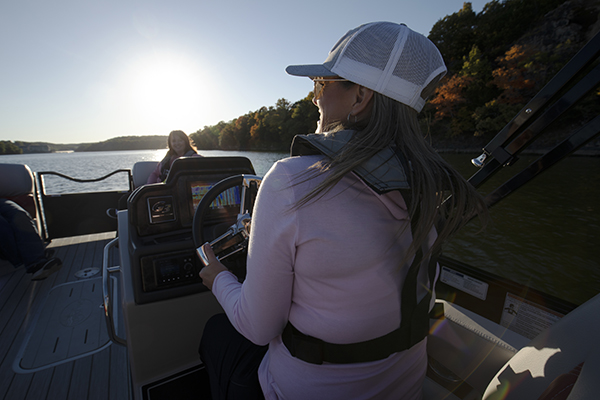 Available Boat Ramps, Marinas
There are dozens of public and private boat ramps available on Lake of the Ozarks. Here's a map of nine public ramps to make your search a bit easier: Public Boat Ramps. Some public ramps close for the winter on November 1, so check online to make sure the ramp you plan to use is open when planning your trip.
Expect to pay a nominal fee at most (but not all) boat accesses. In return, you'll enjoy the use of a well-maintained ramp, dock and on-site parking available. Some accesses have restroom facilities and other amenities.
Slip rentals are also available in the area, especially as boating slows each fall.
For those who prefer to rent, there are several boat/pontoon rental companies on the lake. Some close in the fall, so call ahead for more information. This website features ads for dozen of areas boat dealers and marinas that offer rentals: Funlake.com.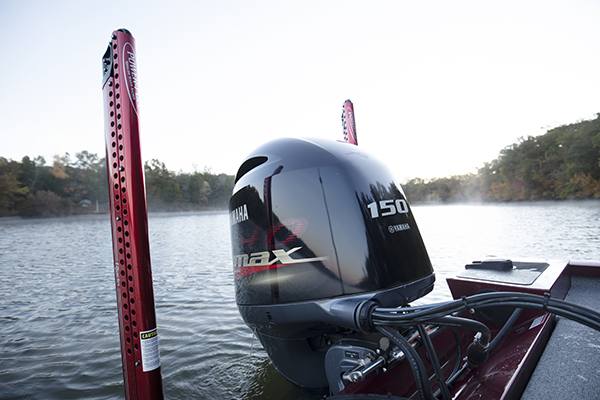 All the Amenities, None of the Crowds
One of the best parts of fall boating and fishing on Lake of the Ozarks is the lack of crowds, both on and off the water. Finding great places to launch, stay, eat and share laughs with friends and loved one is easy, especially midweek.
Back to Blue Life