If a recreational boater puts 300 hours on their outboard in one year, it means they went boating more than twice as much as the average boating enthusiast. But for Charleston Water Taxi, it represents just a month's worth of work for its fleet of four Yamaha-powered boats that ply the Ashley and Cooper Rivers in this historic part of coastal South Carolina. Since its founding in 2008, co-owners Chip Deaton and Scott Connelly have always relied on Yamaha outboards for one good reason, according to Connelly, "Their reliability is off the charts. Since we began service, we've lost a total of one day of service because of an engine failure that required us to change an oil pan."
Getting Shifty
The two workhorse 40-foot fiberglass catamarans taxis are rated to carry 49 passengers and are powered by twin Yamaha F150 outboards. While the number of hours they run a day is impressive, the way they are run provides the ultimate test of endurance. During a 10-hour stint, the taxi boats make four scheduled stops an hour and each stop requires the operator to shift the motor four or five times, which adds up. Doing the math, that's more than 5,000 shifts per month. For the older mechanical-shift motors, that number of shifts required their mechanics to make sure cables were always adjusted properly and the brutal workload was especially hard on components like clutches and gears. To help ease the strain, they used aluminum props that weighed less and transmitted less force.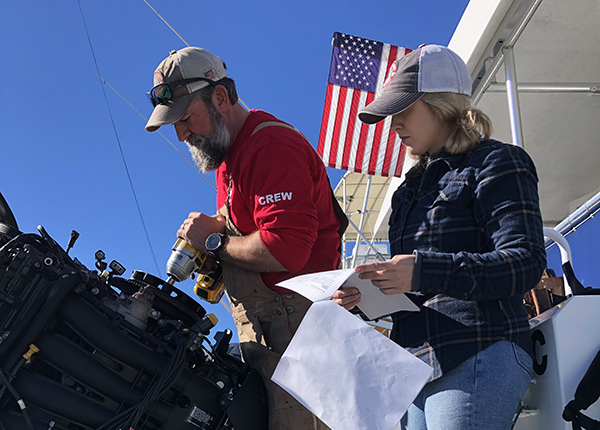 Digital Electric Shift to the Rescue
When Charleston Water Taxi's fleet used mechanical shift outboards, after a year and 60,000-plus shifts, their maintenance staff sometimes opted to replace lower units as a precaution if they saw signs of wear. That is until Yamaha unveiled its Digital Electric Shift (DES) line of outboards.
"For us, DES has been a game-changer," Connelly said. Since they came out in 2017, we haven't had to replace a clutch or change out an outdrive. They always make the perfect shift and avoid grinding the gears during a 'granny shift' (one that's done too slowly) which greatly increases their longevity. It also gives us the confidence to know when we pull up at a stop we have total control, which helps keep our passengers safe."
Helm Master® EX in Control
Charleston Water Taxi's sister company, the Daniel Island Ferry, is a 45-foot ferry that sports twin 425-horsepower V8 5.6L XTO Offshore outboards and handles longer routes and special duties like carrying the cast and crew of the Netflix
®
TV series, "Outer Banks."
For the ultimate in maneuverability, it's equipped with the Helm Master EX Joystick system. "With the power of the twin 425 horsepower engines, the huge props they swing and Helm Master EX," Connelly said, "we can perform maneuvers like making our 45-footer go straight sideways, which helps greatly when docking in tight quarters. The current on the rivers here can really rip and the ability to have total control helps make sure landings are soft and controlled."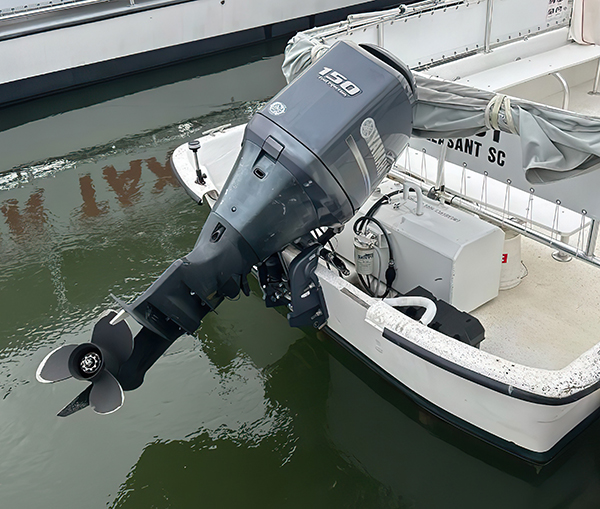 15,000 Hours and Still Going Strong
The smallest boat in the fleet is its 27-foot Carolina Skiff
®
, which can carry up to 19 passengers and is used when additional capacity is needed.
"Believe it or not, it still uses one of the original F150 engines we bought back in 2008," Connelly said. "When we replaced its internal computer, it had about 7,000 hours on it and the new computer shows it has 8,515 hours for an estimated total of 15,515 hours…and it's still using its original powerhead! We thought about replacing it but it's still running strong and we're kind of curious to see how long it will last."
Engines That are Replaced Enjoy a Second Life
"Typically, we replace our F150 outboards when they have between 7,000 and 8,000 hours on them," Connelly said. "But that's not because they are worn out. Most are resold and go on to have a second life with local boaters. We've sold engines that have had 11,900 hours on them. Recently, my business partner, Chip, repowered his 25-foot Bertram
®
, that's been converted to outboard power, with a pair of our F150s that had 7,600 hours on them."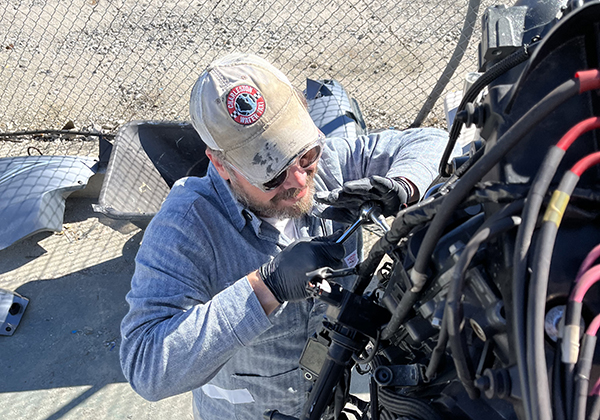 Maintenance Matters®
One of the not-so-secret ways Charleston Water Taxi keeps the fleet going is with rigorous maintenance that includes monthly oil changes. "Changing the oil regularly, is the single most important thing we do to keep our engines trouble-free," said Connelly. "Every year we go over each engine carefully and replace items like water pumps, internal and external anodes, and timing belts. Before DES, as a precaution, we would periodically crack open lower gear cases to inspect internal components and change the gear lube more frequently than required by the owner's manual. But with the new generation of electric shift outboards, we just change the lower gear oil and water pump annually and they're good to go."
The 425-horsepower V8 5.6L XTO Offshore outboards are especially easy to service, according to Connelly. "Because our boats are always on the move, we love the fact we can change the gear oil without having to take the boat out of the water."
"I think the high number of hours we have been able to achieve proves the importance of not only maintaining your engine properly but also using your boat on a regular basis," said Connelly. "Nothing is harder on an engine than letting it sit idle for long periods of time."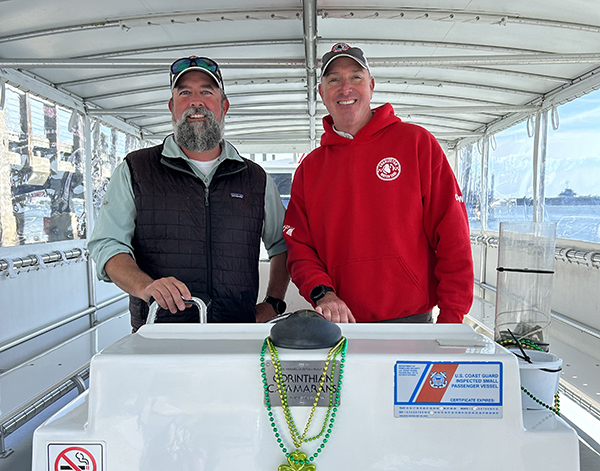 It's not a Job, It's a Way of Life
Growing up, Connelly often went fishing with his dad and even now, his off time is spent on the water. "I still love fishing and get out every chance I can with my wife, Marie, son, Marsh and daughter, Abigail. Being out on the water at dawn when it's calm is a magical experience; you can't tell where the sky stops and the water begins. It is a sight that never gets old."
For some people, going to work every day is just something they do to pay the bills but for owners Deaton and Connelly, it's a labor of love. "Chip and I grew up on the water here and love what we do. We enjoy meeting new people and sharing this special place with them," Connelly said.
Back to Blue Life