COMMUNITY & BLOG
National Safe Boating Week: The Kickoff to Boating Season
POSTED 19-May-2023
May is here – it's time to get out on the water! The official start of boating season is National Safe Boating Week (NSBW), which takes place May 20th- 26th this year. NSBW is the annual launch to the National Safe Boating Council's Safe Boating Campaign. The goal is to encourage boaters to take all necessary safety precautions anytime they're recreating on the water. The festivities begin with "Wear Your Life Jacket at Work Day", an event that encourages boaters to normalize life jacket wear. Steps as simple as wearing a life jacket add layers of protection and maximize time on the water creating lasting memories with friends and family – safely.
Maintain a proper lookout.
The third primary factor contributing to accidents in 2021 was not maintaining a proper lookout. Whether you're operating paddle craft, participating in towed watersports, or enjoying a day fishing - it's critical to always maintain full visibility. Constantly keep your head on a swivel as an operator to stay fully aware of your surroundings. As a passenger, you can help maintain lookout and provide good communication to the operator, especially in areas of limited visibility or blind spots. Make sure to avoid any distractions that can draw your attention away from captaining the vessel.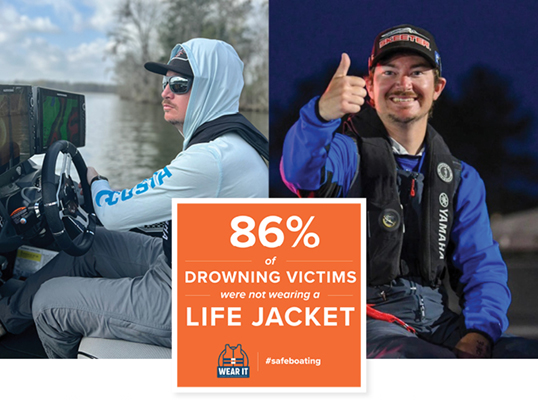 Wear an approved USCG® life jacket.
It's important to always wear a life jacket when recreating on the water, no matter the activity. When selecting a life jacket, find one that is comfortable and affordable. This will allow you to confidently wear it without hesitation. There are several different styles and types of life jackets that provide different benefits and levels of comfort. For an in-depth look into selecting a life jacket, watch the following video. Remember, a life jacket only serves its purpose when worn. Do not solely rely on your ability to swim, because situations can arise when you least expect them.
Remember: The environment provides stress to your body.
Spending time in the outdoors provides many great benefits, but it's important to be mindful of how environmental factors can affect your body. Exposure to the sun, air temperature, water temperature, wind, waves, noise and vibration of the boat can all cause stress on your body. Make sure you're taking care to avoid exposure to extreme temperatures or conditions that could lead to heat exhaustion or hypothermia. To help avoid additional stress, stay hydrated, use sunscreen, cover up with UV rated clothing and do not consume any alcohol or drugs.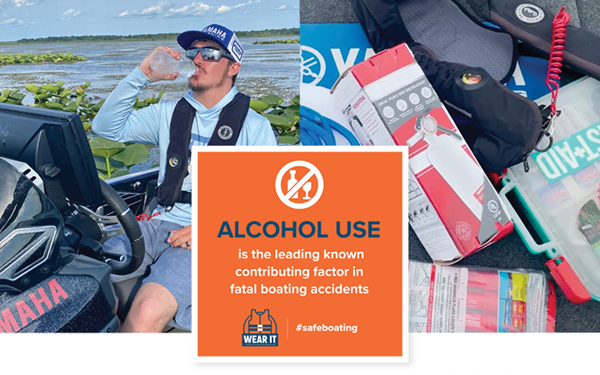 Pack all your required safe boating gear.
Before hitting the water, make sure your vessel is ready for your next outing. Prep and properly store all your required gear such as: life jackets for all passengers, throw cushion, navigation lights, engine cut-off device that should be worn by the operator anytime the motor is under power, whistle, first aid kit, flares, fire extinguishers, boat insurance and vessel registration. Inspect gear that has expiration dates like fire extinguishers, flares, and inflatable life jacket cartridges. If you come across expired gear, make sure to replace it before hitting the water. You never know what situation you may encounter on the water, so carry more than you need to solve any problem that may arise. Additional items you may want to bring aboard include:
Communication devices

Maps and a compass

Float plan

Accessories: tools, sunscreen, water, snacks, extra clothes, spare prop, etc.
To learn more about extensively preparing for boating season and using a boating safety checklist, please watch this video. Once your vessel is prepared, you can schedule a free Vessel Safety Check with your local United States Coast Guard Auxiliary or U.S. Power Squadrons. To sign up for a free vessel safety check in your area, please review and sign up here.
Check the weather.
Understanding the weather before heading out on your next adventure is more than just knowing if there is a chance of rain. Make a habit of checking the weather thoroughly to understand how it will impact your day or if recreating on the water is even a safe option.
When checking the weather, monitor things like:
Wind speeds and directions

Tide charts

Rain percentages

Thunderstorm warnings

Small craft advisories

Air temperature

Relative water temperature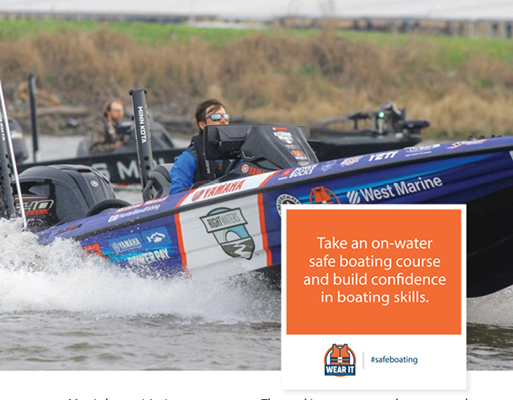 Take an approved safe boating course.
Brushing up on your safe boating knowledge maximizes your time on the water and allows you to make sound decisions while operating a vessel. These courses address subjects including: necessary gear, safe boating techniques, docking, rules of navigation on the water, and ultimately how to be a responsible captain or passenger. They provide great opportunities for boaters to review safety information or learn it for the first time. Please consult your local Department of Natural Resources for rules and regulations about mandatory safe boating course requirements. Many states require an approved safe boating course to receive your boater safety credentials to legally operate a vessel. If you're looking for more hands-on training or on-water courses, please visit the
National Safe Boating Council
to learn more.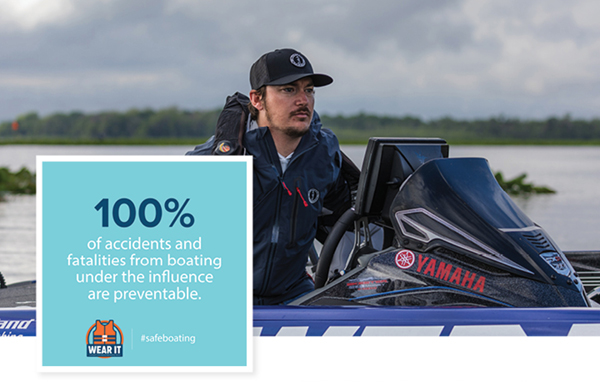 Never boat under the influence.
Never boat under the influence. Make sure to designate a sober boat operator and refrain from drinking any alcohol while recreating on the water. Alcohol is the leading known contributing factor in fatal boating accidents. Environmental stressors can increase impairment and reduce a captain's ability to make sound judgements. Boating under the influence puts everyone on the water in danger and can lead to dangerous driving on land. To learn more about the importance of sober boating, please click here. Do your part and make a conscious effort to never boat under the influence of any substance.
Recreating on the water is a fun and enjoyable experience, but it comes with responsibilities. As boating season kicks off, National Safe Boating Week serves as a great reminder that we must all do our part to make the waterways a safer place. By practicing these tips, everyone can enjoy a safer outing on the water.