Heading to one of these restaurants in a boat turns eating into a memorable adventure.
Four things make a great dock and dine restaurant: ambiance, a great view, fantastic food and plenty of free dockage. These four restaurants check off all the boxes.
Annapolis, Maryland: Cantler's Riverside Inn
In the Annapolis area of the Chesapeake Bay, there are plenty of waterfront restaurants that cater to tourists but on Mill Creek on the Broadneck Peninsula, there's Cantler's Riverside Inn, a real-deal crab shack favored by locals. Owned by waterman Jimmy Cantler, it serves up fresh local seafood, harvested by Cantler's boats. They even have their own "peeler" tanks to ensure they are serving softshell blue crabs at the absolute peak of perfection and as a result, the fried softshell sandwich is one of the signature items here. Other favorites include hard shell crabs by the dozen, local fish, crab soup, oysters and clams, and even pizza and pasta for that one landlubber in every group.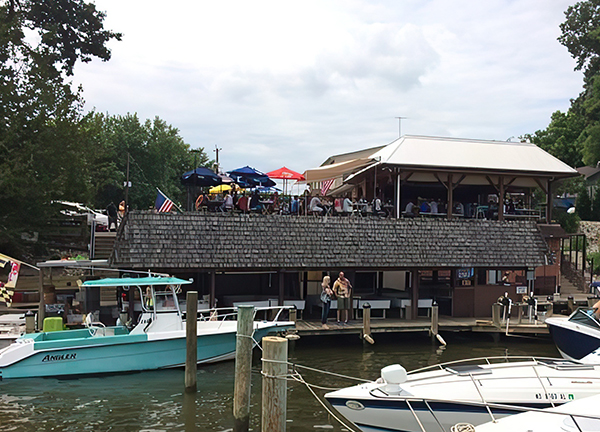 Cantler's family has been plying Chesapeake waters for five generations and has owned the Riverside Inn since 1974 with many family members working there. There's usually plenty of dockage and this might be one of the few places that's easier to get to by boat than car, because of the twisty, narrow road that's often choked with people waiting to dine here. Except for groups of more than 25, it's first-come, first-serve so if there's a wait, hanging out on your boat beats sitting in a car any day. It's authentically rustic and there's nothing fancy or pretentious here; just great seafood served on picnic tables topped with butcher paper in a memorable setting.
Folly Beach, South Carolina: Bowen's Island Restaurant
Just south of Charleston, in the hip, laid-back community of Folly Beach (locals pronounce it fah-lee) lies a glorious stretch of low country that produces some of the best seafood on the planet. If you like oysters served by the shovelful, there may be no better place to enjoy the freshly shucked bivalves than at Bowen's Island Restaurant. Fresh off the boat describes the provisioning here and the vibe is always festive. Fans of the Netflix® series "Outer Banks®" might recognize it from season three where John and JJ ask Mike for a plane ride to South America.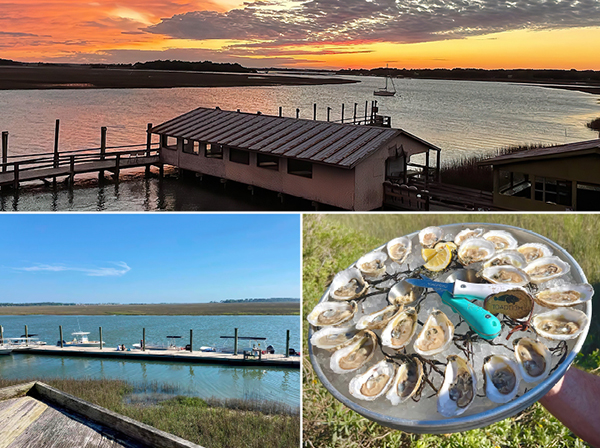 Founded in 1946 by Jimmy and May Bowen, the menu reflects the local bounty and is a great place to sample an authentic Low Country boil a.k.a. Frogmore stew, which consists of shrimp, corn, red potatoes and spicy sausage. Despite its casual atmosphere, Bowen's Island restaurant has received some serious culinary recognition like being the recipient of a prestigious James Beard Award® and being ranked #4 in Best Seafood Restaurants by USA Today®. Its rustic charm and authentic character make it a perfect destination-dine for boaters.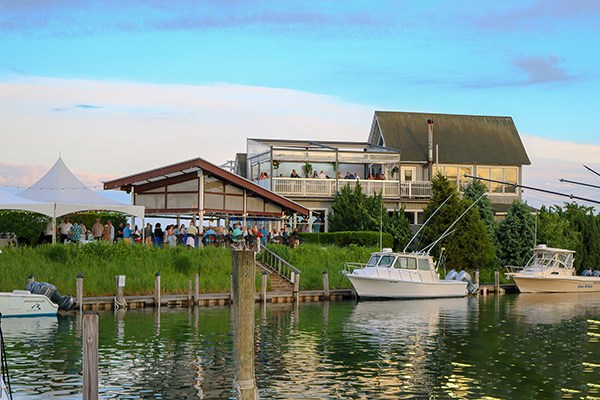 Long Island, New York: Cowfish Hampton Bays
A surefire way to decompress from the bustle of nearby New York City is to hop on a boat and head to one of Long Island's favorite dockside restaurants. Featuring stunning architecture with an equally stunning view of Shinnecock Bay, Cowfish Hampton Bays features modern American cuisine that includes artfully plated, fresh-caught seafood, creative salads, braised pork belly, steaks, lobster rolls and other sandwiches. As a departure from the norm, Cowfish features a brunch, starting at 11:30 on both Saturday and Sunday. Reservations are recommended although specific areas in the restaurant can't be reserved. There's plenty of transient docking for visiting diners.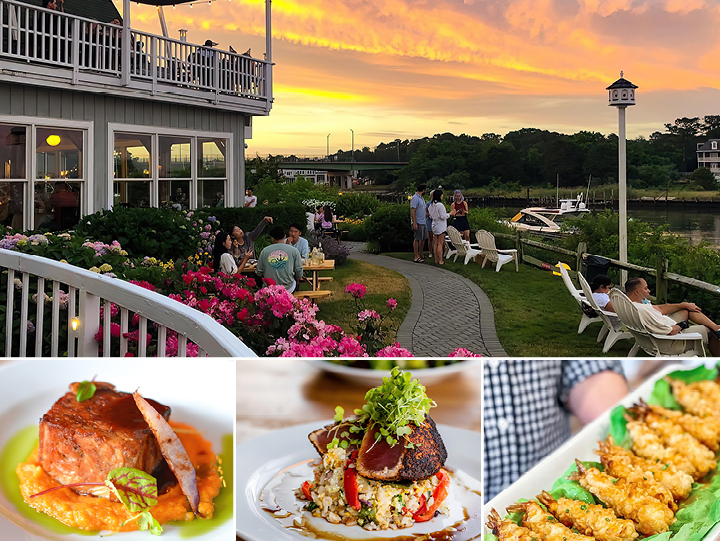 Founded in 2012 by David Hirsh not to be the fanciest or most expensive, but to be the most fun as evidenced by the pirate themed playground. Even the restaurant's name, Cowfish is a play on the fact they serve both turf and surf and is reflected in the logo which is a fish skeleton with a steer's head. After dinner, boaters can check out its nearby sister property, Rumba, which has a Caribbean vibe and often has live reggae performed on its RumBarge, floating in the bay.
Lake Martin, Alabama: Kowaliga Restaurant
Back in 1952, legendary country music star Hank Williams spent a couple of months in a cabin on Lake Martin, a 44,000-acre manmade lake built in 1923. While visiting he heard the local legend of a lone Muscogee man named Kowaliga (pronounced Ka-lie-ja)who lived on the shore of Kowaliga Creek after being rejected by an Indian woman. Not long before his death, Williams recorded the song Kow-Liga, which told this tale of unrequited love through the "eyes" of two wooden Indians in town. One of those was commemorated by a wooden statue standing sentinel outside the then newly-built Kowaliga Restaurant. The strange tune became a number-one hit on Billboard's Hot Country Singles Chart and although the original Indian was stolen and the original restaurant burned down, Kow-Liga IV stands in front of the rebuilt restaurant of the same name and the legend continues.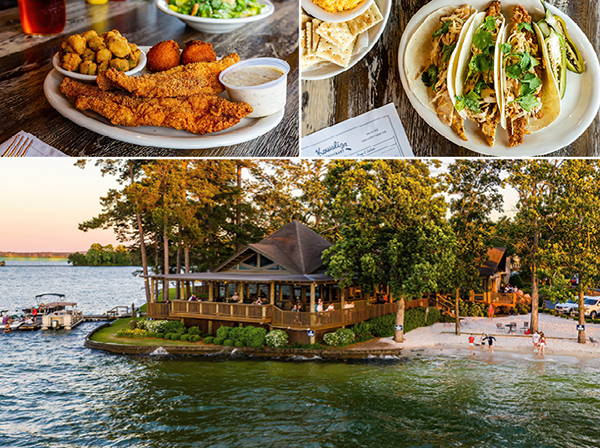 Today, the restaurant is a popular destination for boaters because of the great country comfort food, ample docking and gorgeous view of Lake Martin from the dining room. One of its most popular dishes is catfish tacos, sourced from local suppliers. The menu also features shrimp from the nearby Gulf of Mexico and heartier fare like the 14-ounce ribeye. After dining, hang out on the sandy beach and watch the sunset.

All photos courtesy of Rooted Hospitality Group.
Back to Blue Life