While these three families have different stories, they all have plenty to be thankful for.
It's a Good Dog Day
Andy and Carolyn Dinin, along with their grown kids, Brittany and Scott are first-time boaters who have taken to the boating lifestyle with great passion.
For years before we bought a boat, my wife, Carolyn and I had been boating as guests of friends for years on Lake Norman but we knew we wanted a boat of our own so we bought a Barletta
®
pontoon boat powered by a Yamaha F150. We even moved to Lake Norman to live closer to our grown kids. Boating on the lake is one of the unique hobbies our family shares that allows us to spend time together, unplug and just have fun together with our dogs on the water. We were thankful to have had this boat during the pandemic; it provided the perfect way for us to social distance and get outdoors.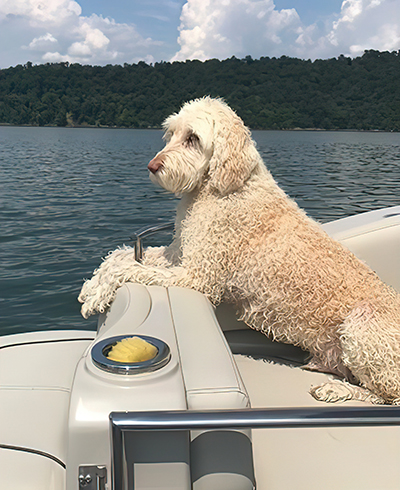 We can sum up boat ownership in three words: family, friends, and freedom. The first is family time (dog time) and the ability to spend quality time with them and our friends in a way that is simply not possible on dry land. We have found that people we meet on the lake and boat owners in general are some of the friendliest people you'll ever meet and we have made some lasting friendships as a result. One of our favorite activities is heading off with others to watch the sunset.
The minute we push off from the dock it is so easy to relax and forget about all of our daily worries and just enjoy and take in the moment. I know for me getting out on the lake just helps me to reset my brain to a more calm and peaceful state. We're thankful for the freedom our boat has given us.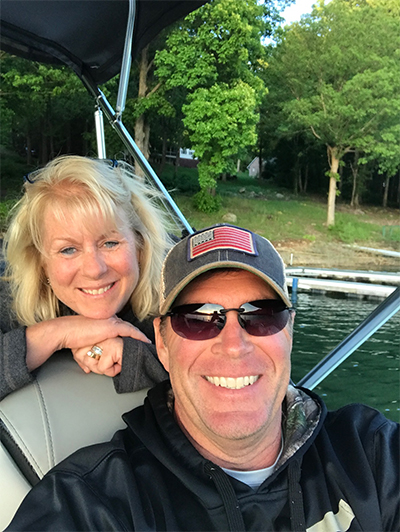 Sports, Peace and Quiet
Tim and Lisa Wilson, along with their two daughters, Brooke and Ashley find solace and fun aboard their pontoon boat.
A typical day for us to set out for a day of fun and togetherness with the girls and our dog Cash, on the scenic Youghiogheny River Lake in Addison, Penn., where we live. We've always had runabouts in the past because we like sporty boats, but we realized that with Sylvan
®
's triple-tube PTX package and a 250 hp Yamaha outboard we could still have fantastic performance and a lot more room.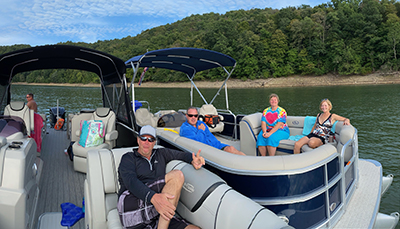 Our two grown kids are into skiing and my brother's kids are also skiers, so we do a lot of wakeboarding, skiing and tubing and sometimes even go scuba diving. Fishing for bass and walleye is also on our agenda. We love to entertain and have had as many as a dozen people on board at one time. One of our favorite activities is to tie up at the cove with friends and mingle and soak up vitamin D. We are thankful to be able to be outside and take in the beautiful scenery. My wife Lisa is especially thankful our boat provides the perfect escape from our hectic lifestyle while being able to spend time alone with family and friends with no outside distractions. Our only regret is not getting our boat with the full camper enclosure, so we could still go outside when it's rainy and cool and have even more time on the water.
Building New Traditions on the Water
Rod and Chrissy Krasley liked cruising around Sarasota in their Stingray® 236CC powered by a Yamaha F200…
Almost eight years ago, my wife and I transplanted our family from Pennsylvania to Florida. While that move to the sunny Gulf Coast of Florida got us out of the cold weather, it did come with some sacrifices. Our family life has always been rich with traditions – maybe too many if you ask our children, Ty and Denise. But as they've gotten older, I can tell they have moved from merely tolerating them to looking forward to them.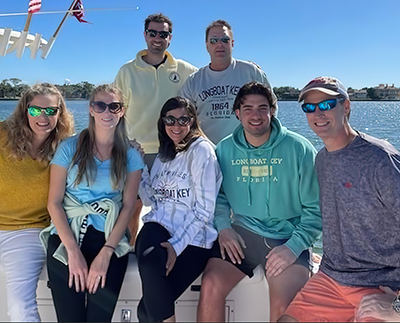 Not surprisingly, most of our traditions take place during the holidays. So, what do you do when you move far from home, far from family & friends that shared so much? You start new traditions and many of ours now involve boating. On our boat, we are all together — not spread out — and wherever we go on our boat, fishing, cruising, to the sandbar or out to restaurants, we go as a family. As our kids have gotten older, we might spend less time together but the time aboard a boat makes it more memorable.
One of our favorite traditions is spending time during Thanksgiving on our boat. We gather the family, head out on the water, drop anchor and kick off the holiday season. This tradition has grown over the years and now includes our son-in-law, Justin and our grandkids. Close friends have also begun tying up alongside us and joining us for this tradition. Boating not only creates memories each time we are out, but it has become part of our lifestyle.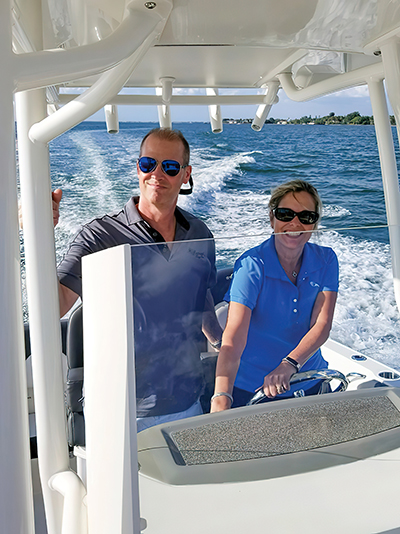 Although we lost our boat in Hurricane Ian, we are actively looking for a new one. The funny thing is now that our family has more boating experience, each now seems to want something different; somebody has to have bow seating, another wants a dual console, some want more shade…to go faster…look cool…the list goes on. I want to fish but most of all, I want to create more memories for my family.
Back to Blue Life