Sitting at the top of Minnesota at the Canadian border is one of the largest and least popular national parks in the United States. Last year, Voyageurs National Park was visited by only 221,434 people, which ranked it as the 14th least-visited national park.
So why is it so unpopular? It is purposely designed to be visited by boat only, leaving the summer hordes of four-wheel campers to go elsewhere. Of its 163 waterfront campsites scattered among 218,000 acres, all but two are accessible only by boat. And those two primitive sites require a hike to reach. The park is appropriately named for the French/Canadian Voyageurs who explored the area by canoe and boaters today see the same view as those intrepid explorers: a pristine wilderness that just happens to have some of the best fishing in America. Within the park are four large lakes and 26 smaller lakes, that make up about 40 percent of the park. The rest is a spectacularly forested mainland and more than 500 islands.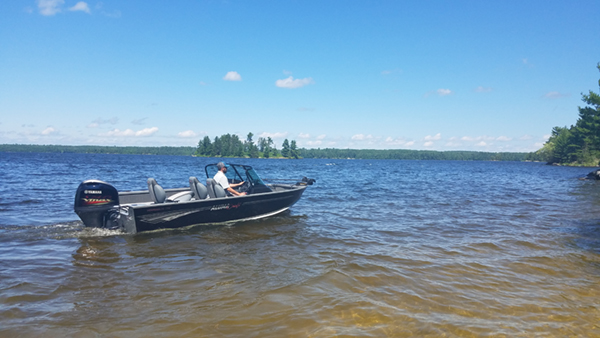 How to Get There
Not far from International Falls (about 5 hours north of Minneapolis) is the
Rainy Lake Visitor Center
, the park's most popular gateway, which is open year-round. Those camping or day-visiting can launch their boats and park their tow vehicles and trailers free of charge at any of the welcome centers, which also include facilities located at Kabetogama Lake and Ash River. There's no fee to enter the park and camping is very inexpensive. A small campsite, in season, costs $26 a night plus a $10 booking fee. Some of the campsites have boat docks, and at others, you simply beach your boat. A small campsite can accommodate up to nine people and has two tent pads, a fire ring, a picnic table and an outdoor privy. There are also up to four lockable bear lockers, but more on that later. There are 147 front-country campsites, which most power boaters choose, and 14 backcountry sites, geared more for canoeists. Some campsites are located on small islands and are often the only one there, giving you a private island.
How to Book a Campsite
It's simple to book a campsite. Just go to
reservations.gov
, and start by signing up if you haven't done so before. Then enter the number of campers in your group and look through the catalog of campsites. The booking website not only shows a photo of each campsite but also gives the available amenities. Of particular importance is what sort of boat access is at each site. Some sites have a dock, while at others there are sandy or rocky shorelines to beach your boat. They are listed as dock access, rock access or sand access. Needless to say, avoid the rock access sites. You can even see what kind of cell phone coverage each site has if other campers have left feedback. AT&T® and Verizon® seem to have the best coverage but don't count on it. There is also a map link to show exactly where each camp is located. It's a good idea to book as far in advance as possible (starting November 15 for the following year), especially when seeking campsites in late summer and fall because popular sites are often booked months in advance. But when looking in early May, the website showed plenty of availability left throughout the peak season (May 12th - October 15th).
Once you have a camping permit, print several copies. On check-in day, just launch your boat and go to the campsite; there's no need to check in or check out. Upon arrival (3 p.m. is the official check-in time), simply post your permit in the display area and you are good to go.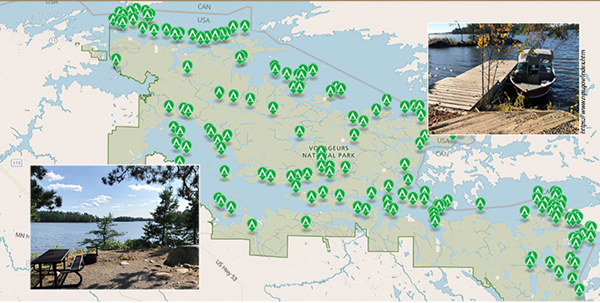 The Fishing is Awesome
Rainy Lake is the largest in the park and is one of the best in Minnesota for walleye and smallmouth. In late June, walleye transition from the shallows to the reefs in 15-25 feet of water. Rocky shorelines are a good bet for smallmouth fishing and look for northern pike in weedy areas. Make sure you have the correct Minnesota fishing license and be aware the northern half of the lake is in Canadian waters so keep your GPS on lest you create an international incident. Live bait such as golden shiners on a jig head is the best combination when vertical jigging but soft baits infused with fish oil are also productive. Casting crankbaits for smallmouth is a good strategy for rocky drop-offs near islands and big lures that create a lot of commotion are good choices for pike.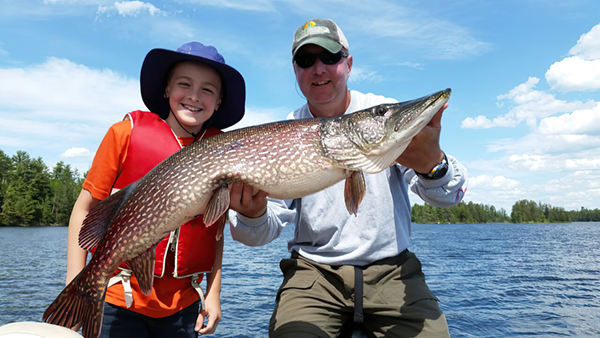 The Park has Lots of Wildlife
Because this is a wilderness area, the full array of northern animals can be found here. There are 1,300 pairs of bald eagles here, a small population of moose, and even half a dozen wolf packs, that tend to avoid humans. There are also about 150 black bears who reside at the park, which is the reason each campsite has at least one bear-proof locker for safely storing food. The lockers can accommodate 48-quart coolers and it's extremely important not to leave any food outside this spot when not eating. If you leave half a bag of chips on your boat there might be a nasty surprise in the morning. Injuries to people are extremely rare but never approach a bear to get a good photo.
The Bugs Can be Bad
One of the only thorns on this rose of a park is that during summer months, mosquitos and biting black flies can be fierce at times. The best strategy is to spray all clothing, hats and your tent with a permethrin-based product (never directly on a person!). Just lay all clothing in your yard and spray each article well and let them dry before packing. This next part is critical: always take at least two Thermacells® along with you! These are devices that cook a small blue wafer of chrysanthemum-based material with a small butane flame and provide a small,
but effective dome of protection, especially at dawn and dusk. Another precaution would be to bring along a portable screened room if bugs are especially bad. Around August, the bug population starts dwindling and the fall camping here can be spectacular when the leaves change colors in September and October. There is also the possibility of seeing the Northern Lights.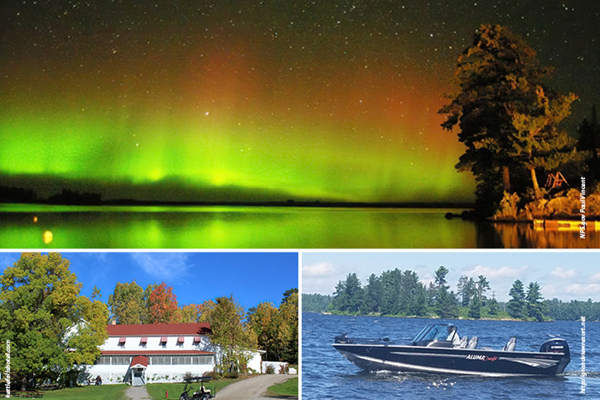 There's Only One Hotel/Restaurant Within the Park
At Voyageurs, there's only one hotel/restaurant within park boundaries. Called
Kettle Falls
, it was built in 1913 and has 12 rooms (with three shared bathrooms) and three villas. Like the rest of the park, the only way to get here is by boat. Nicknamed the "Tiltin' Hilton" for its famous sloped floor is the Lumberjack Saloon. The pool table is level but on one side players shoot from the hip and on the other side the pool table is nearly chest high. They have a full-service marina complete with gas and live bait.
Voyageurs National Park is one of the ultimate getaways for those who own boats. Unlike overcrowded parks where you have to post an "ask me about insurance" sign to be left alone, here it's just you, the animals, fish and great scenery.
Back to Blue Life