With careful planning, boating adventurers can go back in time to a place few will ever see.
After cruising 70 miles from Key West over open ocean, a glimpse of garnet slowly creeps onto the horizon as you approach the least visited National Park south of the Mason-Dixon line. Getting closer, a massive six-sided pre-Civil War fortress comprised of 16 million handmade bricks looms into view. The vista is made more surreal by the eye-popping vista of surrounding coral reefs and impossibly clear water with more shades of blue than a Sherwin-Williams® paint chart.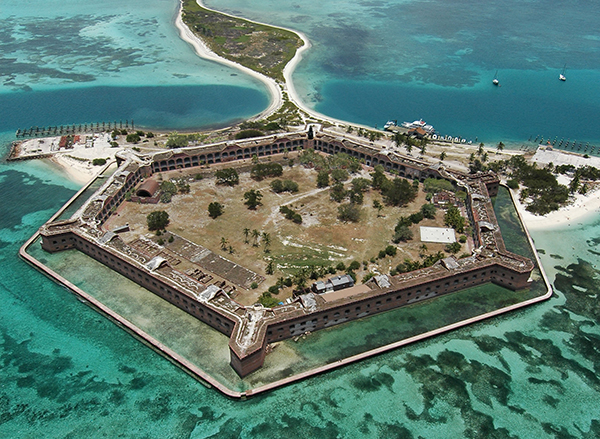 The Fort
The construction of Fort Jefferson began in 1835 and lasted until 1875 but was never completely finished nor did it ever have the full complement of 420 heavy cannon it was designed to hold. The fort's purpose was to protect shipping and military interests and also to prevent this strategically located deepwater port from falling into enemy hands. Pirates in the 16th and 17th centuries often used Garden Key as a headquarters from which to plunder ships carrying cargo. Also used as a prison for Union soldiers convicted of offenses such as desertion or theft, at its peak the fort held nearly 2,000 people, including wives and children of some of its soldiers. Its most famous prisoner was Dr. Mudd, who set the broken leg of John Wilkes Booth, President Lincoln's assassin. In 1908, it was named as a bird sanctuary, and in 1935, President Franklin Roosevelt designated it as Fort Jefferson National Monument but it wasn't until 1992 that it was upgraded to National Park status by President H.W. Bush.
While Fort Jefferson gives the Dry Tortugas its primary identity, the real reasons most come to this remote park are its pristine waters, great fishing and diving, and tropical vibe, which has been thrilling non-native American visitors ever since Ponce de Leon first landed here in 1513. During his visit, his crew harvested 100 sea turtles, called tortugas in Spanish, which gave the seven-island group its name. The Dry part of its name is because there is no groundwater supply here.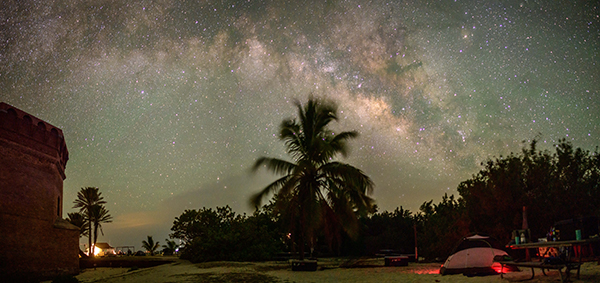 Tropical Camping at its Best
Camping is allowed at Garden Key and there are eight six-person, three-tent max campsites, which have picnic tables and grills. The fees are very reasonable. It costs $15 per person, 16 and older to enter the park and $15-$30 a night for camping, based on the size of the group. They only take cash or a check on the island but the entrance fee can be paid in advance online. Only large groups of 10-20 people can make reservations. For the rest, it's first come, first serve but once you arrive, all are guaranteed a place to camp in the overflow area if all of the designated campsites are occupied. These select spots have picnic tables with numbers on them so when you arrive, look for one of these to stake out your territory. If you are in an overflow area and a campsite becomes available, you can move to it. For a full list of campground rules and regulations, go to the
park's website
. Although there are few mosquitoes here, no see-ums can be a problem at dusk and dawn when the wind is low so carrying a pair of
Thermacells®
is a good idea.
The Trip Over
When leaving Key West or other locations, it's best to leave as early as possible to take advantage of calmer conditions (usually) and to beat the
Yankee Freedom
ferry, which leaves Key West every morning at 8 a.m. and arrives at 10:30. In addition to day-trip passengers, the ferry also transports campers and their gear plus kayaks if they have them. This is a popular way for campers without boats to make the voyage but the limited number of camper trips are usually sold out up to a year in advance. The ferry is also a benefit to private boaters because they are allowed to use the ship's head and can get a freshwater shower (no soap) while the ferry is there until it departs at 3:00. There is a composting toilet for use at other times. The only fires allowed are in the campsite grills using self-starting charcoal briquets or camping stoves, which are not allowed aboard the ferry.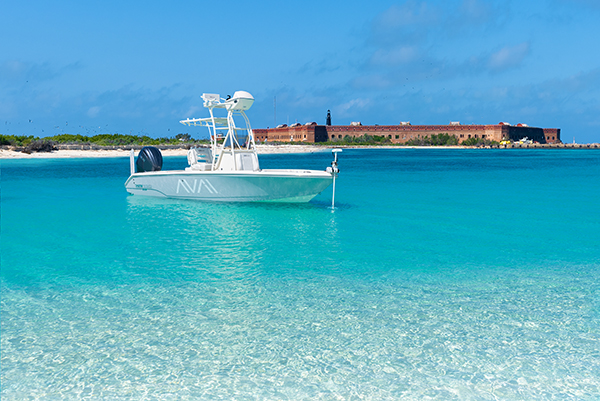 Private boats can temporarily dock at the commercial dock when the ferry is not there in order to unload camping gear but must be moved to the designated area to anchor. There used to be private boat dockage but the slips were wiped out during Hurricane Irma and their repair has been slow to materialize. Most boaters anchor close to the beach using the Bahamian anchoring method of using bow and stern anchors. Then, they can either wade or use a kayak or dingy to come ashore. Inexpensive
inflatable kayaks
are a good choice because they can be compactly packed up when not in use, plus they are fun to paddle around on and fish from (in designated areas) near the fort. All boats, including kayaks and paddleboards are required to have a boat permit — obtained at the park — before using them for recreation.
The Fishing is Great
There is a 46 square mile section within the Dry Tortugas National Park "boundaries called the
Research Natural Area (RNA),
which is about half of the park's total area, where fishing and anchoring are prohibited. Using a trolling motor or engines in virtual anchor mode is a good way to deal with these prohibitions. This area tends to have spectacular diving because of the lack of fishing pressure. There are designated areas where you can fish on Garden Key, even though it's in the RNA. Within park boundaries, only circle hooks can be used when using cut or live bait. One tip: don't chum using blocks of frozen chum or you likely draw sharks, though tossing out strategic amounts of cut or live bait is a good way to draw yellowtail snapper. Anchoring is only allowed on hard bottom in 40 or less water and no spearfishing or lobstering is allowed in the park.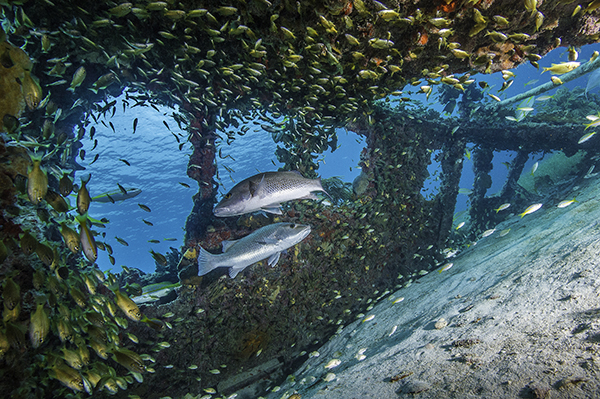 For a great ride-along video that shows what it's like to go to the Dry Tortugas, check out the
Lifebythebow.com
video, though get an earlier start and don't arrive at night like Clay and Stephanie did. Although Dry Tortugas National Park is a challenge to get to, and the restrictions might seem onerous, a trip here will be etched in your family's memory banks forever.
Back to Blue Life