It may be depressing to think about the end of boating season but for a large portion of the United States and all of Canada, there is a season called winter. With it comes freezing temperatures, snow, and lakes and bays turned to ice. Boat owners who reside in more northern climates must prepare their boats for what the weather might bring and with good reason. Your boat and outboard motor(s) are a big investment, and being caught off guard by the change of seasons can put them at risk. With that in mind, let's consider the options available for winterizing and storing your boat and Yamaha outboards until spring.

Plan Ahead for Winter Storage
Depending on your location and circumstances you have options. If your boat is small enough to fit in your garage, you're home free, although your car or truck might not appreciate having to give up its home for your favorite plaything. Winterize the engine and any hoses and pumps that carry water - and you're done.
If you have a trailer and room on your property for your boat, that's almost as good. Winterize the boat and engine(s), cover for protection from snow and debris and forget about it until spring thaw.
If you have a trailer but no room on your property, or local zoning laws don't allow you to keep a boat in your yard, or if you keep your boat at a marina or don't have a trailer, then things become a bit more complicated. Most marinas, like the Yamaha-authorized service centers at Garden State Yacht Sales in Point Pleasant, New Jersey and Gateway Marina in Highlands, New Jersey, offer a variety of winter storage options. Both have storage space for boats on trailers and boats on blocks in lieu of a trailer, but Gateway also offers storage on their rack system. Just remember, seasonal slip and rack customers get first dibs on winter storage space in most marinas. The remaining space is available on a first-come, first-served basis so make arrangements for your boat early to avoid the last-minute winter rush and the possibility of not having a place for your boat.
If you don't have marinas nearby you might check with local self-storage facilities. Some have space inside locked and secured yards for storing boats and RVs. They usually charge by the month, but in many areas those spaces are limited so start your search early.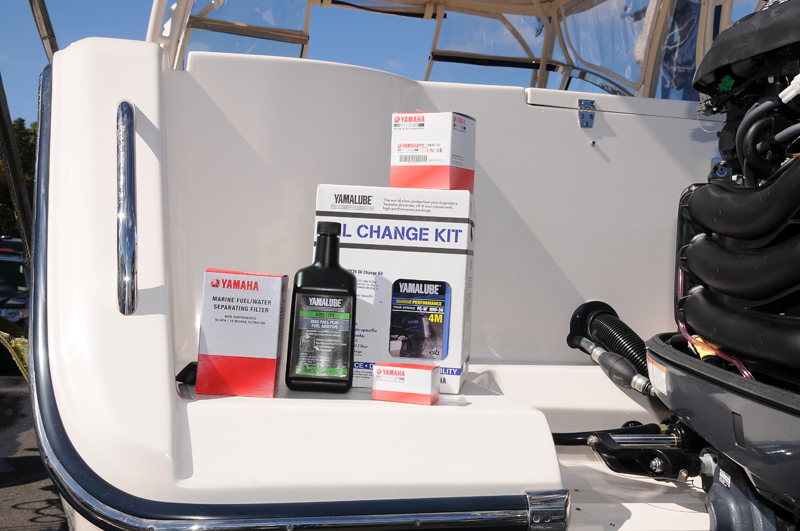 Winterizing Your Boat and Engine
If you live where there is a chance of freezing temperatures winterization of your Yamaha outboard(s) and boat systems is a must. If your boat has a raw or fresh washdown system, freshwater tank, live well, or a head with a storage tank, these systems must be emptied and, in many cases, treated with marine antifreeze. Failing to do so can result in costly damage. If you use your boat in saltwater and fail to drain the raw water washdown pump and bilge pumps, you have to worry about corrosion of internal working components. Having them filled with antifreeze also helps prevent corrosion.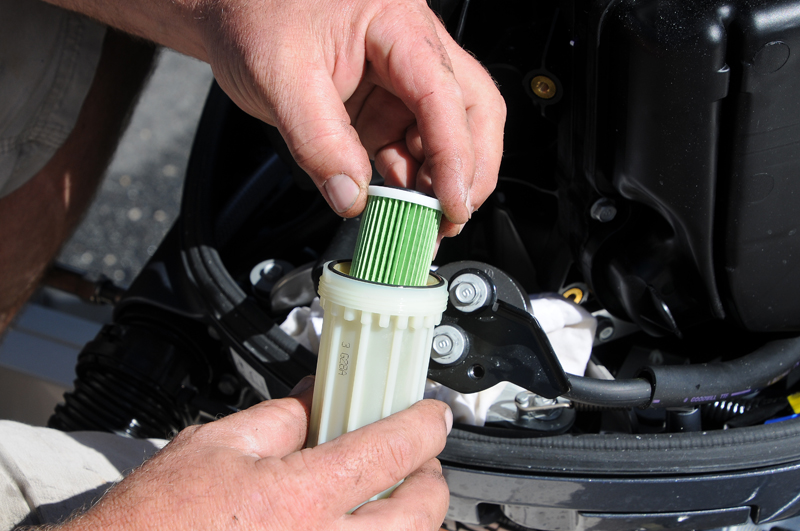 Winterizing a Yamaha engine is straight forward and if you're handy and have the right tools and time, you can do it yourself. Yamaha offers prepackaged oil change kits for the DIY crowd that include all the fluids and filters that should be changed before wrapping the boat up for the season. These are available at or for order through most Yamaha dealers and service centers. Get what you need to do the job early in case supplies sell out, which happens more frequently than you might think. Be sure your fuel tank is topped off and treated with Yamaha Fuel Stabilizer before you begin. If you want to review the entire process and make sure you have the necessary tools to go the DIY route, check out our step-by-step winterization article here.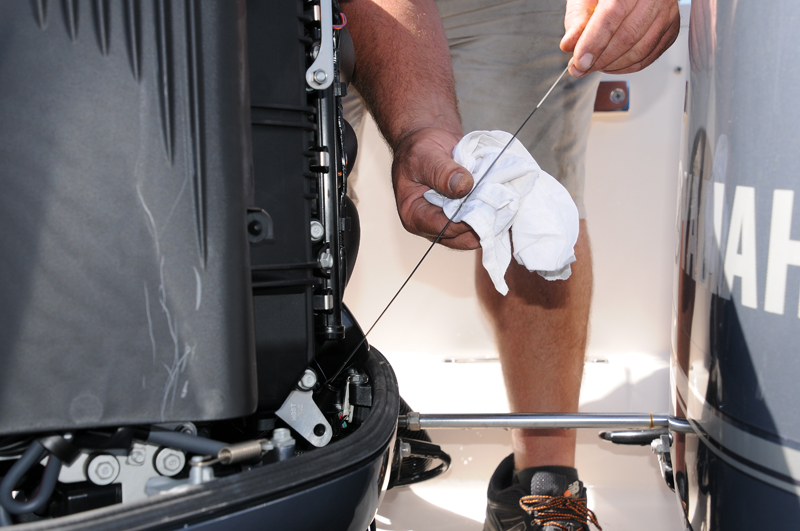 Battery Care and Feeding
The batteries in your boat require some care for the winter season. The colder the environment the more consideration is necessary because there is a possibility of lead/acid or AGM batteries freezing - or at the very least losing their charge completely over the winter. If your boat has an onboard charging system that regulates the amount of charge automatically and you can keep it plugged in while in storage, this will help guard against freezing and dead battery(s) in the spring. It will also extend the life of most batteries. If there is no access to power, the batteries should be fully charged and then disconnected at the terminals from the boat's electrical system for the storage period. If you can remove them for storage in a warm, dry place, that's even better.

To Wrap or Not to Wrap?
Is that even a question? Shrink wrapping boats as the final step in winterization prior to storage has become an extremely popular option, especially in regions that tend to get any significant amount of snowfall. Even where snow is a rarity, wrapping keeps the boat clean and fresh when you get ready for spring commissioning. Put in a jar or two of boat dehumidifier before sealing.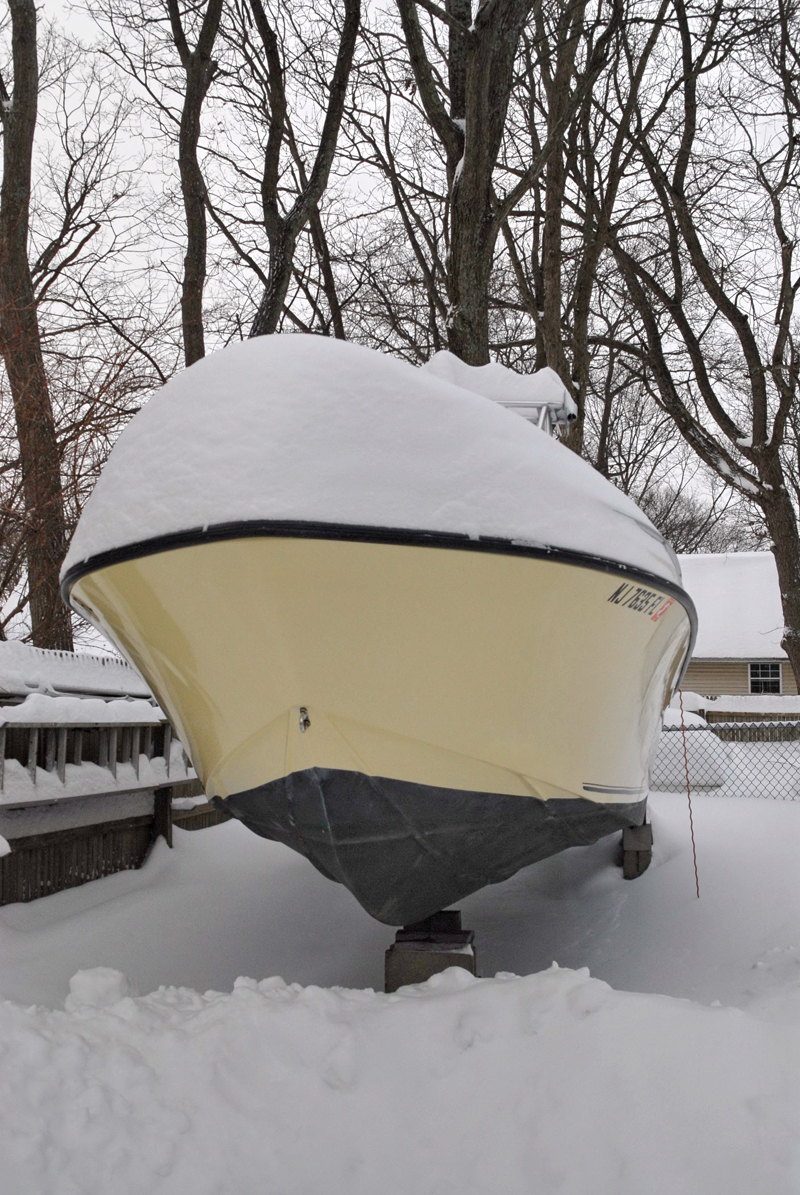 If you're not the DYI type or would just like to have the process handled by an authorized Yamaha service center so you know it's done right, most can handle all your engine and boat winterization needs and provide you with a package price that even includes shrink wrapping. If you plan to store your boat at home, there are shrink wrap companies that will come to your location and wrap your boat on site. If you have a smaller boat with a good canvas-type cover, that might suffice as long as it is capable of handling snow and ice accumulations without tearing or collapsing into the boat.
Winterizing and storing your boat for the off season is a necessity to keep it in top running condition and ready for the following boating season. For more information stop by your Yamaha dealer and pick up a copy of the Maintenance Matters® brochure.
Back to Blue Life