Are you ready to pass a Coast Guard safety inspection? Coast Guard policy requires safety inspections as a method of outreach to the boating public to impress upon them the importance of carrying the necessary safety equipment in case of an emergency. When your boat is properly equipped, you can enjoy your time on the water even more with the peace of mind that you and your passengers are safe. These preventative inspections can happen at anytime so it's important to make sure you are always ready. As these hard-working men and women of the Coast Guard put their lives on the line when called on to make hazardous rescues at sea, boaters need to prepare for and respect these inspections so that they are completed quickly and efficiently.
When approached by a Coast Guard vessel for inspection, the boarding officer will announce his or her intention: to identify the vessel, the owner and the operator, check the paperwork and conduct an inspection to be sure it has all the safety equipment required by Federal Regulation for that classification of recreational vessel. These inspections can typically take place while you are in route to your destination.
During an inspection, you will need to show your vessel registration, which is mandatory, and the operator's driver's license, social security number and date of birth, which are voluntary. If you boat in a state that requires a vessel operator to have a safe boating course certification, you must also provide that certificate along with the other documents. The Coast Guard representatives enter all of this data into a hand-held electronic touch-pad device with a built-in printer.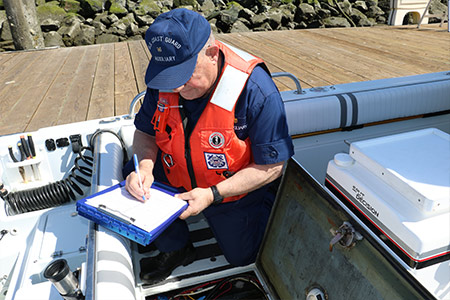 Next, the Coast Guard officer checks the mandatory safety equipment on board. All PFDs (personal flotation devices) on board much be Coast Guard-approved and properly armed. An approved PFD is required for every person on board a recreational vessel. A throwable floatation device is also required, which can consist of an approved life ring or a flotation cushion.
In addition to the checking the PFDs, Coast Guard officers will also want to inspect and check the audible signaling device, a horn, which can be an electric horn mounted on the vessel or a hand-held device powered by a compressed air canister. You must also show your boat's emergency flares to ensure they are within the expiration date. All flares have expiration dates stamped on them and should be properly disposed of and replaced when that date is exceeded. The flares should be kept in a "ditch bag" stowed in the console. Though not required, PLBs (personal locator beacons), waterproof hand-held VHF radios, additional signaling devices and flares are also good to have on board.
Once the inspection is complete, the captain will sign the touch-pad on Coast Guard's device, which will print out a boarding report indicating the vessel has no violations or warnings. If the inspection had uncovered any flagrant violations, the Coast Guard will issue a summons that can include civil penalties. If the violations are minor in the judgment of the boarding officer, he or she can also issue a warning and require and a follow-up inspection to make sure all requirements are satisfied. It's important to keep any completed boarding reports aboard your vessel should you need to show them to Coast Guard officials in the future. They can also help you to avoid a repeat inspection within a specific period of time.
The entire inspection lasts about 15 minutes and Coast Guard boarding officers are typically courteous, knowledgeable, professional, and willing to answer any questions and provide additional information on the procedure and the equipment requirements.
By preparing for Coast Guard inspections, you and your passengers can relax and enjoy time on the water together with the knowledge that all safety requirements are in check.
If you would like to take an even more proactive approach, you can schedule a free vessel safety check with the Coast Guard Auxiliary at any time by visiting
http://wow.uscgaux.info/content.php?unit=054-26&category=1324933710
.
To learn more about recreational vessel safety regulations, go to the Coast Guard Boating Safety Resource Center at
www.uscgboating.org
.
Photo Credit: Jim Hendricks/Bonnier Fishing Group.
Back to Blue Life