Kennesaw, GA
– March 1, 2023 – Yamaha becomes an official outboard sponsor of Boone Lake Association (BLA) as the environmental group forms a new relationship with Yamaha Rightwaters
™
. Formed in 1983 to oversee the water quality of Boone Lake, the (BLA) is one of the oldest established environmental groups in the state of Tennessee. Yamaha Rightwaters will provide BLA with a Yamaha F175 outboard to power its clean-up boat.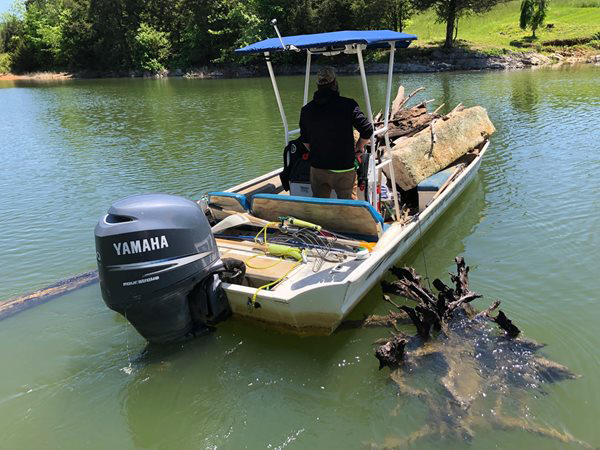 Yamaha Rightwaters supports Boone Lake Association's mission for excellent water quality. BLA is the only organization with a comprehensive year-round program to collect and dispose of trash and debris from Boone Lake. This program removes large logs and other objects that are a hazard to boaters. Each year, the association collects hundreds of tons of trash from the lake.
"The promotion of clean water is one of Yamaha Rightwaters' major focus areas. It makes sense to support organizations who are dedicated to keeping their local waterway safe and clean, so the public can enjoy the outdoors," said John O'Keefe, Senior Specialist, Government Relations, Yamaha U.S. Marine Business Unit. "Yamaha Rightwaters commends the volunteers of the Boone Lake Association for 40 years of dedicated service and keeping the lake safe and clean. We look forward to supporting their great work."
The association employs a two-member crew year-round and an additional part-time crew during the summer that pick up and dispose of trash and debris from the lake, monitor water quality, clean up slicks and respond to the litter hotline. BLA cleans boat ramps, TVA
®
primitive campgrounds, feeder tributaries and exposed shoreline.
"The Yamaha Rightwaters team understands the need for promoting clean waterways," said Frank Hahne, CEO of Boone Lake Association. "We celebrate 40 years of service with a Yamaha-powered clean-up boat that gives us the unmatched reliability we need to ensure Boone Lake remains unspoiled for the generations to come."
To learn more about Boone Lake Association, visit
boonelakeassociation.org
.
Yamaha Rightwaters is a national sustainability program that encompasses all of Yamaha Marine's conservation and water quality efforts. Program initiatives include habitat restoration, support for scientific research, mitigation of invasive species, the reduction of marine debris and environmental stewardship education. Yamaha Rightwaters reinforces Yamaha's long-standing history of natural resource conservation, support of sustainable recreational fishing and water resources and Angler Code of Ethics, which requires pro anglers to adhere to principles of stewardship for all marine resources.
Yamaha's U.S. Marine Business Unit, based in Kennesaw, Ga., is responsible for the sales, marketing, and distribution of Yamaha Marine products in the U.S. including Yamaha Outboards, Yamaha WaveRunners
®
, Yamaha Boats, G3
®
Boats and Skeeter
®
Boats. Supporting 2,400 dealers and boat builders nationwide, Yamaha is the industry leader in reliability, performance, technology and customer service.
REMEMBER to always observe all applicable boating laws. Never drink and drive. Dress properly with a USCG-approved personal floatation device and protective gear.
©
2023 Yamaha Motor Corporation, U.S.A. All rights reserved.
This document contains many of Yamaha's valuable trademarks. It may also contain trademarks belonging to other companies. Any references to other companies or their products are for identification purposes only and are not intended to be an endorsement.
Back to Blue Life