MIAMI, Fla.,
February 16, 2023 — The Yamaha Marine U.S. Business Unit announced a collaborative initiative for biofuel testing, introduced new marine products and addressed future plans for growth and expansion during the 2023 Miami International Boat Show
®.
"Innovation is the driving force behind all of the initiatives currently underway at Yamaha," said Ben Speciale, President, Yamaha U.S. Marine Business Unit. "From collaborative biofuel testing with NMMA
®
to the expansion of our Marine Innovation Center and introduction of new marine products, Yamaha continues to deliver the experiences customers want on the water, while simultaneously protecting the environment that creates those experiences."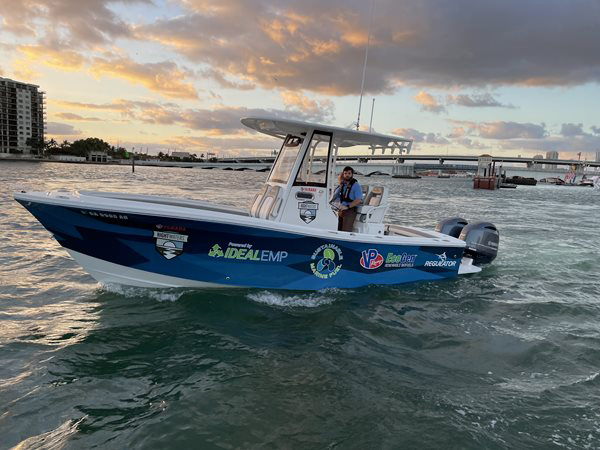 Carbon Neutrality
On February 15, the National Marine Manufacturers Association
®
, Yamaha U.S. Marine Business Unit and other industry partners highlighted the advancement and availability of multiple Sustainable Marine Fuels, which significantly reduce CO2 emissions while maintaining boat range and performance. The event demonstrated drop‐in fuels that can remain compatible with all existing recreational boats, requiring no changes to the boat fuel system or engine. Participation in the event underscores a current significant focus of Yamaha Rightwaters™ to achieve carbon neutrality quickly within Yamaha products using biofuels as a viable option in certain marine applications.
"There are currently 12 million existing boats in the market," said Speciale. "The option of using biofuel within these vessels paves a path to carbon neutrality within product already on the water."
Facility Expansion
In 2022, the Yamaha U.S. Marine Business Unit announced plans for an all-new 75,280 square-foot Marine Innovation Center near Yamaha Marine's headquarters in Kennesaw, Georgia. Now complete, the "MIC" houses the Yamaha Marine Connected Division as well as the U.S. Marine Development and Product Planning and Introduction Division. The Yamaha Marine Connected Division includes business planning, user experience, IoT/Cloud Infrastructure, product planning, data analysis, sales and marketing positions. The Yamaha U.S. Marine Development and Planning Division includes control engineers, perception engineers, product development engineers, project managers, hydrodynamics engineers and various software engineers.
Yamaha also completed the expansion of its test facility in Bridgeport, Alabama, adding 5,900 square feet of office space and 8,000 square feet of boat storage. The test facility is currently hiring testing technicians and system engineers.
New Products
XTO Offshore 450, F200 and F150 Integrated Steering Models, New Helm Master EX Features
Announced in January 2023, Yamaha will debut a new XTO Offshore
®
450 model, new F200 and F150 integrated steering models and new Helm Master
®
EX features on the docks during the 2023 Miami International Boat Show
®
. The XTO 450 allows boaters to enjoy the convenience and ease of operation associated with the XTO line – in addition to more torque and power. Yamaha's F200 and F150 DEC and Mechanical outboards now feature integrated electro-hydraulic steering for the 2.8L DEC models and integrated hydraulic steering for the 2.8L and 2.7L mechanical models. Helm Master EX also gets new features that take boat control to a new level in 2023.
Siren Trident
The teams within the Yamaha Marine Innovation Center focus on CASE product development. Representing the future of Yamaha and a foundation for product, facility and personnel evolution, CASE stands for Connected, Autonomous, Shared Services and Electrification. Yamaha's acquisition of Siren Marine in late 2021 and the subsequent creation of the Connected Division were strategic decisions underscoring CASE.
During the 2023 Miami International Boat Show
®
, Siren Marine and the Yamaha Connected Division will introduce the first collaborative CASE product, Siren Trident. An industry-first IoT software for marine engine maintenance and system compatibility that offers substantial benefits to Yamaha customers, dealers and boat builders, Siren Trident provides customers and dealers with:
Actual engine-hour run time and usage-based maintenance notifications with no required input from the user
Compatibility of DEC rigging system components and currently installed versions
Insights into real world boat use to support predictive and preventative maintenance
Grady-White, Inc. and Regulator Marine, Inc. will become the first two Siren Marine pilot boat builders, offering Siren Trident as standard equipment on select 2024 model year boats.
DockPoint
™
Finally, Yamaha announced plans to introduce DockPoint
™
to the market in 2024. The first official product produced through the Yamaha Marine Innovation Center, DockPoint is the newest feature of Helm Master EX Full Maneuverability which automatically docks a properly equipped boat at the touch of a finger.
Using minimal additional hardware, a Yamaha Multi-function Display Interface (MFDI) and a Garmin
®
MFD, Yamaha can now make a multi-engine, Helm Master EX-equipped boat with a clear view of the sky approach any one of up to 100 user-defined slips, correctly orient the boat according to the desired direction input by the operator and position itself in that slip automatically according to the operator's pre-selected setting. Additionally, boaters can set the system to automatically select manual control or Full Maneuverability Joystick mode once in the slip, where the operator can then command the boat for fashioning to the dock.
Click
here
for a short video demonstrating DockPoint.
Yamaha U.S. Marine Business Unit, based in Kennesaw, Ga., markets and sells marine outboard motors ranging in size from 2.5 to 450 horsepower. It also markets and sells fiberglass, jet-drive sport boats ranging from 19 to 27 feet, and personal watercraft. The unit includes manufacturing divisions of Yamaha Marine Systems Co., Inc., including Kracor of Milwaukee (rotational molding), Bennett Marine of Deerfield Beach, Fla. (trim tabs), Siren Marine of Newport, RI (Connected Boat) and Yamaha Marine Precision Propellers of Indianapolis (stainless steel propellers). Yamaha Marine Group is a division of Yamaha Motor Corporation, U.S.A., based in Cypress, Calif.
###
This document contains many of Yamaha's valuable trademarks. It may also contain trademarks belonging to other companies. Any references to other companies or their products are for identification purposes only and are not intended to be an endorsement. Siren Marine is a registered trademark of Siren Marine, LLC.
REMEMBER to always observe all applicable boating laws. Never drink and drive. Dress properly with a USCG-approved personal floatation device and protective gear.
© 2023 Yamaha Motor Corporation, U.S.A. All rights reserved.
Back to Blue Life