Boat positioning is critical, and Yamaha's DEC helm system gives anglers a huge advantage
The first thing Freddy Gamboa did after he verified the wreck's position was to make a quick survey of the entire structure using his depthfinder and chartplotter to see where the fish were concentrated. Freddy is owner and captain of the Yamaha-powered 44' Contender
®
Andrea's Toy. The large ship sunk during World War II and, through experience, he understood fish moved around it, often switching feeding stations with changing currents, so the placement of the boat over the structure impacted the success of his anglers. Next, he learned how the current and wind would affect the boat by stopping and drifting for a few minutes to create a short trail on his plotter to use as a guide. Once that was done, he approached the wreck from the opposite direction of the drift and moved into position over the spot where he marked the most fish and pressed a button. That's when Helm Master
®
EX took over, holding the boat in position with the bow into the current.
Before the availability of Helm Master
®
EX, setting up on a wreck was a very time consuming, laborious task Yamaha anglers. Anglers had to carefully determine where to deploy at least a single anchor (two anchors using the bridle technique if they really want to control the position) so the current and wind would allow the boat to settle back on the rode until it was as close as possible to the spot. The problem with a single anchor is any change in wind or current moves the boat, frequently off the spot. With two anchors positioning is more accurate but getting set up is twice as time consuming and, if the fish move or the tide turns, anglers usually have to reposition both anchors. Anchoring for accuracy takes a lot of practice - but that's the old way.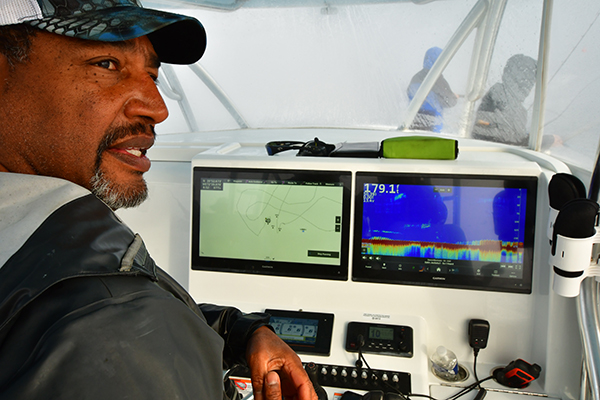 When the boat is equipped with a Helm Master
®
EX digital electronic helm system like the Andrea's Toy, all an angler has to do is position the boat over the spot on the wreck they want to fish and press the StayPoint
®
button. The onboard computer uses its own GPS and heading sensor to take control of the shift, throttle and steering functions to hold position with pinpoint accuracy. If the fish move, simply try a different section of the wreck. You don't even have to disengage StayPoint
®
(or any of the functions, for that matter). Simply bump the joystick in the direction you want to go and it responds in an amount of distance preprogrammed by the Captain. For more distance, add more bumps - up to ten are allowed. It's that easy. No wrestling with anchors, chain and rode. No wasted time or energy. And that adds up to better accuracy and more fishing time.
Once Freddy engaged the StayPoint
®
function, he signaled his anglers to drop their baits and jigs. They started catching sea bass almost immediately. When the bite slowed, he repositioned the boat over another spot on the wreck and the action began again. Once he had a box of future fillets, he left that wreck and went off in search of another piece of structure while watching out for signs of tuna along the way. He could have easily moved to the edge of the nearby Hudson Canyon and deep dropped for tilefish, another technique that can benefit from using Helm Master EX.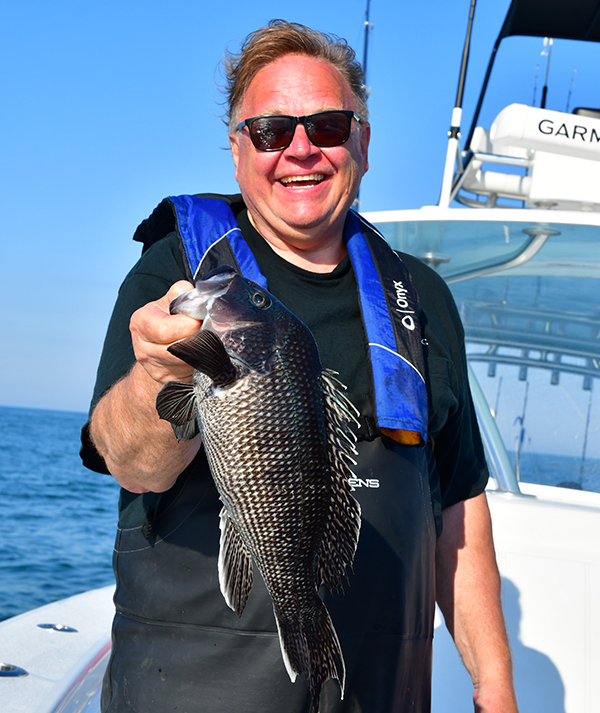 "Using Helm Master has really changed the way I plan a typical offshore charter, but you don't have to be a professional to benefit from the system," Capt. Freddy said. "That trip was mainly targeting bluefin tuna, but sometimes the tuna won't cooperate, or we get a blast of them early and the bite tapers off, so I'm left trying to find something for my anglers to do that will put some fish in the box.
"Helm Master makes adding a few hours of wreck fishing to a typical offshore trip not just feasible, but fast and easy. No time lost dropping anchors, and the system is way more accurate than anchoring with nothing more than a push of a button. If I get a call from another boat telling me there's a tuna bite going off nearby, there is no time lost bringing up the anchor, and stowing the rope and chain before I make the run. I just power up the XTOs and, with the speed they offer, we're in the action in a matter of minutes. Between the incredible power and remarkable Helm Master
®
EX system, Yamaha has added a whole new dimension to my offshore trips - and my clients love it."
As Freddy mentioned, Helm Master
®
EX is not just for professionals, it is artificial intelligence for any boat, and it offers benefits for anyone who fishes. It's only available from Yamaha, and it can be integrated with Yamaha single and multi-outboard installations utilizing engines from the F150 to the 425-horsepower XTO.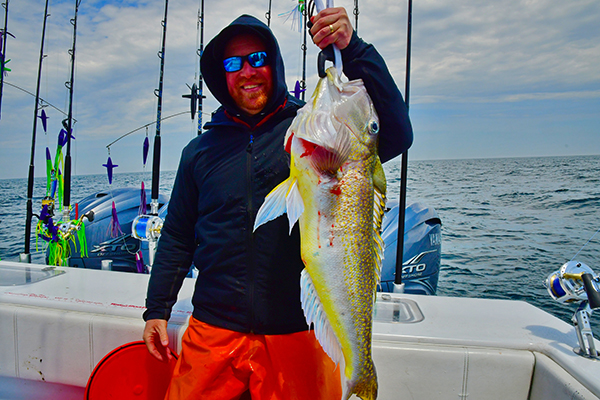 The other type of offshore bottom fishing Freddy mentioned – and one that has become extremely popular - is deep drop drift fishing. This technique is used for tilefish and daytime fishing for swordfish. It requires controlling the boat's drift direction and speed.
The more popular of the two fisheries is golden tiles, which live in burrows in deep water, usually from 400 to 700 feet, on sloping bottom near the edges of submarine canyons roughly 75 to 100 miles offshore. Goldens can grow to 60 pounds and are fun to catch on electric reels or conventional rods and reels for those who don't shy away from doing some serious cranking. They are also a treat on the dinner table, which attracts anglers to long runs offshore just to fish for them or in conjunction with canyon trips for tuna, mahi and marlin. Golden tiles are found from the Mid-Atlantic canyons to Florida.
Like any form of deep drop fishing, anchoring is out of the question because the depths are simply too extreme, so being able to hold position or, even better, use a controlled drift, is the key to success. Helm Master EX brings a whole new dimension to deep drop fishing that has been missing for Yamaha anglers in the past when it was only possible for boats to do it successfully when sea and wind conditions were optimal.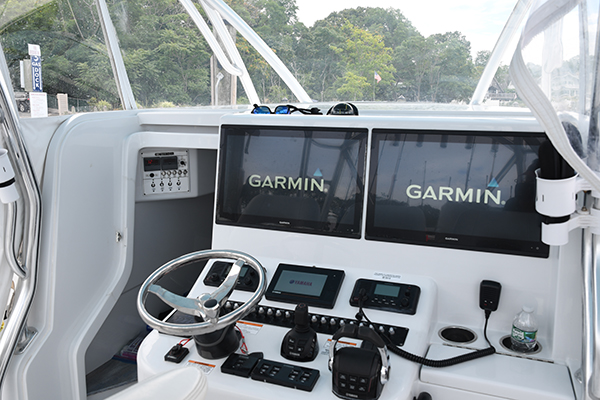 We already discussed using the position-holding feature called "StayPoint
®
" on multiple outboard-powered boats like the Andrea's Toy, or "FishPoint" on a single engine Helm Master EX-equipped boat. That function has a place when you want the boat to remain stationary during deep drop fishing. For example, in the Bahamas, we've used StayPoint
®
to fish in water over 1,000-feet deep for Queen snapper around wrecks and other bottom structure - and it works like a charm.
Suffice to say that if you are deep drop fishing on a spot holding fish and you simply want the boat to hover over the spot, you can use these features. However, when deep drop fishing for tilefish or swordfish it's better accomplished drifting and that's where Yamaha's exclusive DriftPoint
®
feature really shines. If the drift is predictable enough to simply let the wind or current move the boat, you can engage DriftPoint and use the joystick to adjust the angle of the boat against the drift, so it remains broadside while moving. This allows you to use the entire side of the boat for anglers to fish, helping keep lines apart so there is less chance of tangling, all the while covering more bottom. That's a great benefit unto itself, but as the old-time commercial announcers say, "But wait, there's more!"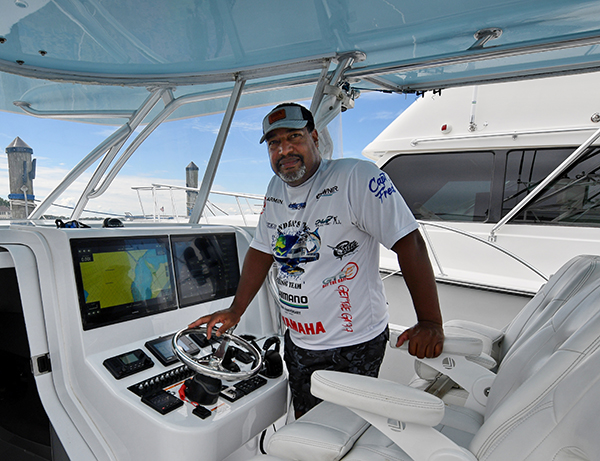 Now let's take deep water drifting to another level entirely. Let's say you're on a shelf and you want the boat to drift over specific spots, but the wind and current aren't cooperating. In the past, that would be just too bad for you, but with Helm Master EX you have a magic bullet. Using your plotter in the same manner you would to create a trail for the autopilot to follow, lay out a series of waypoints for the spots you want the boat to drift over. Then engage the feature called "DriftPoint Track," and with the speed control buttons on the joystick, adjust the thrust level of the outboard(s) to provide just enough power to overcome the wind and current. Helm Master EX will guide the boat over each waypoint in the trail as it drifts along.
Imagine you want to keep your baits moving over a specific area of shelf where the tilefish are stacked up. Just set up your trail and let Helm Master EX do the rest. For sword fishing, imagine you want your baits to track along a specific drop off where the current is creating an upwelling, the kind of place swords like to hunt. Helm Master EX can do that, too. Your drifting will be pinpoint accurate, and your catch ratio will increase as a matter of course.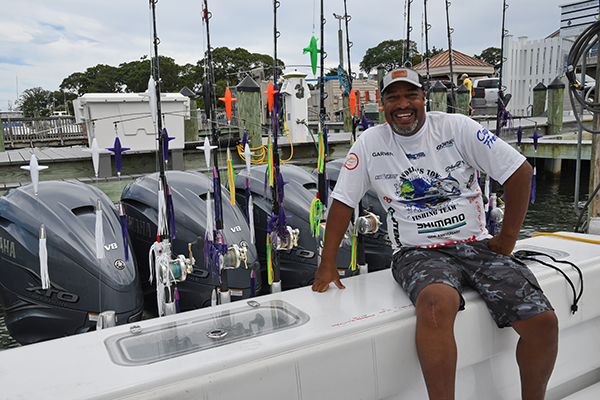 It doesn't matter if you're fishing wrecks in 200 feet, drifting for tilefish in 600 feet, deep drop fishing for snapper in a thousand feet or drifting for swordfish over canyon walls, Helm Master EX puts you in control and makes your fishing time more productive. These are just a couple of the features that this amazing system puts at your fingertips. To learn more, go to
www.yamahaoutboards.com/helmmasterex
.
Back to Blue Life