PREPARE FOR EXTENDED STORAGE
Preparing for extended storage or winterization efficiently and effectively means you'll have a worry- and hassle-free experience when you return to using your Yamaha outboard.
Whether it's returning your boat to a canal behind a Florida vacation home or hitting the water the first warm day after ice-out, you want to get in and go, not spend time performing tasks that should have already been done. Or worse, fixing damage created in the offseason.
Take proper precautions. This is not the time to hurry or compromise. Your Yamaha dealer has the goods if you prefer to DIY. Otherwise, they will be happy to take care of these procedures for you.
Tip: Don't wait to call your dealer about outboard winterization. The threat of the season's first freeze is too late!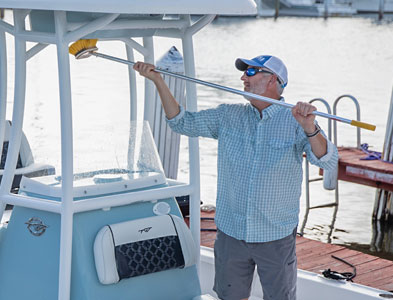 PRE-STORAGE CONSIDERATIONS
Prep Your Outboard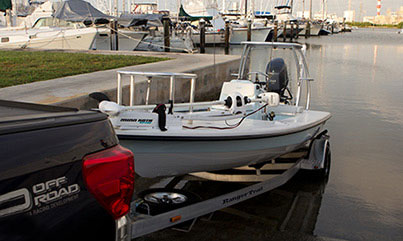 Just prior to extended lay-up is an excellent time to perform routine annual maintenance, and to take care of any outstanding service issues. Check the anchor, chains, dock lines and fenders, too. Replace any worn or damaged items now so you'll be ready to hit the water when it's time.

Also, check the boat for any loose items that need repair. If needed, one of our exclusive Yamalube Yamabond® formulas will hold things tight.
Clean Up the Boat
Give your boat, and your outboard, a thorough cleaning before extended storage. Always make sure that any item or area in your boat is bone-dry before closing it up or sealing it off. Where applicable, a coat of sealant or wax will serve as a well-worth-it protectant.

Tip: This may be the best time to pull the boat out of the water and clean the hull as necessary. Remove any marine growth or barnacles with a thorough washing or sanding.

If appropriate for your boating locale, now would be an excellent time for a new coat of bottom paint, too. Make certain to adhere to local legal and environmental requirements and appropriate safety precautions during these procedures.
Inspect Everything
Few things are more important than the visual inspection you do before extended outboard motor storage. Start at the top of the cowling and work your way down to the skeg. Be sure to pull the cowling and the propeller off, too. Look for anything that appears damaged, missing or out of place, and repair or replace as needed.
PREPPING YOUR OUTBOARD FOR STORAGE
Replace the Oil & Filter
Your outboard's engine oil has been working hard to suspend and carry away debris and potential corrosives resulting from the combustion process. Don't wait for spring to change it. Get rid of this nasty oil and the oil filter before you lay up for storage.

Change your onboard 10-micron fuel filter, too. It's been helping to catch all the debris and filter out any water in your fuel, a fact that can be compounded by having run ethanol-laced fuels. You don't want either left sitting there waiting for you next spring, and any water may freeze inside the canister.

Tip: Be sure to lube all grease zerks with the correct grease stipulated in your owner's manual to help force out any water that may be residing there.

Tip: Charge batteries fully before storage, and have them load tested to make sure they're going to be up to the task come spring. It's best to check the charge monthly and keep them topped off if you can. If your outboard is stored outside during the cold winter months, don't risk them freezing. Bring your batteries indoors to a cool, dry place.
Fog the Outboard
Fogging oil helps protect vital internal engine components during periods of inactivity by coating them with a thick petroleum-based lubricant. This helps prevent rust and corrosion from forming and protects during start-up.

For most modern fuel-injected four strokes, use Yamalube® EFI Fogging Oil. This is an additive you put in a small tank of fuel and run through the outboard to properly lubricate the internal components.

For 2-stroke EFI and conventionally carbureted outboards, an excellent choice is Yamalube Stor-Rite Engine Fogging Oil. Just spray it through the warm intakes a few times until the exhaust turns white, then spray equally into all intakes continuously until the engine stalls. Both products are easy to use and highly effective.

Tip: As always, be sure to read and heed all product instructions for proper application procedures.
Keep Your Outboard Dry
Water can form in the fuel system during extended storage periods, due to natural condensation. In addition, ethanol fuels can draw water directly from the atmosphere through the tank's vent. Make doubly sure to run the proper storage amount of Yamalube Fuel Stabilizer & Conditioner PLUS in your fuel, and thoroughly course it through the entire fuel system prior to shut down.

Always store with the tank 7/8 full of fuel to help prevent over-accumulation of condensation. Also, never plug or cap the fuel tank vent, as the vent allows for natural expansion and contraction within the fuel system. Plugging the vent may potentially cause damage to fuel tanks and fittings.

Tip: If your outboard's stored outside during the cold winter months, make sure to trim it to a full-in, negative trim angle or place a tightly sealed plastic bag over the lower unit once it's thoroughly dry inside. This will help keep moisture from collecting in the lower unit, which could potentially freeze and crack it.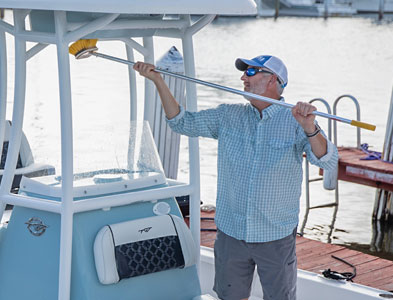 ADDITIONAL STORAGE CONSIDERATIONS
Trailers, Lifts & Lights

Check Trailers, Lifts & Lights
This is a great time to check your trailer or your boat house. Any loose, sagging or rotted bunks, lift straps or rollers should be replaced. Check trailer wheel bearings for signs of water intrusion and repair as necessary.
Grease trailer bearings and lift roller assemblies using Yamalube Marine Grease. Its corrosion-resistant formula resists wash-off. Yamalube Yamashield™ is an excellent choice for lubricating winch cables, and Yamalube Brake & Contact Cleaner will help clean and restore proper taillight and dock light connections, while helping keep your trailer's brakes clean and in good working order, too (if applicable).

Shrink Wrapping

Wrap Up Your Boat
Many Yamaha Marine dealers offer shrink-wrapping services. This encapsulates your boat and helps protect it from the elements until you're ready to resume the good times. It also keeps your boat looking as good as it did when you wrapped it. Be sure to ask your local Yamaha Marine dealer about it.

Make It Fun

Make Maintenance Fun
Basic maintenance shouldn't be intimidating. Learning a few procedures and taking the time to do them right can go a long way. Try dividing the chores up among members of your crew. It'll be less work for each of those involved, and the whole process will go faster.
Got kids? Give them each a few appropriate tasks to perform and help them understand the importance of their contribution. This will help create a sense of pride and belonging when they're out on the boat next season.
Still too much? No worries. Just contact your local Yamaha Marine dealer. They'll be glad to take care of all this for you.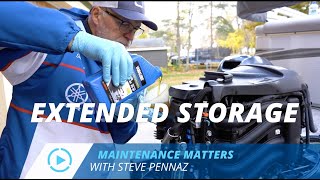 Extended Storage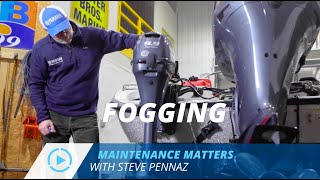 Fogging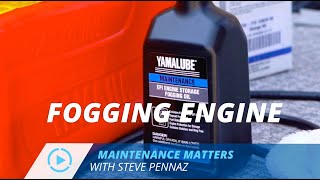 Fogging Engine
YOUR OUTBOARD AT YOUR FINGERTIPS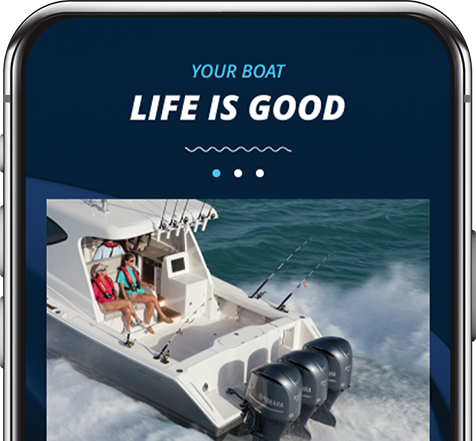 The MyYamahaOutboards App
Dealer-completed service. DIY maintenance. Track it all with MyYamahaOutboards. It puts your complete outboard maintenance history at your fingertips. Plus, you can keep custom trip logs and checklists, request service and so much more.